Introduction
Clubhouse, the invitation-only audio app, has seen a massive uptick in usership in the last two months. The app functions similarly to talk radio: Speakers broadcast messages live from "rooms" to listeners who tune in and out of these rooms. If you have Clubhouse downloaded on your phone — the app already counts celebrities, academics and politicians among its ranks — you'll be notified when someone you follow begins a broadcast. 
As with other spaces where users upload or livestream content, Clubhouse is a potential vector for the spread of misinformation, and the fleeting nature of the content makes it challenging for journalists and researchers to monitor. Here's what journalists and researchers need to know about the platform.  
Clubhouse Fundamentals
For now, access to Clubhouse is invitation-only, and available only for iOS users. You'll receive your invitation via text message, so creating an account requires a mobile number. Consider whether you want your phone number to be linked to Clubhouse. Once you're on the platform, you'll be granted a number of invitations to dole out. 
When you create an account, you'll be asked to add a username, handle, bio and profile picture. You also have the option of linking your Twitter or Instagram accounts. Clubhouse requires a first and last name, and says in its community guidelines that "you must use a real name and identity on the service." Attempting to change your name triggers this pop-up message: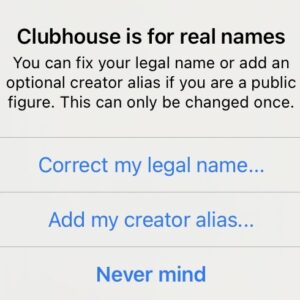 Once you've created your account, you can start following users or clubs. A club is a group of users with something in common, and it can have members and followers. Clubs often schedule "rooms" — which is the same as an "event" — in advance, which you will be notified about if you follow the club.  
The Clubhouse "hallway" (main feed) will show you rooms you might be interested in joining based on the users and clubs you follow. Once you find one you want to join, simply click on it, make sure your volume is turned on, and you'll be transported into the audience, where speakers are likely in the middle of a conversation.
Listeners do not have the option to speak unless a room moderator makes them a speaker. In most rooms you can raise your hand to indicate you have something you'd like to say, though moderators can turn off this option. 
You can search through the rest of the app without leaving a room you've joined. You can also navigate away from the app and still hear the audio, similar to a phone call or video chat. It's possible for users to record using iPhone's built-in recording feature while in a room, but doing so triggers this pop-up message:

Monitoring Clubhouse for misinformation
Because users communicate through audio that the platform does not save and publicly release, there is no way of searching through content that was previously issued, making misinformation monitoring difficult. (Clubhouse says it retains a recording of a room as long as the room is live, in case a community guidelines violation is reported and needs to be investigated, but otherwise the recording is deleted when the room ends.) 
Despite this challenge, Clubhouse can be a resource to journalists and researchers in other ways. We've put together a list of open-source investigation tips that can help you navigate the platform. 
Try googling "joinclubhouse.com/events" to find links to scheduled events. You could search this alongside a keyword, for example ("joinclubhouse.com/events" AND vaccines). Or you can find events by typing site:www.joinclubhouse.com, which you can combine with a keyword. 

As with other social platforms, user profiles are a source of information. You can always try

google searching

usernames or lines from bios. The account's followers and followings are viewable as well.

To find linked networks of users on the platform, consider looking at the chain of nominations. Every profile lists who invited them to the platform, so clicking through invitations can reveal relationships among users. Caveat: Some accounts, particularly some of the first to have been activated in April 2020, might not list who invited them.

If you authorize Clubhouse to access your contacts, navigating to the envelope emoji will list your phone contacts in order of "friends on Clubhouse." This number indicates how many times that phone number appears in the address book of someone who has signed up for Clubhouse. So phone numbers that appear in a lot of address books, like helplines, often appear first. 
Of course, it's worth thinking through the ethics of monitoring Clubhouse spaces. What users, clubs and rooms are you looking to track, and what is the public interest in your monitoring them? Would these clubs and rooms reasonably expect journalists, academics or others to "lurk" in their spaces and look through their networks? Are you going to anonymize your findings? Entering rooms where non-public figures are discussing sensitive topics, for example, would raise different ethical concerns than listening in on a publicly advertised conversation among well-known influencers. 
What we're keeping an eye on
Like any social media platform, Clubhouse has vulnerabilities. Because Clubhouse is in its infancy, it has the opportunity to address some of these potential issues before they snowball. 
Misinformation: Despite users saying they have encountered misinformation on the platform, Clubhouse has yet to announce a misinformation policy. The community guidelines say users "may not spread false information or spam, or artificially amplify or suppress information," but it's unclear how the platform detects such incidences beyond user reports, or what Clubhouse considers "false information." One example of why the app needs a more comprehensive and transparent policy: There is a club with 33 members and 2,400 followers dedicated to discussing conspiracy theories from Flat Earth to QAnon. Discussing conspiracy theories is not inherently dangerous, but a social media platform where people are interested in discussing conspiracy theories without a robust misinformation policy is. 
Harassment: Users, including journalists, were already pointing out last summer instances of harassment going unchecked on Clubhouse. Wired recently covered an incident where users who tried to correct misleading Covid-19 claims were reportedly met with harassment. There are accounts of women and people of color being subjected to harassment on the platform. 
At present, the platform's community guidelines bar users from engaging in "abuse, bullying or harassment," primarily relying on users to report harassment (or block harassers) and moderators to control who speaks in a room. While harassment is an issue on practically every social media platform, it's fair to ask whether Clubhouse should be particularly proactive in rooting out and countering it, especially because it made a concerted push to draw Black creators onto the platform. Research has shown that Black social media users experience more harassment than white social media users. 
Illusion of authenticity: By requiring users to register with a mobile number, and encouraging them to use their real names, Clubhouse discourages imposters. But it's not difficult to create an imposter account. Clubhouse's emphasis on authenticity might result in users lowering their guard, allowing imposter accounts to exploit their trust. 
Illusion of privacy: Clubhouse discourages users from recording or otherwise sharing information from a room. Despite its efforts, however, it's relatively easy to record what happens in a room. Some of the media coverage of Clubhouse harassment has relied on leaked audio. So, while Clubhouse would like users to feel comfortable saying things they wouldn't say in other places, it is still possible that other users could be recording or even editing audio. 
Copycats: Twitter has begun rolling out 'spaces', their answer to Clubhouse's rising popularity, to some of their users. Its functions are identical to Clubhouse's: Users can invite you to a 'space' where audience members listen to speakers discussing various topics on unrecorded audio. The New York Times reported this week that Facebook is working on a similar product. The larger platforms' struggles with misinformation and content moderation are already well-documented, raising questions about how the addition of live streamed audio might compound these problems.
Clubhouse's rise in popularity coincides with increased public awareness of social media's role in exacerbating misinformation, harassment and the replication of offline inequalities in digital spaces. It provides journalists and researchers with a valuable opportunity to monitor the flow of audio information online, and to observe how a nascent social media company can handle the moderation and privacy issues that have plagued so many other platforms.
Stay up to date with First Draft's work by becoming a subscriber and following us on Facebook and Twitter.