A Brexit Party MEP, two Conservative party officials and the director of a pro-Brexit think-tank — registered with the Electoral Commission as non-party campaigners — are behind thousands of pounds of Facebook ads attacking Labour in the UK general election.
A First Draft investigation has found the individuals are behind two Facebook Pages called City Action and Capitalist Worker. So far the pages have spent £22,500 reaching one million people with ads promoting negative news and opinion stories about the Labour Party.
Ads from City Action include a Financial Times' editorial stating "Jeremy Corbyn's Labour cannot be trusted". Capitalist Worker, which purports to be an "education" page, claims without evidence that "nothing will be private when Labour owns the internet".
The Facebook pages, created in the first days of the election, do not mention the individuals behind the ads. People not standing in elections are entitled to register as non-party campaigner but their use of online political advertising to micro-target voters has raised concerns over transparency.
Digital marketing expert Tom Davenport said: "These sponsored ads get to put things in front of people en masse, at scale, targeted to an audience that will respond to its message — all in an environment where they are without scrutiny.
"It's potentially the most interesting part of this election's ad story. This faceless [digital campaigning] really needs digging into — who's behind it, what are their intentions? It's a hornet's nest."
The Facebook Pages are linked by a complex web of connections, directorships and companies.
The Electoral Commission confirmed to First Draft that a company called Centre Point Strategies (CPS) Ltd is registered as a non-party campaigner in documents behind the City Action Facebook Page, which lists as a director Neil Stratton, chairman of the Scottish Borders Conservatives, an official association of the Scottish Conservative Party. 
The Scottish Border Conservative's deputy chairman, Robert Miller-Bakewell, is also named as a director at CPS. Mr Miller-Bakewell is also chairman of the Scottish Unionist Association Trust, which was fined in September by the Electoral Commission for failing to declare donations to the Conservative Party.
The third director is named as Ewen Stewart, who is also director of the pro-Brexit think tank Global Britain. Mr Stewart is listed in Electoral Commission documents as the 'responsible person' for CPS, meaning he must ensure that the organisation follows the rules on spending, donations and reporting. This includes online advertising.
Fellow director of Global Britain and Brexit Party MEP, Brian Monteith, is one of the individuals registered to the other Facebook Page, Capitalist Worker, in the Electoral Commission's database of non-party campaigners. A Conrad Young and a Max Young are also named in the documents. All are named "relevant participants".
The Overtake recently reported Max Young as the deputy editor of 1828uk, "a neoliberal platform founded to champion freedom", according to its website.
A Conrad Young is also named in the Facebook Ad Library as the "promoter" behind the City Action Page. 
After First Draft contacted the City Action campaign, the registered address on Facebook was changed to the same address as that of Centre Point Strategies and Global Britain.
Facebook previously listed City Action's London address as that of former foreign aid contractor Peter Young, who retired in 2017 after a string of scandals which "allowed executives to become multimillionaires on the back of government aid contracts", according to The Times.
Mr Young told the newspaper: "The accusation that the people who created this company are only interested in money is hurtful."
Global Britain was co-founded by former Ukip leader Lord Pearson in 1997 "with the aim of making the case that Britain's prosperity is founded on a global vision, not a European customs union", according to its website.
It has previously listed its address as 55 Tufton Street in London, an address that has become well-known for housing numerous right-wing think tanks including the Institute of Economic Affairs, the Taxpayer's Alliance and Brexit Central, where Mr Stewart and Mr Monteith have a number of published articles. 
Mr Miller-Bakewell was added to an official list of "deliberate tax defaulters" in June after HMRC found he owed authorities more than £200,000, according to the Scottish Herald.
Mr Miller-Bakewell said at the time that his tax affairs were up to date but declined to comment on the fine or whether he owed any tax.
None of the individuals involved responded to First Draft's requests for comment.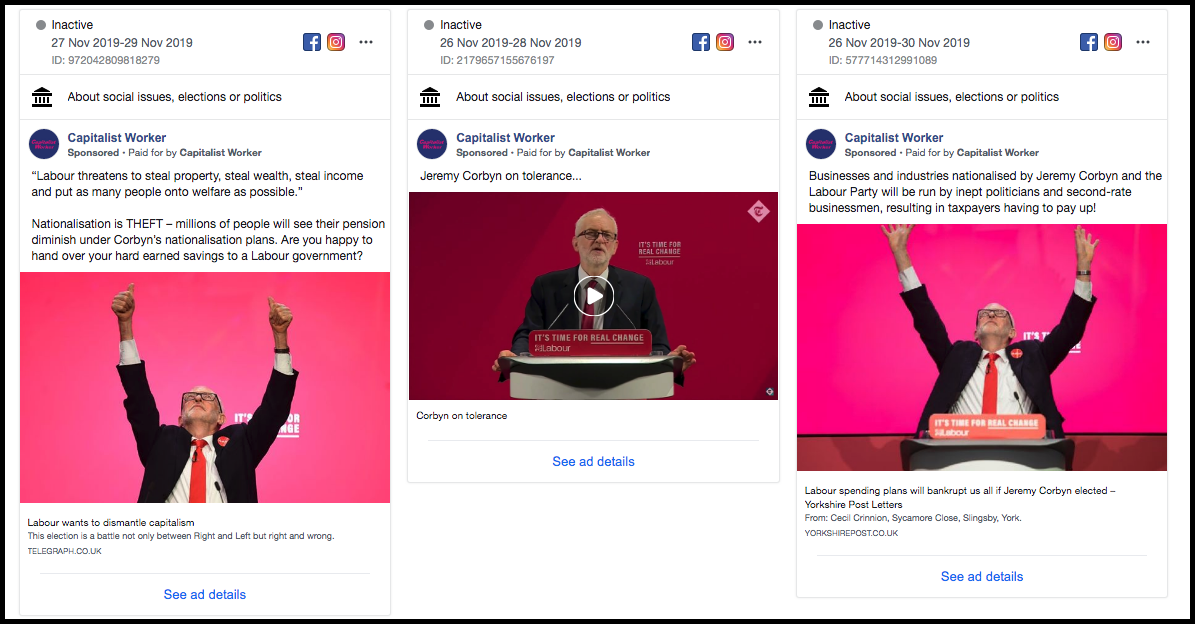 First Draft has previously identified a Conservative councillor, a former Liberal Democrat candidate, and an overnight reporter at the Daily Express paying for attack ads through Facebook Pages.
Elsewhere, Wired identified a string of ads that appeared to be from the Green Party which in fact were managed by the former chief technology officer of Vote Leave, the pro-Brexit campaign group led by Boris Johnson in 2016. And in early November Facebook removed an ad run by The Fair Tax Campaign, a page set up by a former aide to Mr Johnson.
In response to calls for increased transparency around digital advertising, Facebook, Snapchat and Google recently unveiled their first 'political ad libraries': websites  showcasing all the ads on their platforms flagged as relating to politics.
For the first time, online political adverts promoted during a UK general election — ads that previously would have been launched in the dark, with little or no public oversight — have been available for all to view.
The Electoral Commission has issued a series of recommendations to increase transparency in digital campaigning, including for non-party campaigners such as CPS and Capitalist Worker.
Really, the onus should be on the people behind the campaigns themselves to be transparent and honest – Pascal Crowe, Open Rights Group
One major recommendation to emerge was for all digital election ads to be clearly labelled with information about who paid for it.
In a statement to First Draft, the Electoral Commission said: "Digital campaigning plays an increasingly significant role in campaign activity, and it can make it easier and cheaper for campaigners to communicate with voters. It is a sign of a healthy democracy when campaigners tell voters about their policies and political views."
They added: "But we also know from public opinion research that voters are concerned about the use of personal data, targeted messages spreading false information, and about who is funding these messages."
Many researchers and organisations have also called for increases to the Electoral Commission's regulatory powers, as well as for the Information Commissioner's Office, the organ responsible for data protection and privacy.
Pascal Crowe, the Data and Democracy project officer at the Open Rights Group, said: "Before we start looking for more complex solutions, we should look to the two bodies we already have: the Electoral Commission and the ICO, and give them the ability to impose meaningful fines and other regulations." 
There is no suggestion that the individuals behind City Action or Capitalist Worker have broken the law, Electoral Commission regulations or Facebook's terms and conditions.
Mr Crowe added that there has been a lack of focus on political campaigners in comparison to the focus placed on the main social media platforms.
"Really, the onus should be on the people behind the campaigns themselves to be transparent and honest," he said.
Stay up to date with First Draft's work by becoming a subscriber and follow us on Facebook and Twitter.