Abusive tweets targeting Liberal Democrat leader Jo Swinson have leapt 200-fold this year, according to research obtained by First Draft, including a disinformation blitz from across the political spectrum in which doctored tweets, anti-Semitic tropes and accusations of financial duplicity have been wielded in attempts to undermine her credibility.
As the UK crawls towards the October 31 Brexit deadline and talk of a general election to break the parliamentary deadlock grows louder, Swinson has come under fire as the Liberal Democrats have become the only major political party arguing unequivocally that the UK should remain in the EU.
On the left, Labour-linked and anti-Brexit pages have shared screenshots of edited tweets – falsely purporting to be from Swinson – aligning her with the Conservatives and a pro-Brexit sentiment. 
Meanwhile, hyperpartisan websites and Facebook Pages have circulated misleading information presenting Swinson's support of remaining in the EU as motivated by vested financial interests, which soon gained a reference to billionaire, and frequent conspiracy theorist target, George Soros.
Online abuse and disinformation
Swinson has received increasing levels of online abuse since she became party leader in July 2019. According to researchers at the University of Sheffield, she was sent 2,752 abusive tweets in September compared to only 14 in February.
While Swinson has attracted a particular increase in ire, several key studies have highlighted the toxic online climate for MPs, with female politicians, particularly women of colour, receiving a disproportionate amount of abuse on social media. 
"A lot of MPs try to switch it off – they try not to look at the comments," said Dr Stephen Ward, a Reader at the University of Salford whose work focuses on the abuse of MPs on Twitter. "This partly defeats the purpose of social media, which is supposedly about engaging and interacting."
When the hashtag #JoSwinsonIsATory started trending on Twitter in early October following the annual Lib Dem party conference, First Draft noticed it was accompanied by abuse and disinformation directed at the Liberal Democrat leader. We decided to dig deeper.
Imposter content: fake tweets
"@joswinson God you deleted this one quick! #joswinsonisatory" wrote one Twitter user on October 1.
The accompanying image appeared to be a screenshot of a tweet from the Lib Dem leader, with the text: "The thought of leaving the EU without a deal breaks my heart. BUT there is no way I can ask my fellow Liberal Democrats to put Jeremy Corbyn into power for just a few days to extend Article 50. We simply have to #GetBrexitDone!"
No such tweet exists on Swinson's official account. There is no record of the text in Google's cache, which can often be relied upon to catch the text of tweets before they are deleted, and nothing in the Politwoops' archive, a service that tracks politicians' deleted tweets.
At the time, the tweet received just the solitary like and share, but the image reappeared on other, bigger accounts in the following days, gaining hundreds of shares.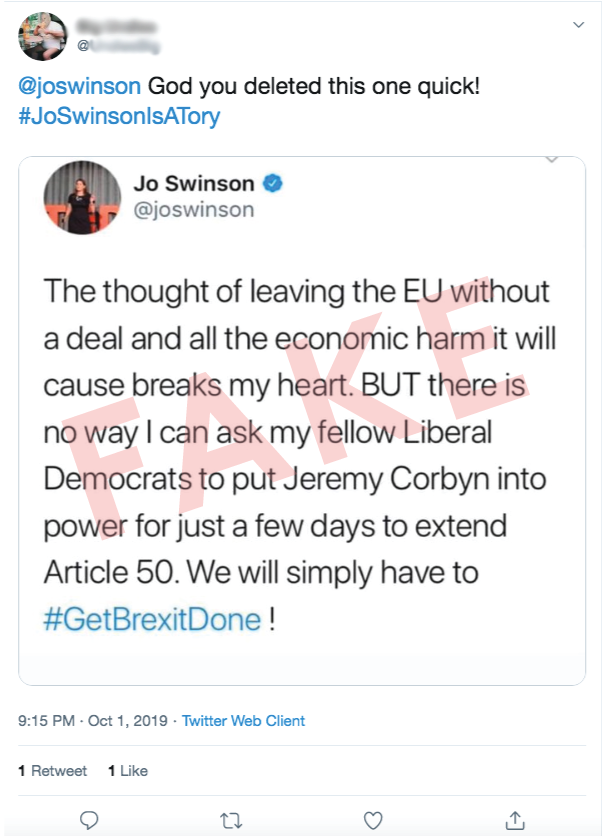 .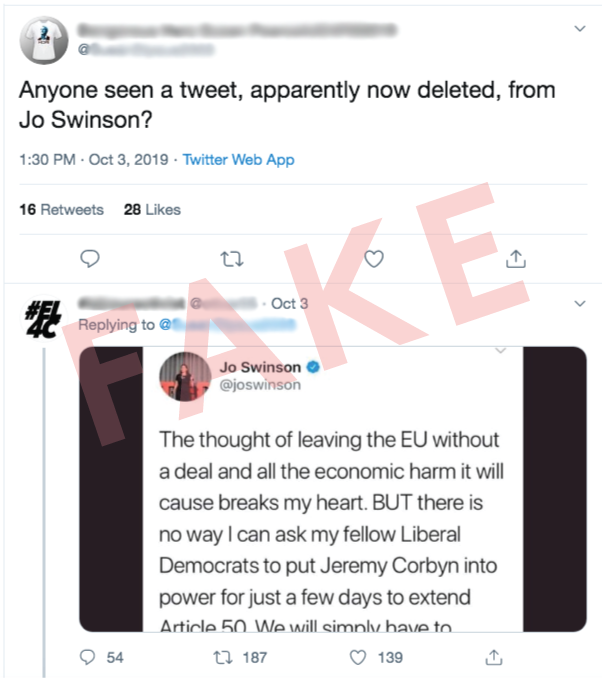 Searching for #JoSwinsonIsATory on Facebook revealed a different doctored tweet had been posted in several pro-Labour Groups in the same period. 
A second fake image shows the Lib Dem leader tweeting: "As Liberal Democrats we are big enough to admit when we have made mistakes. Nick Clegg tried his best to rein in the Tories during the coalition government. My promise to YOU is that when I go into coalition with the Conservatives I will #NeverForget the mistakes he made." 
Again, the tweet did not appear on Swinson's account, the Google cache or DeletedByMPs.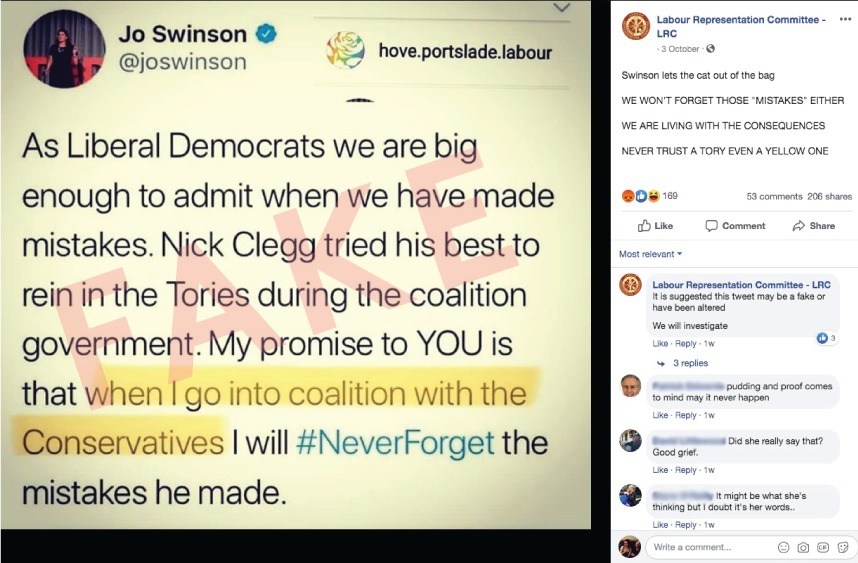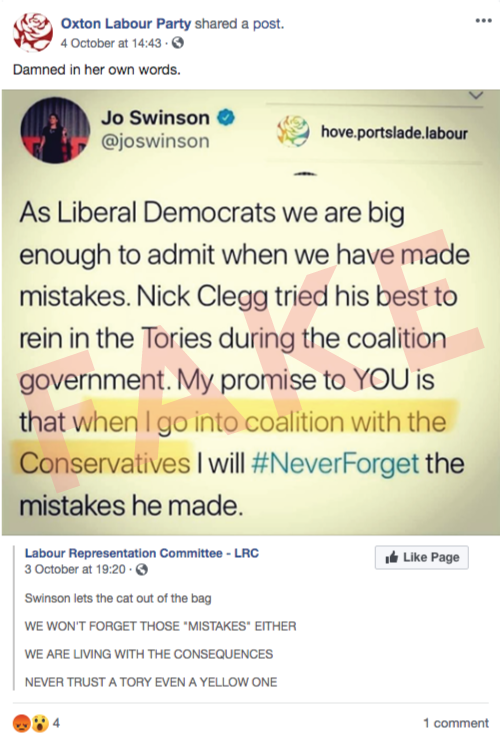 The earliest version of the image we could find on Facebook was posted by the Labour Representation Committee (LRC) page on October 3. 
The pressure group later commented that the image "may be a fake", followed by a post which said it had been "removed from view". The fake image remained online, however, where it was shared, among others, by local branch Oxton Labour with the caption: "Damned in her own words."
When we contacted LRC about the image, they said: "It was put up because someone thought it was real. It was taken down when they were told it wasn't." 
The post is no longer online.
First Draft also contacted the Hove and Portslade Labour Party about the use of their Instagram handle on the image, of which they were unaware. They told First Draft they are investigating. 
Imposter content, in which hoaxers pose as known or trusted sources of information, has become an increasingly popular disinformation tactic in recent years.
In Swinson's case, the allegation that she had deleted a tweet she never wrote gives credence to the piece of disinformation being spread.
Tracking abusive language
Dr Ward said he views this type of disinformation as being "part of the same toolkit" as abuse.
"In a way, disinformation is potentially more dangerous because, generally, if you abuse someone online there will be a backlash and people come out in support of the abused MPs," he said. "I also think disinformation is potentially more dangerous because it's less obvious."
In contrast to those posting much of the abuse sent to politicians online, Dr Ward said that those who spread disinformation tend to employ targeted and organised attacks.
Politicians, journalists and members of the public have voiced concerns over the abusive language increasingly found in British politics.
The UK's standards watchdog gave evidence in mid-October that tackling abuse and intimidation of MPs does not appear to be a "high priority"' for party leaders.
The same cannot be said at Sheffield University, however, where Professor Kalina Bontcheva and a team at the Department of Computer Science monitor abuse directed at MPs.
By tracking combinations of words and phrases, they found that Swinson received an average of 64 abusive replies to each of her tweets during the first half of October — double the average number she received in September. One team member described the results as "striking".
Three MPs received more abusive tweets than Swinson this month. Prime Minister Boris Johnson, prominent Labour backbench MP David Lammy and Labour Party leader Jeremy Corbyn received the most abusive replies in the first 15 days of October. This chimes with research pointing towards profile and engagement as key factors determining the likelihood of receiving abuse.
Dr Ward is convinced that parties should clamp down on online abuse by holding their members and supporters accountable.
"Party leaders and party organisations really need to take some responsibility. I think the lead very much should come from the top."
The Liberal Democrats declined to comment.
Weaponising context: EU funding
At the same time, misleading articles, posts and videos linking Swinson to millions of pounds in EU funding were being shared online.  
The social media pages for Brexit campaign group Leave.EU shared posts in early October connecting Swinson to EU funds through her husband Duncan Hames, who is the Director of Policy at Transparency International UK – not Transparency International.
"In 2018, Transparency International received more than €4M from the EU," read one such post, accompanied by a caption claiming Swinson was "fighting Brussels' corner like a woman possessed."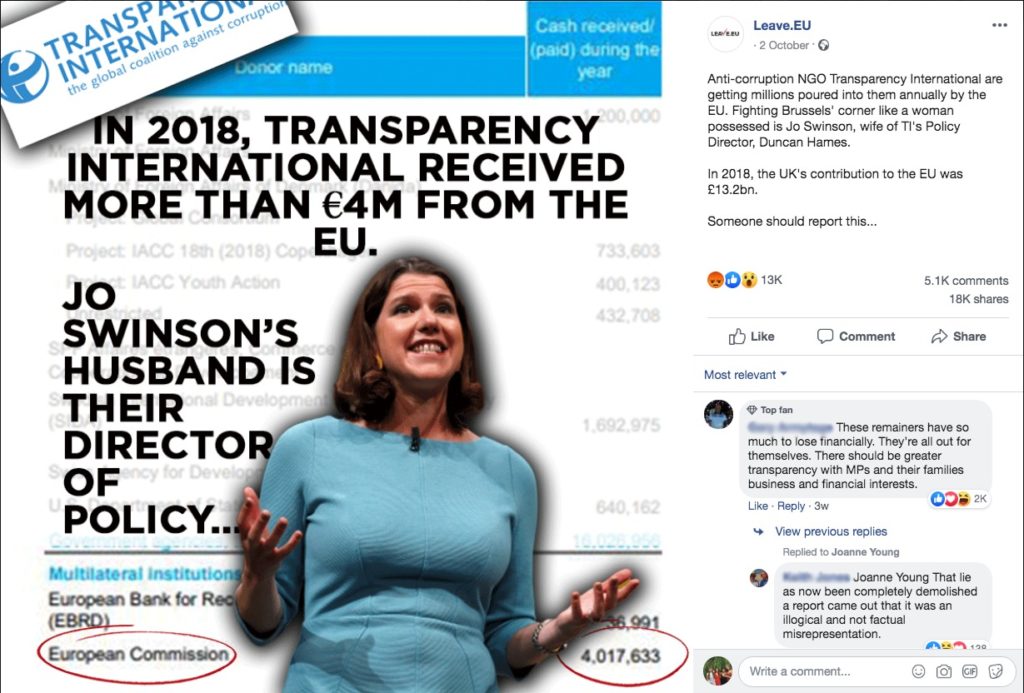 While the €4 million figure is accurate, it only tells part of the story.
The figure of €4m went to Transparency International, not Transparency International UK. They are two separate organisations and receive separate funding. In 2018, Transparency International UK received just £2,000 from the EU, according to their financial statement.
Transparency International's financial statement for 2018 shows the organisation received €4,017,633 from the European Commission – some 15.9% of the total funding received during the year. 
The organisation, which operates globally, also received €3.6m from the UK Department for International Development (DFID) – 14.3% of TI's total funding that year. The organisation's financial report states that government agencies from around the world, like DFID, provide nearly three times more than multilateral organisations like the EU.
A widely-shared article titled "Swinson fails to declare family company was given 3.5m euro by the European Union" was also misleading. TI is not a 'family company', but rather an international NGO. 
The headline also implies that Swinson is obliged to declare the European Commission's donation to the NGO as a conflict of interest. 
TI-UK's press office issued a statement linking to its annual accounts, adding: "TI-UK is independent and politically impartial and does therefore both engage with and objectively criticise politicians regardless of their political opinion or party affiliation. 
"TI-UK has neither advocated for or against the UK's continued membership of the European Union." 
This use of true information taken out of context is often both more persuasive and more engaging than pure disinformation, said First Draft director and co-founder Claire Wardle in a recently published book on information disorder.
"We are increasingly seeing the weaponisation of context," she wrote, "the use of genuine content…  that is warped and reframed" to do damage and cause harm.
Conspiracy tropes: George Soros 
On 4 October, Leave.EU shared another visual across its social media, this time linking Swinson to Hungarian billionaire George Soros. The philanthropist and financier has come to embody far-right and anti-Semitic conspiracy theories in which he is part of a global 'Jewish elite' funding immigration, protests, climate change and even terrorism. 
Last year, Brexit Party leader Nigel Farage told Fox News that "in many ways [Soros] is the biggest danger to the entire western world".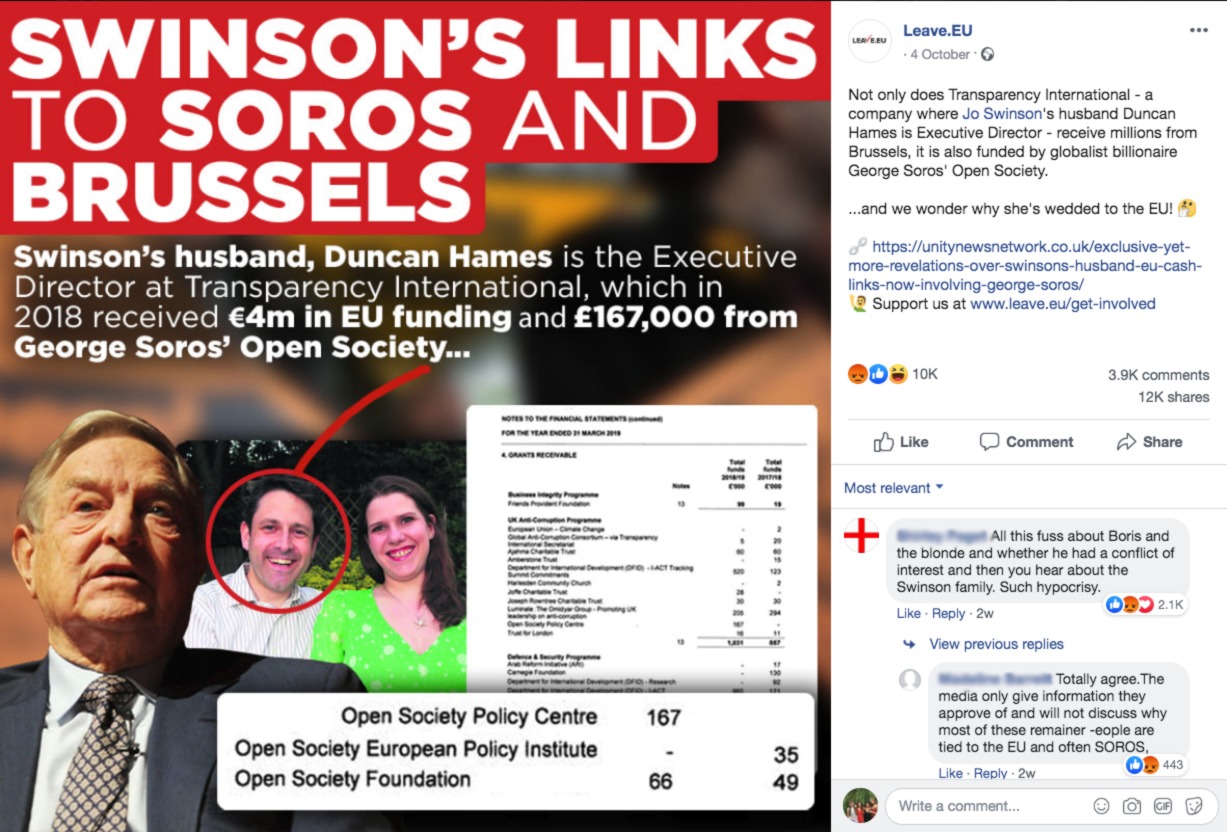 Leave.EU claimed TI received £167,000 from 'George Soros' Open Society', a philanthropic network founded by Soros and operating in 120 countries around the world. First Draft has also received funding from the Open Society Foundations.
According to TI-UK's financial statement for the last year, the organisation received £66,000 more from the OSF than Leave.EU claimed, putting the total at £233,000, rather than £167,000. 
This represents 5.7% of the total funds received by Transparency International UK, compared to the 56.1% funding share (£2.2m) the organisation received from the UK's DFID during the same period. 
The Soros funding narrative appears to have originated on a pro-Brexit website in an article titled "EXCLUSIVE-Yet more revelations over Swinson's husband EU cash links now involving George Soros".
Soros has donated hundreds of thousands to the pro-EU campaign group Best for Britain.
Leave.EU was accused of anti-Semitism last year for sharing a 'shadowy image' of Soros appearing as background to text about a 'powerful elite'.
Responsibility
Amid calls for major social media sites to be more proactive in fighting abuse and disinformation online, and with many still reeling from the Cambridge Analytica revelations, there has been a steady growth in public scrutiny of the role that sites like Facebook and Twitter play in politics.
Although Dr Ward welcomes this growing pressure on social media giants, he argues that it isn't enough to solve the problem.
"That doesn't really address the underlying issue," he told First Draft. "This is a political and social problem which has a technological angle to it.
"The danger is [that it will cause] long-term shifts in tone and tenor of debate," he added, reflecting on how this behaviour can exacerbate dissent and polarisation across the political spectrum. 
"You see similar abuse and patterns in other democracies as well – there's something broader going on here than just Brexit or Donald Trump."
Matteo Moschella also contributed to this report.
Clarification: This article has been updated to better reflect the differences between Transparency International and Transparency International UK, two separate organisations which receive separate funding.
First Draft is pioneering collaborative 'CrossCheck' reporting around election and other news-critical events. Ahead of an anticipated general election in the UK we are inviting newsrooms to join our UK network.
Stay up to date with First Draft's work by becoming a subscriber and follow us on Facebook and Twitter.