In the lengthy battle over the UK's future, one that often feels like a fight for the country's soul, trust in institutions is on the wane. The Brexit stalemate has exacerbated the widespread distrust of politics, the media and the electoral system on both sides of the aisle. And as that distrust has deepened, it has often turned abusive.
Abuse of MPs, particularly of ethnic minorities and women, has grown significantly since the 2016 Brexit vote. More recently, several prominent female politicians, including former cabinet ministers, cited abuse as a reason for not standing for re-election in the country's December 12 poll. 
"Disinformation and abuse means MPs will engage less with the public," Dr Sofia Collignon, lecturer and associate professor of political communication at Royal Holloway, University of London, said. "It harms the relationship between citizens and their representatives. This content is detrimental to its targets, but also to the democratic process."
Two black British politicians who regularly receive more online abuse than their peers are Diane Abbott, the shadow home secretary, and David Lammy, a former government minister. In the lead up to the general election, they have been the subject of edited videos, misleading claims and wild conspiracy theories on social media.
During the run-up to the 2017 general election, Amnesty International found that Abbott received almost half (45%) of all abusive tweets sent to female MPs, while a study by the University of Sheffield this year found that Lammy received the most abuse on Twitter of all MPs.
A recent BBC investigation discovered that, over the course of this campaign, black candidates were 25% more likely than the average MP to have their intelligence questioned online.
Experts have identified disinformation as an insidious form of abuse, in which false narratives are designed to undermine the personal and professional credibility of their online targets.
After 16 months of research & interviewing dozens of women, new @amnesty report shows how Twitter is failing to respect women's rights as online violence and abuse thrives and women are being silenced #ToxicTwitter https://t.co/zr7MPpZkxT

— Azmina (@SnazzyAzzy) March 21, 2018
Azmina Dhrodia, the author of the Amnesty International report on abuse of British female MPs, draws a direct correlation between disinformation, abuse and prejudice.
"This disinformation acts to fuel the underlying discrimination that exists offline," she says. "It's all just manifesting online — disinformation is just another vehicle to perpetuate that."
While First Draft monitors disinformation against candidates across party lines, we chose to focus on the two Labour candidates because they regularly receive high volumes of online racist abuse. 
Using search strings on social monitoring tools CrowdTangle and Tweetdeck, First Draft found Abbott has regularly been targeted with disinformation attacking her intelligence. 
A video recently surfaced that had been digitally altered to show the shadow home secretary in clown make-up and with circus music playing as she encouraged people to vote Labour. 
The video used subtitles that are different from Abbott's words and mock her. As Full Fact pointed out, this is particularly concerning when we consider the majority of people watch mobile videos on mute.
In October, when Abbott — the candidate for Hackney North and Stoke Newington in London — became the first black MP to represent their party at Prime Ministers' Questions, she was attacked with false narratives. 
During one of her questions, Abbott was interrupted by foreign secretary Dominic Raab, causing her to sit down. An edited video – not showing her address the Speaker with "if I may continue uninterrupted" – gained traction online, creating the narrative that she had 'forgotten' to ask her question.
Dhrodia explained how this narrative reinforced racist and misogynistic tropes.
"The video plays on stereotypes: that women aren't up to playing the role of the politician, that they can't be a leader or take command.
"It's playing on the trope that a certain gender and a certain race doesn't belong in this space. It reinforces the idea that when they do have privileged access to that space, they just mess up and therefore don't belong here."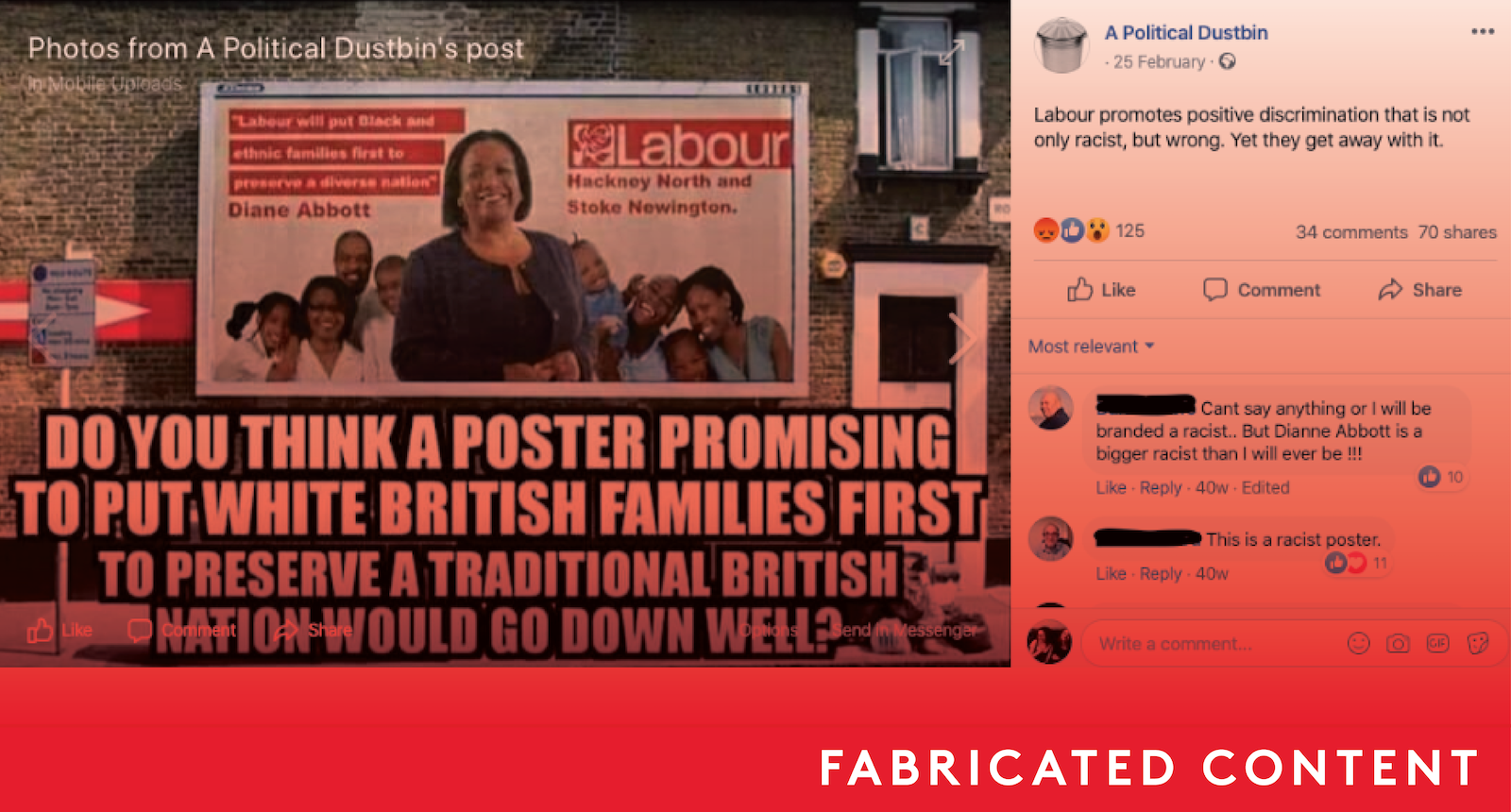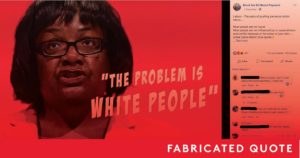 First Draft also found memes attributing fake quotes to Abbott.
Examples from early December showed Abbott saying "the problem is white people", while another from April showed a doctored image of a billboard emblazoned with "Labour will put Black and ethnic families first to preserve a diverse nation". 
There is no evidence Abbott has said either.
"We live in a country where [Labour MP] Jo Cox, who had also received online abuse and threats, was murdered [in 2016]" Dhrodia said. "That fear that the abuse could manifest offline is enough to drive people away from politics."
William Dance, disinformation expert at Lancaster University, believes disinformation acts as a "seed" for abuse. 
"This type of disinformation can trigger racist and sexist abuse in the comments… It has the potential to trigger a spiral of non-stop abusive content."
First Draft also discovered a false, viral rumour about David Lammy's expenses as an MP, alleging that he had claimed a season ticket for football club Tottenham Hotspur, which is in his Tottenham constituency. 
The rumour began with screenshots on an individual user's account, before being amplified by @MoggMentum, a Twitter account with 58,600 followers – which describes itself as "a grassroots campaign promoting traditional values, conservatism, free markets, free trade, capitalism, #BritishIndependence".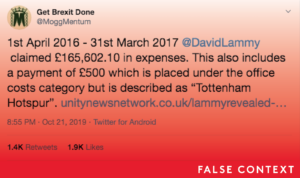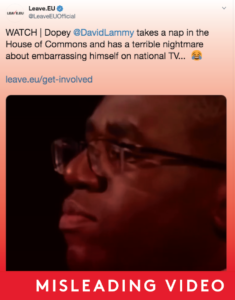 Lammy later pointed out the £500 payment listed on the Independent Parliamentary Standards Authority website was for building insurance, as Tottenham Hotspur own the constituency office he rents. Nevertheless, tweets of the malicious lie remain online, including one by George Galloway, former Labour MP and leader of the Respect Party. 
Collignon explained how disinformation exploits people's worst biases. 
"Disinformation aims to trigger an emotional response, and presents information in a way that plays on stereotypes and confirms their target audience's view of the world."
Only a few days after the expenses lie, a cropped video began circulating on Twitter, showing Lammy appearing to have his eyes closed in parliament.
However, the uncropped version showed him looking down at his phone and, as he explained, answering emails. Leave.EU used this video as part of a montage, captioned "Dopey @DavidLammy takes a nap in the House of Commons and has a terrible nightmare about embarrassing himself on national TV".
Collignon argues that the undermining of ethnic minority MPs is having a real-world effect. 
"Disinformation and abuse means MPs will engage less with the public. It harms the relationship between citizens and their representatives. This content is detrimental to its targets, but also to the democratic process."
Both candidates have been vocal about the racist abuse they receive. Abbott told the Guardian: "I never had this scale of abuse when I first came into politics and racism was an issue then as now, but it's the anonymity and the ease of Twitter which has put racists into overdrive.
"And it feeds on itself: people see other people peddling racist abuse, so they think they can as well and they feel almost strengthened in their wish to do so." 
Their experience has shown that speaking out isn't easy. After Lammy revealed the level of abuse he receives, he was subjected to a vicious conspiracy theory that he sends abusive letters to himself.
Right-wing website Vote Watch amplified the conspiracy theory that he "send[s] himself vile racially-charged hate mail in an effort to gain sympathy from voters".
Lammy tweeted in response: "The hard right isn't content with sending me more abuse than any other MP… Their latest tactic is to spread a malicious lie that I write this bile myself."
The hard right isn't content with sending me more abuse than any other MP (Uni of Sheffield study). Their latest tactic is to spread a malicious lie that I write this bile myself.

It's hard not to despair, but I get hope from the many more Brits who value a diverse, open country pic.twitter.com/uBeASPMJIb

— David Lammy (@DavidLammy) August 6, 2019
Looking toward solutions for tackling hateful disinformation, Dance underlined a cooperative approach. 
"Platforms don't have the expertise to deal with the disinformation problem on their own. It has to involve platforms data-sharing with people like researchers and not-for-profit parties — that'll help us establish the scale of the problem."
Lammy stressed the need for government involvement, telling First Draft: "Targeted disinformation and fake news is stoking division, eroding public trust and corroding our democracy. 
"The government must take urgent action to properly regulate social media before the situation gets even worse."
First Draft also contacted Diane Abbott for comment.
Two years on from her influential report, Dhrodia feels people have become more aware of the issue, but remains concerned about the scale of the problem, particularly for female and ethnic minority MPs. 
"Already marginalised voices are going to continue to be excluded from the political spaces in which we need them most.
"When people hear [these lies] enough, they think that they're true, or may not have the energy to fight back. It's utterly exhausting to have to deal with that every time you put yourself forward and participate in public life."  
Stay up to date with First Draft's work by becoming a subscriber and follow us on Facebook and Twitter.