A slew of 'fake' websites purporting to be from political parties have appeared in the build up to the UK's general election, created by both members of the public and party campaigners ahead of the December 12 vote.
At least five such websites have surfaced which use domain names falsely presenting as from the Conservatives, Labour and the Brexit Party, in tactics described as "total and complete" deception by an expert in online information campaigns.
The ruling Conservative Party, widely criticised for rebranding one of its official Twitter accounts as "factcheckUK" for the first televised debate on November 20, created a mock Labour Party manifesto website with widely debunked claims about their rivals' tax and spending plans which was shared on November 21.
While the site's landing page clearly stated "a website by the Conservative Party", the domain name "labourmanifesto.co.uk" held no such disclaimer and was shared more than 11,400 times on Facebook, including by the party's official account.
Party chairman James Cleverly was among Tory MPs sharing the site on Twitter, and the party even went as far as to pay for ads on Google which ensured the dummy site appeared at the top of search results for "Labour".
World Wide Web creator Sir Tim Berners-Lee accused the Conservatives' of spreading misinformation in a BBC interview.
The Conservatives have not responded to requests for comment.
Such websites, even those launched to counteract misleading narratives, are seemingly easy for anyone to create but contribute to confusion about party policies and have the potential to deceive voters.
Labour's manifesto launch today and the Conservatives are running attack ads on Google

The top link for "Labour" goes to a Tory mini-site using the domain https://t.co/JxH1cEYXQB pic.twitter.com/uebSJgC0KN

— Rowland Manthorpe (@rowlsmanthorpe) November 21, 2019
To avoid the possibility of boosting these websites in the search rankings while allowing readers to see the content of the sites, First Draft is using no-follow links for all five sites named in this piece. No-follow links function like regular links and allow readers to click through to the sites, but instruct search engines to ignore these links when assessing the search ranking of the destination page.
Revenge and retaliation
The Conservative Party's mock manifesto site was the "last straw" for the creator of the reciprocal "thetorymanifesto.com", a site full of expletives and links to news stories about the negative impact of policies on different sections of society. It has received more than 210,000 interactions on Facebook, according to social media analytics tool CrowdTangle.
"I made the website in protest against the recent actions of the Conservative Party and their blatant use of propaganda in the build up to this election," the website creator, a Labour voter in their mid-20s who wished to remain anonymous, told First Draft.
The thetorymanifesto.com domain name cost less than £1 for a year from registrar company GoDaddy.com and took "about 30 minutes" to make, he said. The creator has made multiple updates to the page since the initial version on November 21, including the addition of a PayPal "donate" button.
A separate mock Tory manifesto site called  "conservativemanifesto.org.uk" warns the "CONservatives are laughing at you" and compares promises made by Prime Minister Boris Johnson with "actual facts".
It was created by a 36-year-old tech professional to "fight fire with fire", according to the Metro. He is not a Labour supporter, he said, but was incensed by the dummy site launched by the Conservative Party.
Yet another deceptive website hosted on the URL "theconservativemanifesto.co.uk" was registered on November 21 — the same day as the mock Labour manifesto site circulated.
It claims the Tories will team up with US President Donald Trump to "sell off" the NHS and appears to be a rebuttal of the same misleading claims about Labour's tax and spending plans.
This third website attempting to mimic the Conservative Party contains the Twitter handle of Momentum, a pro-Corbyn lobbying organisation, in its source code. Momentum has not responded to request for comment.
And finally there is a satirical outfit which has spent recent years crowdfunding publicity stunts to mock the Conservatives' and the Brexit Party's policies around Brexit.
The group, called Led by Donkeys, set up a site on "thebrexitparty.com" which opens with criticism of Brexit Party leader Nigel Farage and clearly states "Led By Donkeys" on the top right of the home page.
"It's satire. Open, honest and transparent satire," the group told First Draft.
After buying the domain in spring 2019, the group says it didn't create the full version of the site until Farage threatened to sue them for copyright infringement.
We own https://t.co/OQ5hfKpVXw. Farage and co have sent us a long legal letter demanding we give it to him. Well, he can have the website… for a million quid, all proceeds to the Joint Council for the Welfare of Immigrants (price goes up £50k a day)

— Led By Donkeys (@ByDonkeys) November 21, 2019
Adding 'fuel to the fire'
While each mock manifesto site states that it does not belong to the party it purports to be, these websites can be deceptive and trick members of the public, said Nahema Marchal, a researcher at the Oxford Internet Institute's Computational Propaganda Project.
"If you have a citizen who is inadvertently clicking on what they think is a campaign website or manifesto of the Labour Party, if there's nothing in the URL that indicates that this is satirical or a spoof site then… there is total and complete deception," she told First Draft.
The anti-Conservative pages created in retaliation to the mock Labour website have the same negative effect on trust, said Marchal, and can add to voter confusion around genuine party policies.
"It can give the impression to the public of 'why does this matter anymore' if they do it too instead of rising above it and calling it out as deceptive or misleading. They actually add fuel to the fire."
And as the websites are shared and visited further, "the Googles, Yahoos and Bings end up resurfacing these websites via search," she said, as the volume of visitors is seen as an indicator of authenticity by the search engines' algorithms.
"That's extremely problematic as it ends up prioritising fake campaign websites over real ones," Marchal added.
This is exactly what happened in the US in April 2019, in another example of partisan campaigners using mock websites as political ammo.
Earlier this year, a political operative who had created content for President Trump's re-election campaign made a convincing website appearing to be part of Democratic candidate Joe Biden's bid to be the Democratic nominee.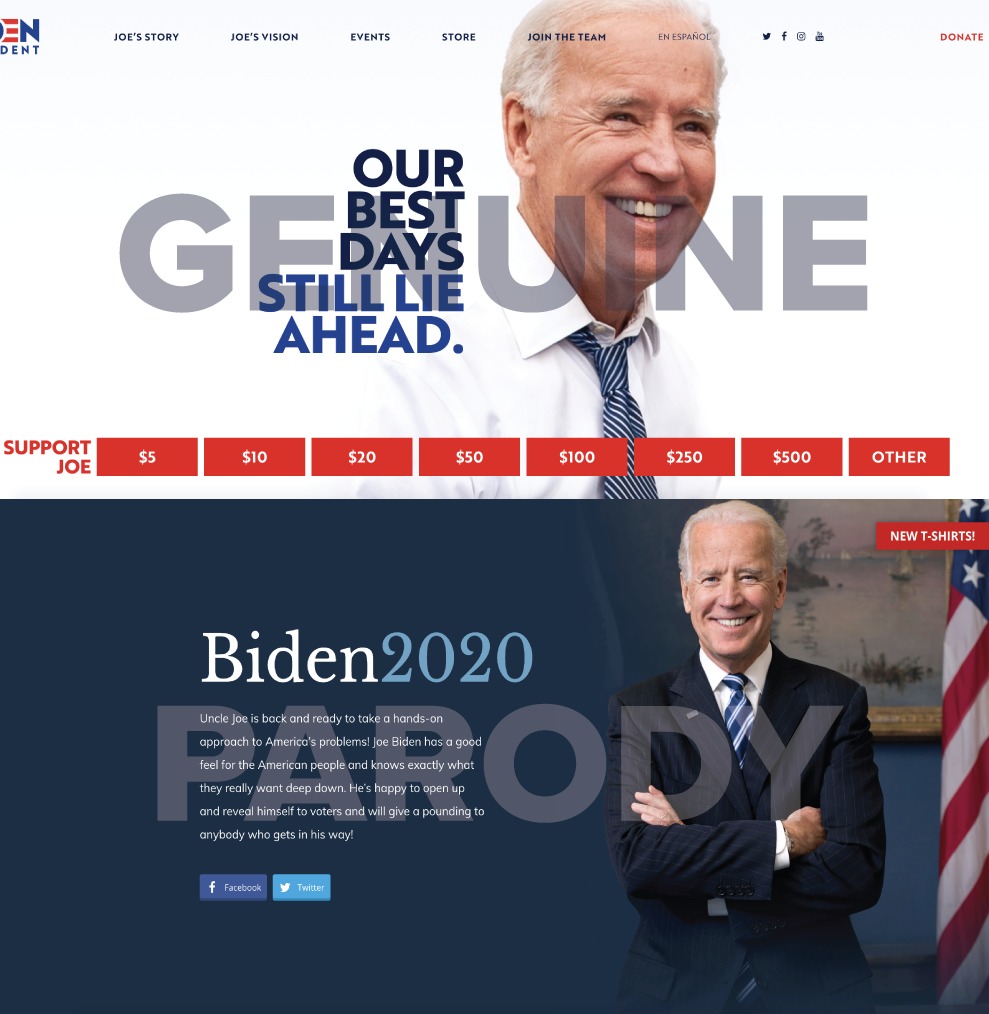 At one point earlier this year, it appeared higher in Google search results than Joe Biden's actual campaign site. The creator claimed that he made the site in his own time and with his own money.
"Search engines are optimised to crawl through certain terms in URLs as well as the content of pages, so people end up clicking on these things more and show them higher in search," explained Marchal.
For the anonymous creator of thetorymanifesto.com, the fake website war is just beginning. They are planning to use the £30 of donations so far received through the site to keep the site running through December and beyond.
"I intend to keep it up as long as I can. So long as there are gonna be elections, there's a need for people to see the Conservative Manifesto in its true form."
Stay up to date with First Draft's work by becoming a subscriber and follow us on Facebook and Twitter.