First Draft is sharing skills, insights and tools to support reporters and the wider public in response to the "infodemic" surrounding coronavirus. Each week, we host webinars for communities around the world, during different time zones and in multiple languages.
We cover a series of critical areas for journalists, including:
Monitoring

Verification

Ethical questions

Community engagement
Bookmark this page to keep up to date, sign up to upcoming webinars, and watch the recorded sessions.
These webinars are for journalists and community members.  To reach out to our global audience, we are hosting these from various countries in several languages. With contributions from both hosts and audiences, we aim to share knowledge, tools and information that will be valuable to all. 
Upcoming webinars
English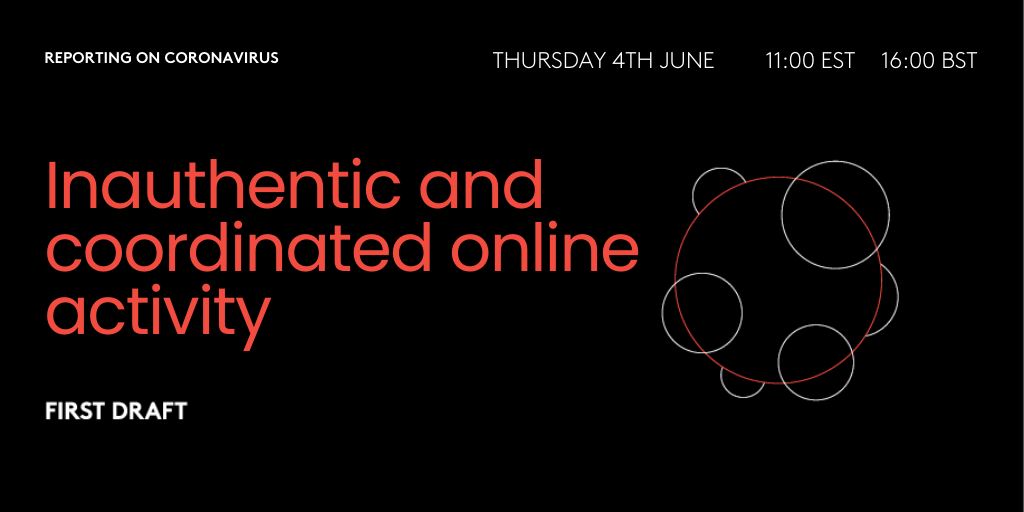 We are hosting a series of webinars for journalists covering coronavirus. Register below:
Previous webinars
The playlists for previous options can be accessed via the icon found on the top right-hand corner of each of the videos below. Click on the icon and the list of webinars available will come up on the right-hand side of the box. Click on whichever you would like to view
Playlist of English webinars
Playlist of Spanish webinars
Playlist of French, Italian and Portuguese webinars

Mental Wellness
English webinar recording with Victoria Kwan (First Draft) and Sam Dubberley (Head of Amnesty International's Crisis Evidence Lab)
French webinar recording with Marie Bohner (First Draft), Sam Dubberley (Head of Amnesty International's Crisis Evidence Lab) and Emmanuel Serot (Editor in chief, in charge of safety and security at AFP)
Covid-19 is an incredibly challenging topic to cover. The shift towards remote working, plus personal fears around the pandemic, can exacerbate these challenges. Below are the key takeaways from our mental wellness and vicarious trauma webinar:

Computational methods

As coronavirus-related misinformation continues to spread, knowing some basic data and computational methods are essential for journalists and researchers who want to map online information patterns and measure trends.

Newsgathering and monitoring
English webinar recording with Sebastien Cubbon, Lydia Morrish, and Alastair Reid (First Draft)
French webinar recording with Marie Bohner, Seb Cubbon, and Bethan John (First Draft)
Our Newsgathering and Monitoring webinar walked participants through ways of finding sources and keywords in support of coronavirus coverage. Some key points emerging from this session: 
Sources (the people we talk to) and keywords (the terms, hashtags and phrases used to discuss topics and events) form a 'feedback loop' that is central to finding stories on the social web. Sources can lead you to keywords, and searching for specific keywords can in turn lead you to sources. 

Information providers should consider the specific language used by the sources and online communities they want to tap into — taking into account, for example, jargon, acronyms and common misspellings.

Filters are very useful in avoiding information overload, if you adapt them to your specific needs and capabilities. 

Headlines, Images and Data Visualization

Once newsgathering, monitoring and verification are completed, the next step is to write the story — no easy task with a uniquely complex topic like coronavirus. Newsrooms must provide the public with accurate, up-to-date and easy-to-understand information in a fast-moving environment. How the story is presented to readers is also crucial: journalists face the challenge of conveying the gravity of the situation while avoiding spreading fear and panic. 
Headlines, photos and data visualizations are three areas where newsrooms can make a difference with their choices. Some key takeaways from this webinar: 
Headline wording is critical for setting the tone and conveying vital information to your readers. Treat them as if they are the only part of your article readers will see. Avoid using fear mongering language and judgmental language that makes light of people's anxieties. 

Consider tailoring your headlines for different platforms:

For headlines that your readers will stumble upon in algorithmic feeds like on Twitter and Facebook, be careful about the

amplification

of rumors. Try to avoid repeating rumors in the headline text. 

For headlines readers will find when they actively look up rumors in search engines like Google, Bing and YouTube, however, amplification is not as much of an issue. If the reader is searching specific keywords and rumors, they've already heard of the rumor. In this situation, journalists want to reach these readers before the misinformation does — so we recommend you put the keywords from the rumor in your Google headlines and YouTube video titles.

Consider the effect of the accompanying visuals on your readers — does your stock photo feed into negative stereotypes? Would it cause fear or panic (for example, by showing photos of panic buying and empty shelves)?

Data visualizations can help make information accessible, understandable and engaging. However, what we know about the coronavirus pandemic is so quick-changing that the data underlying the visualization can quickly go out of date (sometimes in a matter of hours). Use official sources and keep your visuals updated regularly. Newsrooms should identify in their visualizations the date and time it was last updated, and point readers to the most recent information (if it exists elsewhere).

Verification

Information providers and readers can feel inundated with coronavirus information, with news developments on symptoms, treatments, cures, spread, government responses and other societal effects pouring into our inboxes, notifications and social media feeds every day. Some tips from our Verification webinar for distinguishing the quality content online from misleading, out-of-context or fabricated materials: