Maybe you haven't learned how to monitor content on TikTok because you think it's all dance challenges and puppy videos. Perhaps you're hoping that the app gets banned before you really have to learn how to use it. But whether it's driving up toy sales or driving voter registration in the United States, the videos created on TikTok echo far beyond the app, straddling the intersection of culture and politics. 
According to its latest Transparency Report, 700 million people use TikTok across the world. It has 100 million users in the United States alone, 1 in 4 British people use TikTok every month and Norwegians watch TikTok videos an average of 74 minutes a day. The app's most popular content creator is a teenager called Charli D'Amelio, who has an eye-watering 95.4 million followers, and TikTok Houses are popping up everywhere as content creators move in together to build on each other's audiences. No wonder people and institutions including the World Health Organization, Guinness World Records and French President Emmanuel Macron have jumped on the app to try and meet audiences where they're already spending time. 
Understanding TikTok's language, culture and differences from other platforms will help you monitor it effectively. Welcome to your ultimate beginner's guide on how to monitor TikTok.
An unlikely home for politics and misinformation
That incredibly addictive landing page, coupled with a pandemic that left us all at home staring at our phone screens, has supercharged TikTok's ascent. And in this US election year, TikTok has also become a place to find political content, even though it banned political advertising in October 2019. Recently, Claudia Conway announced on TikTok that her mother, Kellyanne Conway, had coronavirus, and political hype houses have become the new space for punditry. TikTok has recognized its role and possible influence in the American elections and has developed an in-app guide to voting. Its Safety Center has a new section dedicated to the US elections, where it publishes daily updates on problematic content or narratives. 
And with more users and more content on the platform, misinformation is inevitable. In the first six months of 2020, 104,543,719 videos were removed globally for violating TikTok's Community Guidelines or Terms of Service — less than 1 per cent of all videos uploaded. The social network has established fact-checking programs in nine markets: the US, Canada, UK, Australia, France, Italy, Spain, Japan and India, according to its 2020 Global Transparency report. 
Some newsrooms have seen the opportunities offered by TikTok, (see The Washington Post and BBC examples below), but for many, TikTok does not feature in many editorial meetings.
How it all works
TikTok videos are 15-60 seconds long, and repeat themselves in a loop. You don't need an account to view content on the app and you can browse on desktop as well. The app makes it incredibly easy to share content: With the swipe of a finger, a TikTok video can go to WhatsApp, Instagram, Twitter, Facebook, be downloaded and reshared. Think of content on TikTok less like social media, where people post about their lives, and more like micro-entertainment. Each short looped video can combine all its layers of creativity to tell a mini-story. 
The app is different from other social media apps in five main ways: 
How the "ForYouPage" works and what that means for the virality of content

The added layers of creativity (music and effects) 

How you can remix other people's videos (duets and stitch)

How easily the content can be shared across platforms

The fact that hashtags can have emojis
A homepage just for you
The landing page of TikTok is completely different from other social networks and is tailored for each user. The "ForYouPage" displays content that the algorithm thinks you will like. You don't have to follow any of these accounts or trends: You get served a nonstop endless stream of video content tailored just for you. The unique power of TikTok's algorithm is that it learns from what you like, what you share, what you watch until the end — and it learns quickly. It also means that accounts with small numbers of followers can get huge exposure. A single video that strikes a chord with the algorithm could have millions of views, even if the account creator only has a few hundred followers. 
That can be problematic if someone shows an interest in content such as extremism, hate speech or conspiracy narratives. The algorithm recognizes what they like, and immediately starts to serve up more of that. Certain actors have recognized the power of the app and the "ForYouPage"; ISIS turning to TikTok to find new recruits, for example. Children's welfare charities have highlighted the dangers of adults having tailored feeds of content created by underage children, fearing TikTok could become a hunting ground for pedophiles. Black content creators have felt overlooked and censored by the "ForYouPage" (#fyp), and speaking personally, it is very easy to end up with a homogenous feed that is mostly US-UK and white if you're looking at videos in English. I had to actively follow different types of accounts and content.
On the flip side, it can also create pockets of community where people from all over the world find each other because of their tastes or interests. Individual creators, without hundreds of followers, can find huge audiences by creating content that people react to positively on the "ForYouPage."  
Layers and layers of storytelling
Once they've created an account, users can make videos up to 60 seconds long and combine images, videos, text, effects, filters, transitions, stickers, sounds and more. Users can upload their own sound or use any from the library of songs and sounds available on the app. Any videos uploaded with music or songs not licensed to TikTok are removed. 
This multi-dimensional creative medium builds on the visual language of Vine, Instagram Stories and Snapchat. This gives creators and storytellers endless ways to tell their stories. They can jam-pack 60 seconds with layers and layers of information and because the video repeats itself, it doesn't matter if you didn't understand them all on the first viewing; you'll get it the second or third time around. 
Josh Constine defines this property of TikTok videos as content density, and a measure of broadcast efficiency: "the entertainment value of a piece of content divided by its length — how many oohs, ahhs, huhs, or hahas per second. … The higher the density, the faster and more frequently the content delivers on its purpose of being cute, informative, inspiring, impressive, alluring, or funny." That's where the real power of TikTok videos lies: each one is packed full of layers and layers and layers of storytelling that together tell incredibly engaging, high-impact stories. 
The basics of searching and monitoring trends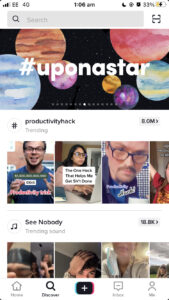 Understanding the language and culture of a platform is key to knowing where to look. To find newsworthy content on TikTok, it's important to remember that you have more layers of creativity, and therefore more layers of content, through which to search. You can monitor accounts, hashtag searches, sounds/songs and the visual effects that people use. You can search on tiktok.com on a desktop computer or on the app without an account, but you will need to register and create one to follow and monitor trends. 
The discovery section of TikTok  — both on the app and on desktop — shows the most popular trends, hashtags, sounds and filters for your feed with some engagement metrics as well. Remember that your search results will always be tailored to you: where you are in the world, what language you normally use to search, what content you watch, what you share, what you save to favorites. Tools such as VidNice can help you see who the biggest TikTokers are in other countries, but like many free third-party online tools, the website can be a bit buggy and unreliable. 
However if you want your "ForYouPage"  to show what people might be seeing in different countries, you have to set up separate accounts and force the algorithm to show you different types of content by following accounts and content from that country. You can also do this if you cover different beats or regions. Keep one account to follow political content and another to follow wellness accounts, for example. You can have multiple accounts in one app and switch among them quite easily. 
Emojis in a hashtag????
You can search by hashtag just as you can on any other platform, with one very significant difference: Hashtags on TikTok can include emojis. You might have to follow hashtags that are almost identical but have a different emoji at the end. Once you find a hashtag worth monitoring, you can "add to your favorites" to make sure it's saved as a search on your profile. Each hashtag search page will give you engagement metrics of how many views that particular hashtag has gotten. As always, be skeptical. Just because something is trending or looks like it's trending doesn't mean it's trending for the reason you think it is. Investigate.
Hashtags on TikTok can include emojis. When you're monitoring, remember to consider variations of text and emojis people might use in a particular hashtag.

To monitor content posted with a specific hashtag, search for it in the main discovery bar and once you're on the page, click "Add to favorites."
This search is now saved to your profile, only you can see it, and it makes finding this type of content easier.
Searching by sound and 'sound squatting'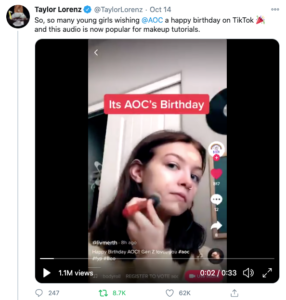 One of the most distinctive features of TikTok is the ability to search by sound. You can also re-use the sound or song in a video to create one yourself. This means that trends can go beyond keywords or the description in each post. If you're only looking for content using text keywords, you might miss other stories that are using sound trends as the unifying link. For example, the audio of a TV pundit describing the first presidential debate as a dumpster fire has been reused by both left- and right-leaning accounts on TikTok to comment on the debate or on other events in their lives. The sound takes on a life of its own as a trend. 
Recently, young women used the sound of Alexandria Ocasio-Cortez describing her first day in Congress to celebrate her birthday. More than 3,500 videos have been posted using this particular soundtrack. They show young women doing their makeup like AOC, making illustrations, and crafting all sorts of creative homages to the 31-year-old politician. Not all videos use the same hashtags, descriptions or styles: The unifying thread is the sound they are using.
Just as you can flood the content associated with a particular hashtag or keyword on other social platforms (known as keyword squatting), on TikTok you can do the same by flooding a sound or effect trend. The strategy is the same, but TikTok's added layers of creativity create more possibilities for manipulating the conversation.  "Sound squatting" is when users post videos using a specific sound or song with content unrelated to what the original creator intended you to see when you searched for that song or term. 
Lately, K-pop fans are flooding a song trend called "Trump is Your President" with fancams, videos of their favorite artists dancing. When people search for the song "Trump is Your President," they get a lot of K-pop content with significantly more views than the political content, effectively flooding out any political videos. 
You can search for TikTok sounds or songs people are using to publish content with by typing words into the main discovery bar and selecting "Sounds."

You can monitor how people on TikTok use a particular sound or song trend by clicking the button "Add to Favorites."
This song is now saved to your profile and nobody but you can see that.
This screenshot shows how fans of K-pop have been "sound-squatting" a particular song called "Donald Trump is Your President" by
Taking a DIY approach
Without knowledge of Python or R to do some more computational monitoring, there really aren't any publicly available tools to monitor TikTok. We've written before about why we need a Google Trends equivalent for TikTok as a monitoring and research tool. For example, our research team tracked how "Plandemic" videos were finding a home on TikTok after being taken off YouTube and Facebook. However, you can use CrowdTangle link checker to see who is sharing specific types of content and our Basic OSINT cheat sheet has good tips to monitor, verify and investigate the spread of TikTok content. 
Don't forget the pillars of verification
We need to scrutinize content we find on TikTok just as much as we scrutinize content on other social platforms. Think of the five pillars of verification: provenance, source, date, location and motivation. 
Provenance:

Remember that it's incredibly easy to share, forward, download and repost something on social media. Understanding how a piece of content has traveled will tell you a lot about it. Are you looking at the original piece of content? Does it look like a reshare? Is it horizontal video or vertical video? 

Source

: Who posted the video?  Check what other information is listed on their profile that could help you identify and verify them. Download their profile photo

using this tool

, reverse image search and see if they have used that photo in another place. You can use this tool to get more information about an account and download the profile photo in high resolution so you can do a reverse image search. 

Date:

TikTok videos show you the day and month something was published to the app. However, you might need to know a more precise publication date to verify it. If the video is allegedly showing something happening in the morning but wasn't posted until late at night, that could give you clues. You can also use some OSINT to

look for the exact date and time a video was posted to TikTok. 

Location:

Can you find visual clues in the photo or video to confirm that it is from where it says it is? What are people wearing? Are there any business signs you can Google? Can you find that same street on Google Maps?

Motivation:

The hardest one to crack, but sometimes the most useful. Try and think what the intention behind this post might be. What message are they trying to send? Who is their audience? That might help you look for clues. 
A TikTok showing you how to verify on TikTok
A TikTok video with almost 37,000 views allegedly shows a crowd of Trump supporters outside Walter Reed National Military Medical Center in Bethesda, Maryland, on October 4, 2020. Using visual clues and a bit of digital sherlocking, this example walks you through how to find the original video from a rally in Staten Island, NY that was posted on October 3, 2020 by Nicole Malliotakis, who is running for Congress.
Further resources
Lists of journalists and media outlets

Newsletters to stay up to date

Research Tools

First Draft Basic Toolkit

includes tools for researching TikTok that will help you download TikTok videos, profile photos and dig into accounts. 

This Twitter thread

will show you how to find the exact upload time and date of a TikTok video.

First Draft's guide on

researching TikTok

has tips on how to use OSINT (Open Source Intelligence) to investigate TikTok on your browser and more.