Americans are increasingly concerned about the impact of fake news and believe the government bears responsibility in stopping its spread, according to a new survey published today by the Pew Research Center.
Almost 90 per cent of respondents believe fake news causes a "great deal" or "some" confusion about "the basic facts of current events", and 45 per cent think the government, politicians or elected officials have a "great deal of responsibility" in stopping the spread of fake news.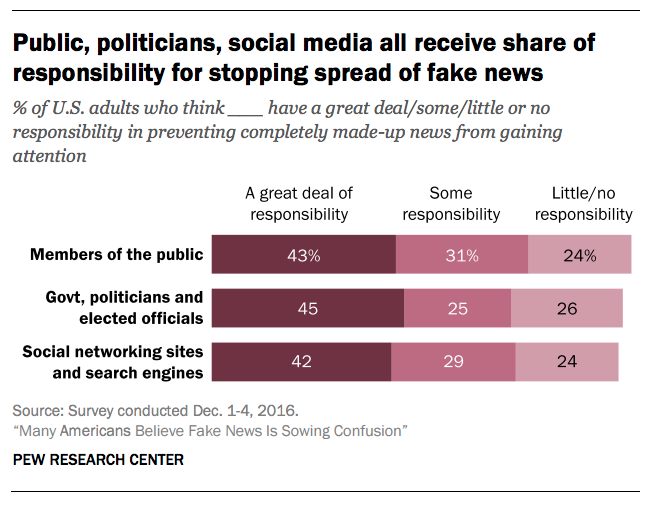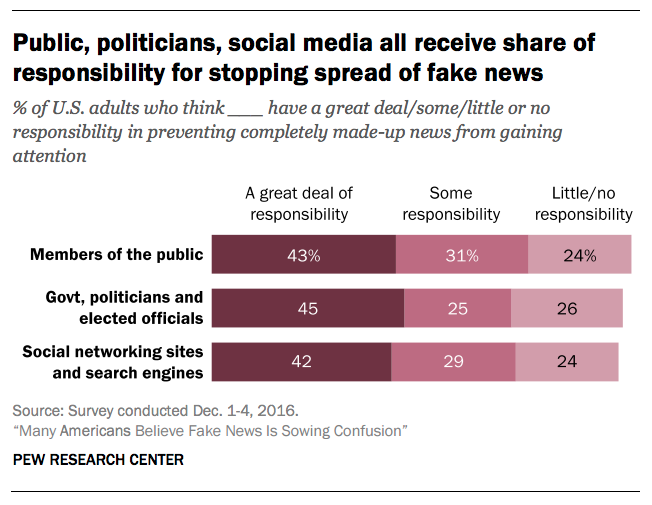 A third of respondents said they often see political stories which are "completely made up" and there was little difference in opinions or experience between demographics.
Many saw the role of technology firms and ordinary Americans, where much of the debate around fake news has focussed since the US election, as equally important to that of the government in stopping misinformation. But recent reports suggest there is little appetite for legislation in Congress.
"I don't think regulating [social networks] is the answer," Rep. Anna Eshoo, who cofounded the Congressional Internet Caucus, told BuzzFeed News.
"I absolutely believe Facebook should do more internally to regulate fake news and point out fake news," said Rep. Ted Lieu in the same BuzzFeed News report, but he opposed "any governmental efforts to make any private sector company do that."
Victor Pickard, a media policy expert and associate professor in the Annenberg School for Communication at the University of Pennsylvania, told First Draft he would not "advocate for some specific policy intervention, but we should be framing it as a discussion for society. And that means, yes, government does have some responsibility.
"There's a lot of attention being devoted to what should be seen as a serious social problem, and any social problem should be seen as a policy problem."
Direct government intervention would likely contravene constitutional rights on freedom of expression, he said, but politicians could facilitate something amounting to an "independent press council" to oversee how internet companies, individuals and media organisations distribute information online.
"There needs to be a broad open public debate about this, and ultimately Facebook has to own some responsibility for being a media company and talk about their responsibilities," said Pickard.
Google and Facebook have both promised to stop fake news sites making money through advertising on their platforms since the election, but Pickard said government could do more to help individuals understand "the media ecosystem".
When asked about their ability to spot fake stories, 85 per cent of respondents said they were "very confident" or "somewhat confident" in recognising misinformation when they see it. However, this is in direct contrast to a recent Ipsos poll conducted for BuzzFeed News, which found that 75 per cent of people believed fake news stories to be true.
"A more long term approach should absolutely include a critical media literacy curriculum in all schools, beginning at a very young age," said Pickard, but "there's not one silver bullet here that would solve the problem."
Check out: The 5 sources of fake news everyone needs to look out for online
Almost one in four respondents said they had shared fake news stories, according to the survey, with roughly the same number reporting they had "shared made up news knowingly and unknowingly". Fourteen percent said they knew a story was fake when they shared it.
"That could be to highlight that it's wrong but it could be for amusement, or because they knew it was fake but wanted to score a partisan point," Mike Barthel, a senior researcher at the Pew Research Center, told First Draft.
The research raises many more questions into how and why false information permeates society, and how best to respond to it, but "Americans seem to be fairly unified in their concern about fake news," he said.
"Now is a rare and perhaps fleeting opportunity to have this discussion and have this public debate," said Pickard, "so I do hope we seize the moment as it is something that Americans are paying attention to right now."