There has never been a better time to be an eyewitness on the social web. Sharing photos and videos of those weird and wonderful life moments online now means a global audience can vicariously experience that laughter and awe. Or, when eyewitnesses publish their depictions of harrowing incidents or hostile situations, it can help bring a spotlight to places and stories that may once have seemed a world away.
At Storyful, we work with eyewitnesses every day – finding their stories on the social web and sharing them with news organizations around the world. To do this effectively, we have to show some compassion when reaching out and talking to uploaders, taking into consideration what they have just experienced, be it hilarious or harrowing.
Working as a journalist amid hostile events is dangerous, even with the special training and protection that is often provided to professionals. Acting as an unprotected eyewitness, especially an unprotected eyewitness with a camera, can prove catastrophic.
There are many cases to note, such as that of photojournalist Ahmed Samir Assem, who reportedly filmed his own death after Egyptian security forces opened fire on protesters outside the Republican Guard in Cairo in 2013. Freelance photojournalist Mahmoud Abu Zied, more widely known as Shawkan, has been detained without charge for nearly two years for his coverage of the deadly 2013 protests in Egypt.
This is hardly a new development. In 1963, Abraham Zapruder was the co-owner of a women's clothing company when he captured what is arguably one of the most famous eyewitness videos of all time: the assassination of President John F. Kennedy. According to reports, Zapruder was traumatised by what he saw that day for many years to come.
Often, we as journalists and as audiences can take the eyewitness' situation for granted. We may see a piece of content that documents an incident perfectly, and, in our haste to publish, forget to account for the welfare of the person who captured it. When reaching out to eyewitnesses on social media, we sometimes fail to ask if the eyewitness is OK before asking if their content can be used on news platforms. This approach, which can seem quite cold to anyone outside the news business, is one many of us have made (myself included).
For example, see the outreach made on an eyewitness video showing the aftermath of a military aircraft crash in Seville, Spain, on May 9, in which four people were killed.
Ignoring my poor Spanish translation, I and several other journalists in the above example didn't ask the eyewitness in our initial outreach if he was OK, which would at the very least acknowledge his part in the tragic event he had just witnessed.
Restrictions to Twitter's character count and the time constraints on breaking news could be partly to blame, however; should we really be sacrificing the acknowledgment of the eyewitness for the sake of being the first to secure the content? It would only take a few extra characters and a few extra seconds to make sure he's safe.
At Storyful, we care about the welfare of the uploaders and usually take the time to inquire, or send a follow-up message to acknowledge the eyewitnesses' situation. See the following example, where the source uploaded dramatic footage showing a shootout outside the Dallas police headquarters in June.
The following screenshot shows some of the other initial outreach messages made to the same uploader.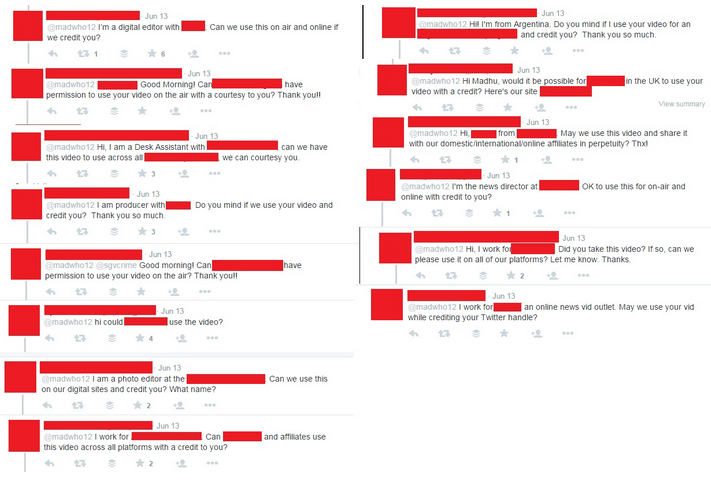 Now take a look at the media frenzy over attacks in Paris in January of this year, which began with a shooting at the offices of French satirical magazine Charlie Hebdo, and ended with a dozen people dead. The following video was uploaded to Instagram, where character restrictions aren't as strictly applied, unlike in the Twitter example above. In spite of this, very few of the comments from news organizations actually inquired about the welfare of the source.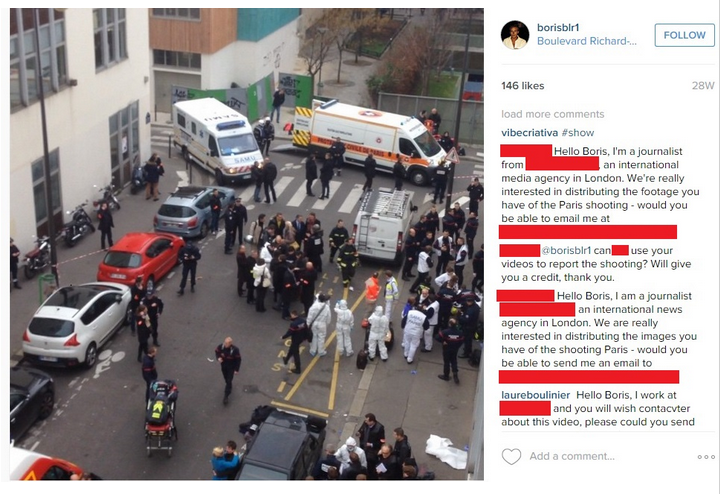 While the source in the example above appears to have later licensed his video with an agency who reached out on Instagram asking him to make contact, this approach does not always work.
Take the case of Zapruder in 1963. In the hours following the Kennedy assassination, he was offered thousands of dollars to sell his footage to various members of the press. Zapruder eventually settled on Life magazine because, according to the Washington Post, "Life was a class outfit, because the magazine agreed to handle the film with discretion, and because he liked the quiet, well-dressed man the magazine sent to see him."
In areas of the globe where the political situation is hostile, particularly in the Middle East, parts of South America, China and eastern Ukraine, I have found that it is not necessarily as easy to obtain content clearance from eyewitnesses as it would be in a more stable location.
In covering the recent Ukrainian conflict, it has been a regular occurrence that after reaching out to an eyewitness, I would receive messages questioning my identity, my level of trustworthiness and which side of the war I support – this being the circumstance if I was lucky enough to even receive a reply. In many cases, I would later return to the user's page and find the piece of content had either been deleted or the user's page itself had been suspended.
I have found that taking the time during that initial outreach to ask the source if they're OK, if they're safe, and then explaining a little bit about myself, where I come from and what Storyful specifically does, helps in making the eyewitness feel more comfortable. Some of these initial interactions for the sake of transparency have ultimately led to my developing longer-term relationships with uploaders, which helps Storyful monitor ongoing events in their region.
And so, we offer a few best practices to remember when reaching out to eyewitnesses and potentially long term sources:
Approach with transparency
If you are reaching out to an eyewitness in a volatile area, and using an online translator, remember to try and let the person know who you are, where you are from, and maybe what your company does. This transparency is more likely to make someone feel a little more comfortable with you. If it seems necessary, let the person know that whatever they say to you can remain confidential or anonymous.
Take a genuine interest in the eyewitness' welfare
Even if you only have time to ask how the uploader is, or if they have reached a safe place, this makes a difference. Definitely do not encourage uploaders to take risks in order to gather more content for you — their safety is a priority. The BBC's Mark Frankel called for journalists on social media to "stop shouting all the time" and instead listen, in order to learn a little more from the audience themselves. This is good advice.
Keep in touch
If the eyewitness is a potentially good source for the long term, keep in touch. This doesn't mean only reaching out to them if they have information or content you want. Check in on them every now and again, making sure they're doing well, asking what's new, etc.
Ask to join relevant communities
Once you have established a level of trust with a long term source, ask if they are part of any relevant online communities where they would be comfortable making introductions on your behalf.
Over the course of the past few years, with the help of some invaluable eyewitnesses, we at Storyful have been introduced to other civilian journalists, eyewitnesses and private community groups, on a plethora of social media and private messaging platforms, which have proven integral to monitoring ongoing situations around the world.
Most importantly, don't take the eyewitness for granted.
While they may be capturing a personal moment, they may also find themselves unwittingly writing a piece of history just for being in the right place at the right time (or, conversely, the wrong place at the wrong time).
Without eyewitnesses sharing their experiences, would the Western world fully understand the gravity of the situation in Syria? How would news coverage of the London 7/7 bombings in 2005 have been affected if the smartphone didn't exist, considering the professionals were unable to reach the sites?
Considering the increasing importance of user generated content in how audiences experience the news, journalists should take care not to forget the eyewitnesses who make it all possible.