Week five of the UK's general election campaign gave First Draft's collaborative CrossCheck project a lot to dig into.
From Channel 4 misquoting Boris Johnson to 'Factcheck UK' making a mysterious return, the final week before the vote on December 12 was full of disputed content.
"People of talent" or "people of colour"? Boris Johnson quote disputed
On the morning of December 6, Channel 4 News posted a clip of Boris Johnson addressing a crowd from December 5, including the quote: "I'm in favour of having people come to this country, but I think we should have it democratically controlled."
Twitter users started to criticise Channel 4 for not including what they thought he said: "people of colour".
Channel 4 News subsequently deleted the original post and reuploaded the video including the subtitle "people of colour". That tweet, too, was deleted before Channel 4 then put out a further tweet saying "our earlier tweet was a mistake. We misheard and we apologise".

Boris Johnson says "people of talent" not "people of colour."

Our earlier tweet was a mistake. We misheard and we apologise.

— Channel 4 News (@Channel4News) December 6, 2019
However, the Prime Minister's team said Johnson said "people of talent", according to BuzzFeed senior political correspondent Alex Wickham.
Conservative Party politician Jake Berry criticised Channel 4 for what he said was an "outrageous smear", tweeting a clip of the video with clearer audio than many of the segments circulating on social media.
Outrageous smear by @Channel4News subtitling a video suggesting Boris said "people of colour". They have now deleted their video and apologised

Listen. This is what Boris *actually* said ? pic.twitter.com/jCd7FSY7rW

— Jake Berry (@JakeBerry) December 6, 2019
The furore has also prompted fierce criticism of Johnson by the public and opposition politicians such as the Liberal Democrats' Chuka Umunna, who reshared Channel 4's video with the "people of colour" subtitle. His tweet commenting on the video has since been deleted.
Thousands of misleading Conservative ads side-step scrutiny thanks to Facebook policy
The Conservative Party hit the rocket boosters on their Facebook advertising campaign this week, launching almost 7,000 ads into the powder blue nethersphere, micro-targeted to their desired demographics and interest groups.
First Draft found almost 90% of these ads contained claims already labelled as misleading by Full Fact, Facebook's official third-party fact-checking partner in the UK. Facebook's official policy on political ads, however, is that they are exempt from fact checks, meaning the misleading claims can circulate unchallenged.
Claims about the NHS, income tax cuts and Labour's spending plans were all included.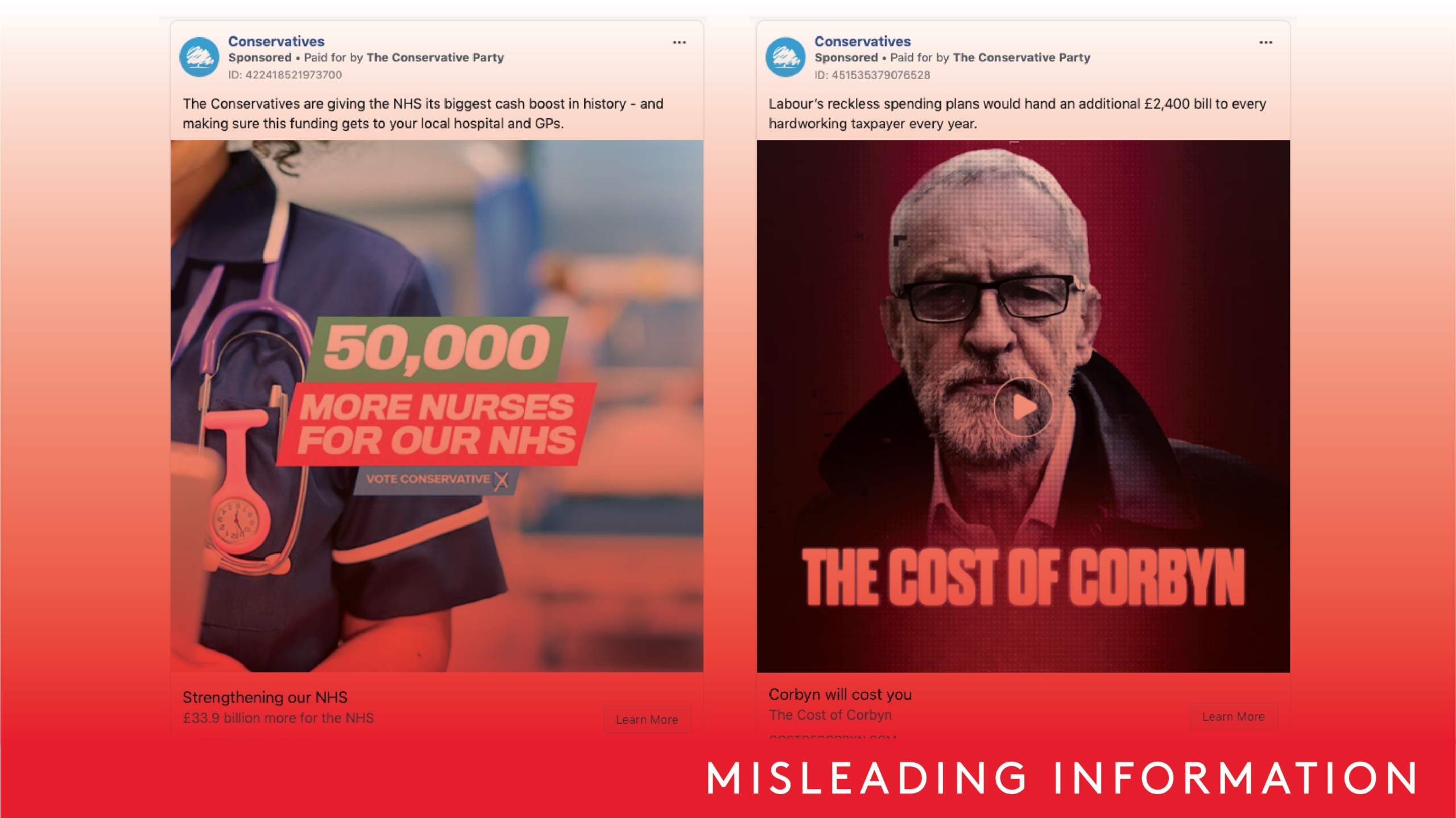 Senior Conservative Michael Gove told ITV: "I'm not aware of any adverts that we publish that have been misleading."
And a Facebook spokesperson told ITV News: "We don't believe a private company like Facebook should censor politicians. Our approach is instead to introduce unprecedented levels of transparency so anyone can see every political advert and who it's from."
Full Fact chief executive Will Moy said: "This election candidates and campaigns on all sides are asking voters for their trust. Serious parties and politicians should not be recycling debunked claims or targeting individuals with bad information – we all deserve better than that."
Brexit Party and Scottish Conservative officials behind Facebook ads attacking Labour
In another exclusive from First Draft, party officials were found to have registered as non-party campaigners and set up two Facebook Pages to attack the Labour Party.
The web of connections, uncovered through Electoral Commission documents and good old-fashioned digging, spans the Brexit Party, the Scottish Conservatives and a pro-Brexit thinktank called Global Britain.
While the individuals did not break any laws, the issue of "faceless" digital campaigning was described as "a hornet's nest" by one expert, and another told First Draft campaigners should be "transparent and honest". None of the individuals involved responded to requests for comment.
Fake Conservative leaflet defending former MP charged with sexual assault
CrossCheck journalists identified a leaflet purporting to be from Natalie Elphicke, a finance lawyer and wife of former Conservative MP for Dover Charlie Elphicke. A photo and a video of the leaflet were posted on Twitter on December 4 and 5, respectively.
In July 2019, Elphicke was charged with three counts of sexual assault. However, he denies the charges.
Natalie is contesting the Dover seat in the upcoming general election in her husband's place.
The leaflet was written as though from Natalie's point of view – defending her husband against his charges of sexual assault. It asks readers to donate to a "defense [sic]fund" to help clear Charlie's name and features the Conservative Party logo, as well as a photo of the couple.
Dover Conservatives told First Draft the leaflet was not from their office.
Kent Police said they received a report of a fraudulent leaflet being distributed to properties in the Dover and Deal area and that enquiries were being carried out to establish the circumstances.
Printed across the bottom of the leaflet was the domain name "firewithfire.media". According to Whois data, the website – which doesn't lead anywhere – was registered on November 27, just one week before the leaflet emerged and updated on December 4.
Party publications got the mag treatment
First Draft found another example of an imposter newspaper: this time the missive is impersonating a tabloid magazine and appears to be paid for by the Welsh Conservatives.
Titled 'You & Your Family', the leaflet is in the style of entertainment magazines like Real People and Heat.
The headlines include: "Brexit done with a deal" and "an extra £1.9 billion for our Welsh NHS".
The imprint at the bottom of the leaflet reads: "Promoted by Alan Mabbutt on behalf of the Conservative Party, both at 4 Matthew Parker Street, London, SW1H 9HQ". This line is contained on the Conservative Party website, Facebook page and other printed election materials.
Twitter user Owen Williams, who shared photos of the magazine, told First Draft he received the leaflet in Vale of Glamorgan — the constituency of Former Secretary of State Alun Cairns, who Mr Williams says is "notably absent from the literature".
What in the hell is this rubbish, @WelshConserv? pic.twitter.com/lVBIab0tKa

— Owen Williams ??????? (@OwsWills) December 4, 2019
First Draft has contacted the Conservative Party for comment.
Conservative candidate circulates red 'Labour' leaflets
Stephen Kerr, the Conservative candidate for Stirling, was found to be circulating a red leaflet which looked like Labour Party campaign material and carrying an endorsement from the former chair of a Labour Party council.
Alistair Weir, the former chair of Labour Party Bannockburn and Eastern Villages, is described as "Labour man". However, according to a Stirling Labour Party statement, Weir was expelled after backing the Conservatives in the 2017 general election.
That's yer problem right there. Labour backing the Tories ? pic.twitter.com/xqIAGAHwWc

— Hammy (@paulhamill88) November 30, 2019
Stirling Constituency Labour Party Chairperson Mike Robbins said Weir was expelled after he "publically [sic] pledged support for the Tories while in a leadership role within the local Labour party during the 2017 General Election" in a statement on their website.
The leaflet makes no reference to this and, by calling him a "Labour man" and using the party's colour, it implies he remains in the party and distributed the leaflet. 
The leaflet appeared uncommonly close to a Labour Party pamphlet on first glance but in small print at the bottom came the statement "promoted… on behalf of S Kerr".
First Draft contacted Stirling Labour for comment.
Fake coalition tweet
On December 5, Labour and SNP candidates shared a tweet from a fake and since suspended Twitter account claiming to have insider information about the Liberal Democrats approaching the Conservatives about a potential coalition.
The SNP's Angus B Macneil and Labour's Tulip Siddiq and Alex Sobel retweeted the untrue tweet, with Siddiq commenting "I hope no one is surprised by this" and Macneil adding "The Lib Dem disaster just gets worse at this election". 
Screenshots of the misleading tweet were shared on a Labour supporter's Facebook, with almost 300 shares.
The fake 'Max Gapes' Twitter account, which shared the claim, is now suspended. It had shared anti-Lib Dem tweets before.
'FactCheck UK' is back and it's anti-Conservative
A Facebook page created on December 5 and called "FactCheck UK" has been running ads attacking Boris Johnson.
The page mimics the Conservative Party press office's imposter fact-checking service, which was widely criticised for misleading the public during the first televised leaders' debate on November 19.
The ads, highlighting Johnson's comments about single mothers from a 1995 Spectator column, link out to the Independent's report on the article. They target only women from England and Wales in what seems like an attempt to warn mothers against the Prime Minister.
The Facebook Ad Library names Jamie Betts as the page promoter. The name and given address match a company called Paradigm Research Limited in Canterbury, registered to Companies House on April 11, 2019.
Betts is also named on ads for the page "Best for Brexit", which also attack Boris Johnson. These ads predominantly target men.
Paradigm Research's Betts denies that he posted the ads and says it is a mistake that his name and company's address is listed.
First Draft has reached out to Facebook for more information.
One of the Best for Brexit ads claim Johnson is a "compulsive liar", adding: "Fact checkers have confirmed – Boris Johnson lied over 300 times, in the last three months." 
While Johnson has come under scrutiny during the election for making disputed claims, First Draft could not find evidence of 300 lies.
The Prime Minister rejected the criticism he received for the Spectator column after it re-emerged in November. "I don't think this is the time to talk about articles that were written a very long time ago," he said.
Update 10/12/19: This article was updated to include Jamie Betts' response to the Facebook ads for which he is listed as the page promoter.
Update 9/12/19: This article was updated to reflect that Chuka Umunna deleted his tweet commenting on Channel 4 News' video of Boris Johnson.
Interested in becoming a CrossCheck partner? Get in touch.
Stay up to date with First Draft's work by becoming a subscriber and follow us on Facebook and Twitter.