This article is the third in our Digital Investigations Recipe Series, a collaboration between the Public Data Lab, Digital Methods Initiative, Open Intelligence Lab and First Draft. Please read our example investigation below first and then refer to the recipes How to find misleading YouTube videos on fringe platforms  and Misinformation networks on YouTube: recommended videos for a step-by-step guide on how to conduct a similar investigation.
In December 2020, a 4chan user joined a heated discussion around the newly rolled-out Pfizer/BioNTech Covid-19 vaccine, warning that international health organizations "sneaked a little bit of sterilization into vaccines." A few lines later, a different user reiterated the falsehood and linked out to a YouTube video from The Corbett Report channel, well-known for spreading misinformation, pushing the wider conspiracy theory of Bill Gates' plan of population control in the Third World.
False claims about Covid-19 vaccines as vehicles for sterilization as well as claims that the vaccines are abortion drugs have been widely shared among conspiracy theory and anti-vaccination communities since the rollout of the vaccines.
For years, the mismatch between high demand for information and low supply — what we call data deficits — has left room for false vaccine sterilization narratives to spread. As rumors circulate, there aren't very many fact checks from newsrooms, who would not consider it worth their time to actively debunk. A recent example is the old claim that abortion drugs were found in "Bill Gates' tetanus vaccine." It has recently emerged on African Facebook Groups and continues to spread around the continent. Platforms have made some progress in combating vaccine misinformation on social media, making problematic content less visible on their feeds, but there is still a long way to go.
In order to track the ways in which users on fringe platforms are reposting misleading content from the major platforms, we used a new methodology to specifically find examples of YouTube links.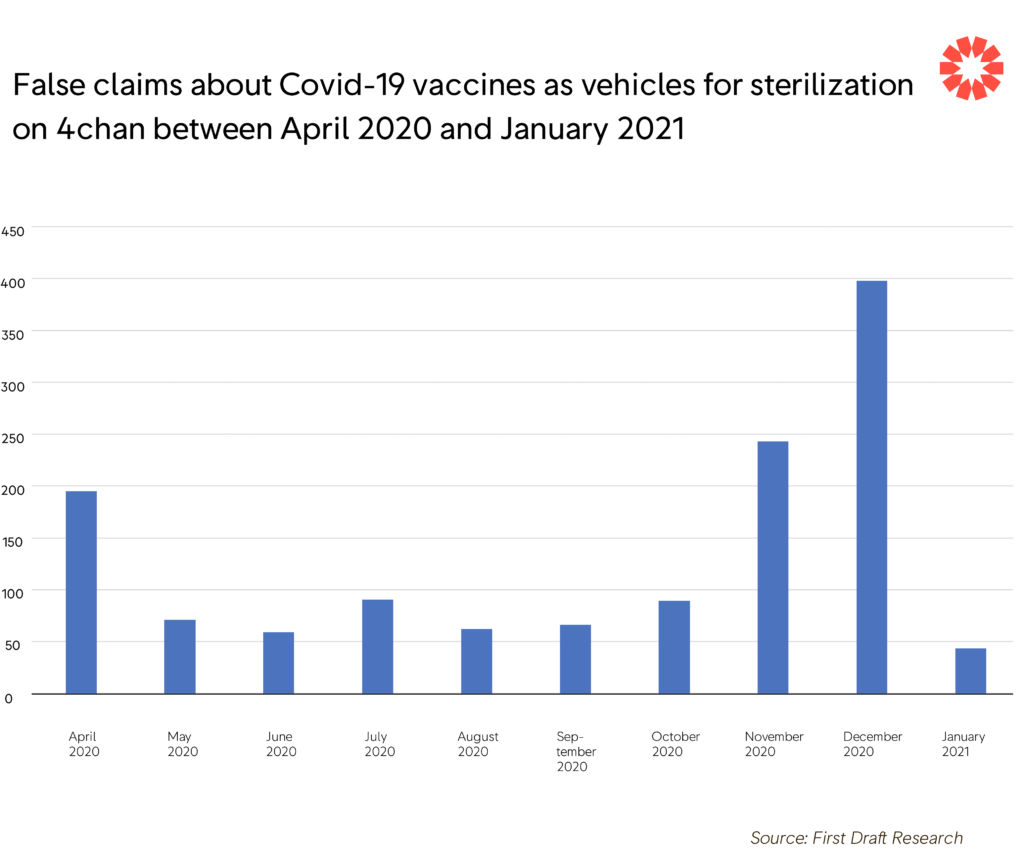 According to our analysis, not only is medical misinformation still circulating on YouTube, but users on fringe platforms, such as 4chan, 8kun and Reddit, are still relying on YouTube videos to assemble and share evidence in support of their conspiracy theories. In these alternative spaces, YouTube has become a kind of evidence-building storehouse to consolidate and expand conspiratorial beliefs, strengthening the framing process of an on-growing ecosystem of information disorder.
After retrieving 4chan data around a number of keywords related to infertility, sterilization and Covid-19 vaccines, we identified posts with YouTube videos and extracted those links. From those links, we were able to find over 20 misleading YouTube URLs referenced by 4chan users as part of the infertility conspiracy theory since April 2020. The majority of the videos fed into broader anti-lockdown and anti-government conspiracy theories, totaling over 9 million views. In one example, a video explaining how the pandemic was orchestrated to create more dependence on governments produced 380,849 views. Another video showed a man claiming that even if the vaccine will unlikely "completely sterilize" the population, it will make "60 or 70%" of the population infertile. 
Eight videos had already been deplatformed, making it impossible to analyze the content. According to YouTube's policy on Medical Misinformation published in May 2020, the platform doesn't allow content that includes misinformation around vaccines and contradicts the World Health Organization's medical information about Covid-19. Yet, as the previous videos demonstrate, there is still a lot of content that all too easily strides past YouTube's moderation policies. 
YouTube's own recommendation algorithm contributes to the entrenchment of conspiracy theory-related beliefs and radical "echo chambers." Using YouTube data, we found a host of problematic videos, such as EXCLUSIVE: Dr. Simone Gold discusses benefits of Hydroxychloroquine after video promoting drug was [banned], The Great Reset 2021 WARNING!! and 'TRUTH' With RFK, Jr Standing Up to Big Pharma: An interview with Russell and Samar Okung, were recommended to us by the platform after clicking on YouTube links we first identified in the 4chan dataset. This is particularly worrying not only because more people are getting their news from YouTube but also because new research has shown that individuals who get a fair amount of information on Covid-19 through YouTube are around three times more likely to believe in vaccine-related conspiracies. 
Those trying to push infertility claims have had some help from supposedly trustworthy voices; for example, when former Pfizer employee Michael Yeadon and German physician Wolfgang Wodarg filed a petition calling on European regulators to halt Pfizer vaccine trials over concerns about female fertility.
The debate is further complicated by the absence of data around the impact of the vaccines on pregnant women and fertility. On December 2, a document that was part of the UK government's approval process for the Pfizer vaccine stated that the vaccine's impact on fertility and pregnant women was "unknown" and it was shared heavily on social media as evidence of the infertility narrative. In late January, the WHO tried to make its guidance to pregnant women clearer, saying that "based on what we know about this kind of vaccine, we don't have any specific reason to believe there will be specific risks that would outweigh the benefits of vaccination for pregnant women." Previously, it had suggested that pregnant women avoid the vaccine unless they fell into high-risk categories.
Conflicting advice from headlines and official sources has only expanded the data deficit around infertility, allowing more space for vaccine misinformation to spread. 
The misleading examples — found on 4chan and hosted by YouTube — are only the latest iterations of the misinformation narrative that continues to present vaccination campaigns as a "population control mass sterilization exercise." As more and more people go to YouTube for their information, these narratives have the potential to influence attitudes, shape opinion and erode trust, not only in Covid-19 vaccines but also in health authorities, feeding into a broader information disorder panorama within and beyond the fringe spaces.
You can follow the recipes How to find misleading YouTube videos on fringe platforms and Misinformation networks on YouTube: recommended videos to produce your own investigation. You don't need to be an experienced coder to replicate the methodology, just follow the step-by-step guides.