This article is the fifth in our Digital Investigations Recipe Series, a collaboration between the Public Data Lab, Digital Methods Initiative, Open Intelligence Lab and First Draft. Please read our example investigation below first and then refer to the recipe Cross-platform construction of a conspiracy theory over time: URL analysis for a step-by-step guide on how to conduct a similar investigation. 
To identify popular climate change misinformation circulating online, First Draft analyzed climate change-related conversations over the past year on the fringe platforms 4chan and 8kun. We found over 2,000 posts on 4chan falsely claiming "climate change is a scam." A further 250 similar posts were identified on 8kun, the smaller, more radical board that took over from 8chan.
We know from previous work that communities use and repurpose external links to news and blog articles, for example, to build support for a conspiracy theory. To identify the material being used to support these false narratives and conspiracy theories, we extracted the most common domains found in those 4chan and 8kun posts.
What we found
Among the posts claiming "climate change is a scam," YouTube was the most popular domain, appearing in over 100 posts. That was followed by BitChute, another video platform known for its far-right and conspiracy theory-related content. 
The most frequently appearing link in the dataset was a YouTube video called "The Great Global Warming Swindle." It has been viewed over a million times and remains online as of this writing. A statement from the creators of the film falsely claims that the scientific theory of anthropogenic global warming could very well be "the biggest scam of modern times." 
YouTube's prominence in the dataset makes sense, given the sheer size of the platform as well as what we know about the "echo chamber" of some content on the platform. Nonetheless, the rampant use of YouTube links on 4chan and 8kun emphasizes how misinformation on the platform is being pushed to networks in other online spaces. 
Surprisingly, the third-most common domain among the 2,000-plus posts we analyzed were web archive links from sites such as the Wayback Machine, Archive.vn and Archive.is. Web archiving is the process of saving versions of a webpage or social media post to ensure there is a record of it in case the content is banned or taken down. In the past year, actors have used archiving services, such as the Internet Archive's Wayback Machine, to evade the algorithmic demotion and fact checking of their content on social media.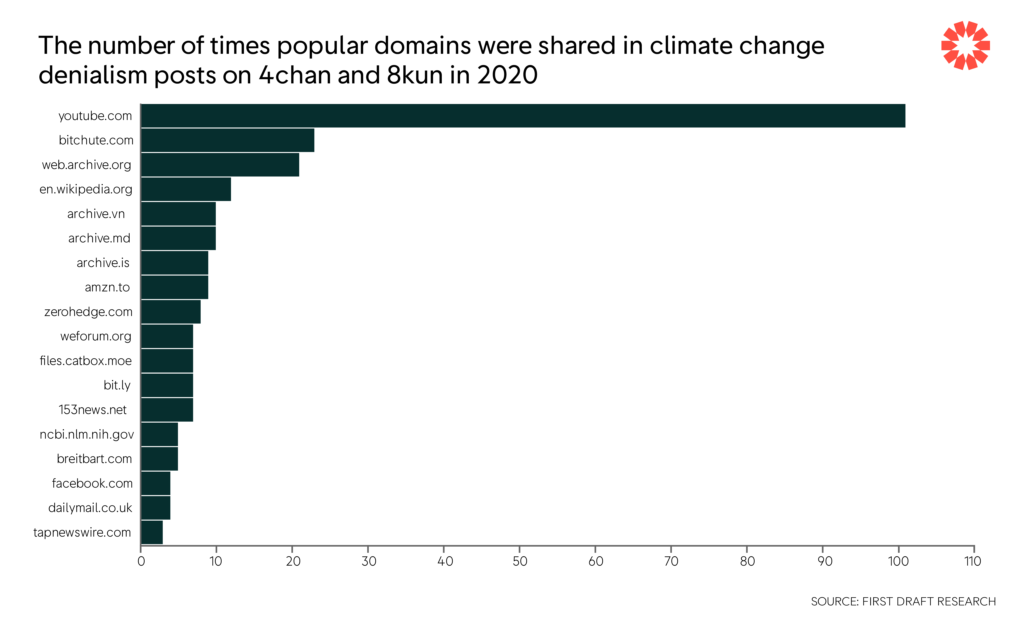 We also found that 4chan and 8kun users were sharing Wikipedia links to support climate change denialism. Links to the "ExxonMobil climate change controversy" Wikipedia page, which discussed how ExxonMobil in the 1970s and '80s funded climate change denial initiatives, were among some of the links cited. Other examples include Wikipedia links to "Government failure" and the "Parable of the broken window," which users cited to push the narrative that money being "wasted on the climate hoax could be used to create other things including medical treatments, housing, and food. Important things that humans actually need." Wikipedia's open editing format means that the crowdsourced encyclopedia is often a target for misinformation. 
To see the relationships among the domains in the dataset, we conducted a network analysis — looking at the most common domains in climate denialism forums on 4chan and 8kun and how they are used. We organized the links based on whether they appeared in the same 4chan or 8kun thread. This is known as a URL or domain co-link network. The lines (or edges) connecting the dots signify domains that appeared in the same thread.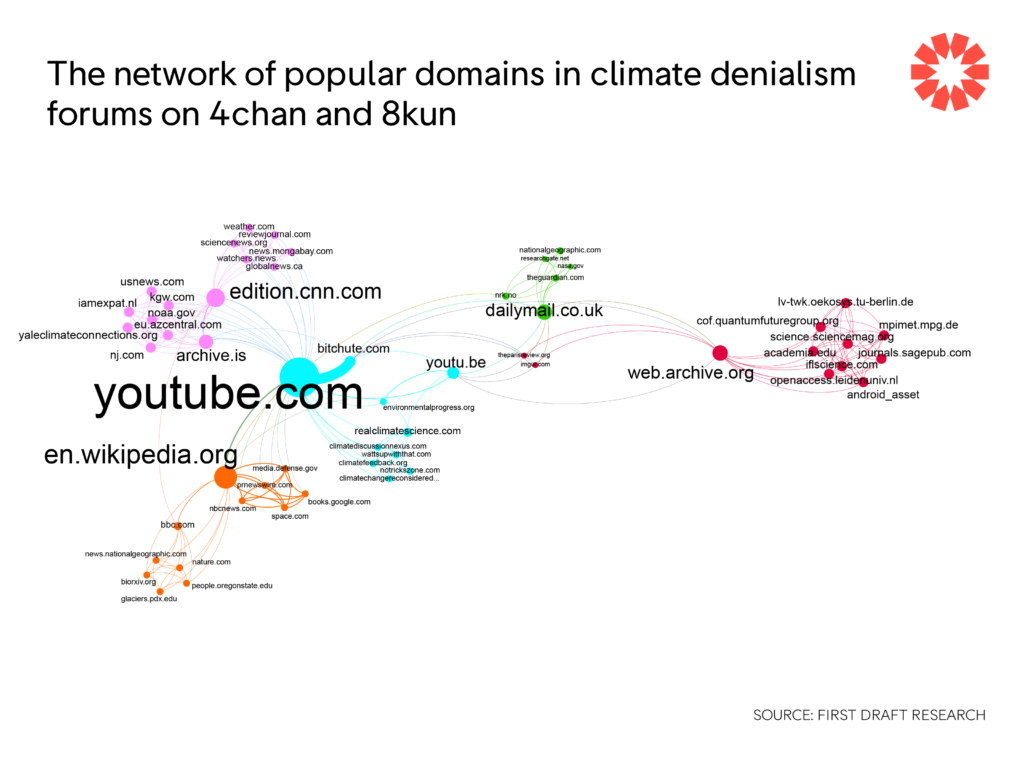 The larger the size of the circles (or nodes), the more connections these nodes have with other nodes. The large size of YouTube, BitChute, Wikipedia and different web archive links underlines their importance in this network. That YouTube is not only the largest node but also at the center of this network is further evidence of the platform's significance among climate change conspiracy theory conversations occurring in this dataset. 
As the network map shows, YouTube videos often appear next to climate change-skeptical science blogs such as the pseudoscience website "Real Climate Science" and Breitbart News on 4chan and 8kun.
The issue of using links to bolster conspiracy theories extends beyond fringe spaces such as 4chan and 8kun. Often, URLs that are shared among communities on 4chan and 8kun are then pushed again onto larger and more mainstream platforms. We identified various YouTube videos in our data, such as "In-depth Story Behind a Climate Fraud" and "One hundred years of climate… change?" that had made their way onto Instagram, gaining hundreds of thousands to millions of views in days on YouTube.
Real-world consequences
In February, United Nations Secretary-General António Guterres said that 2021 will be a "crucial year for action on climate change." A separate UN survey showed broad global support for more action being taken to address this "global emergency." But we know that climate change misinformation is closely linked to skepticism and denial. 
Despite almost unanimous agreement among climate scientists (97%) that people are causing global warming, online conspiracy theories and misinformation have the potential to derail public support for climate change action.
You can use the recipe Cross-platform construction of a conspiracy theory over time: URL analysis, which provides a step-by-step guide on how to use the tools and methods in this analysis to do your own investigation.
Stay up to date with First Draft's work by becoming a subscriber and following us on Facebook and Twitter.