UPDATE – This article was originally published on Jan 6 2016, but has been updated with the first two tools. Know of any others we may have missed? Let us know on Twitter.
When breaking news can travel the world in seconds, it is important for journalists to have the tools at their disposal to get to work fast. When searching the web, what quicker way is there to have those tools available than directly in the browser window?
Most browsers have a catalogue of programs and software to make your browsing experience more powerful, like a smartphone app store. At First Draft we find Google's Chrome browser is the most effective but there are obviously other options available.
Here are five of the most useful browser extensions for finding and checking newsworthy material online.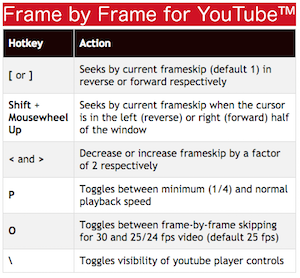 Verifying video often means examining individual frames to figure out exactly what is happening. If you're looking at videos on YouTube, normally you don't have many options to do this aside from frantically slapping the space bar to pause and un-pause the playback, or manually shuffling the slider along, hoping to catch individual frames.
Here's where the Frame by Frame plugin comes in, providing an extra set of tools on top of those provided by YouTube itself.
As the name suggests, you can view videos by a frame at a time, but also change the playback speed, change the number of frames you want to skip through and use your mousewheel (if you have one) to scroll through the video at will.
Remember the video of a "weather girl" hit by a fish on a stormy beach in Wales at the start of this year? When investigated using Frame by Frame, the fish looks suspiciously like it had already been gutted. Factor in the odd angle the fish enters the screen compared to the wave supposed to have carried it, plus that the video was uploaded by a pair of travel vloggers, and the veracity of the video's claim is highly questionable.
Another big problem for using eyewitness or newsworthy videos from social media is how frequently they can be removed, often without warning. Journalists and human rights researchers focussing on the Middle East, Africa and Eastern Europe will recognise the frustration of verifying a video and sending the link to a colleague, only for it to have been taken down, possibly forever. Know that feeling? Meet Video Vault.
After requesting access to the public beta version of Video Vault you are given a code to activate the Chrome plugin. From then on, whenever you view a YouTube, Twitter or Facebook video that seems newsworthy, you can tap the plugin icon in your browser and submit a request to archive the video.
After a minute or two, Video Vault will send you an automated email to view the video on the main site.
There you can download the video; save it to the cloud; zoom in and out on the footage to take screenshots of particular areas; reverse image search stills to see if the video has appeared online before; and even send a colleague a link to chat over video link about what the video may show.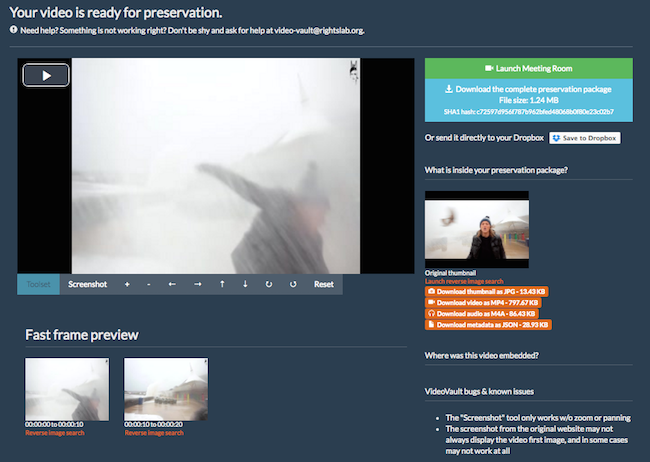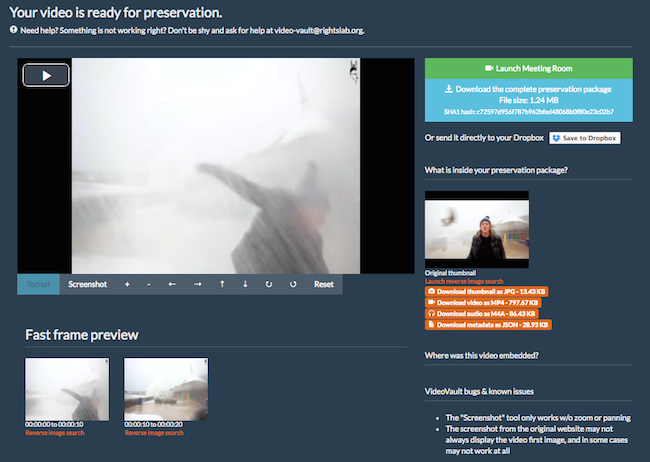 VideoVault's creator, Enrique Piracés, has big plans for the tool and is constantly updating VideoVault's capabilities.
He is selective in who he grants access to use it, however, so if you're not a journalist or human rights worker don't expect to be allowed instant access.
So a story breaks and you have a location and a few keywords to work with. Searching social networks is vital in breaking news to gather more information and footage, but finding useful material through the deafening chatter of social media can prove difficult.
With the Multisearch plug-in, built by social newswire Storyful, you can search Twitter, Vine, YouTube, Tumblr, Instagram and Spokeo with one click, opening the results for each network in a new tab.
Helpfully, a lot of the searches are customised to filter results that would be specifically useful for journalists.
The Twitter images search for "Malheur", for example, where an anti-US government militia have taken control of land in Oregon, will return not only native Twitter pics but any links to Flickr and other networks as well. The full, auto-generated search term for Twitter images with Multisearch is:
"malheur AND (pic.twitter.com OR Lockerz OR Twitpic OR Flickr OR Yfrog OR say.ly OR ow.ly OR twitgoo OR imageshack OR photobucket OR instagram) -RT"
So there you have the keyword ("Malheur") plus a handful of image hosting sites, with results filtered to remove retweets ("-RT"). It may be worth getting to grips with Twitter advanced search and Boolean search techniques if you want to tweak it for more detail.
Video searches on Twitter are customised in a similar way and YouTube searches are structured to just return videos – not channels or playlists – sorted by upload date.
Multisearch is open source and former Storyful CTO Paul Watson wrote about how it was built, including information about using it for other browsers, on the Storyful blog when Multisearch launched back in 2013.
Available on: Chrome
Social media gives you access to communities all over the world in an instant but not the language skills to understand what may be happening there.
With the Google Translate extension you can select any line of text and have it automatically translated in a pop-up window on the page.
If you know you'll be working on a story from a country with a specific language, it may be good idea to switch the default language of the extension so you can quickly translate English words into your language of choice to use in searches.
Available on: Chrome, Firefox, Opera, other browsers have similar options
One of the quickest ways to see if an image is newsworthy or not is with a reverse image search – basically searching online image databases to see if the image has appeared elsewhere before.
Google and TinEye are often the first options for this kind of search, but with RevEye you can search both of these databases as well as those from Microsoft's Bing, Russian internet company Yandex, and Chinese web firm Baidu, massively increasing the scope of the search.
Available on: Chrome. Search Image Everywhere is a good alternative for Firefox, most other browsers have extensions for individual databases
Being among the first to know certain information is a central part of being a journalist, but keeping an eye on a countless number of online sources can be difficult. This is where Distill comes in, letting you know about changes to a web page via a pop-up on your computer, email or SMS.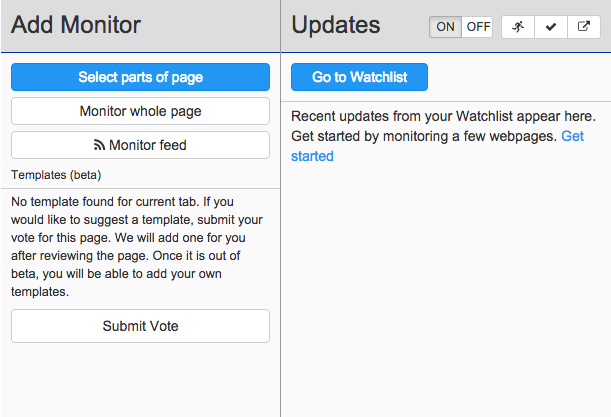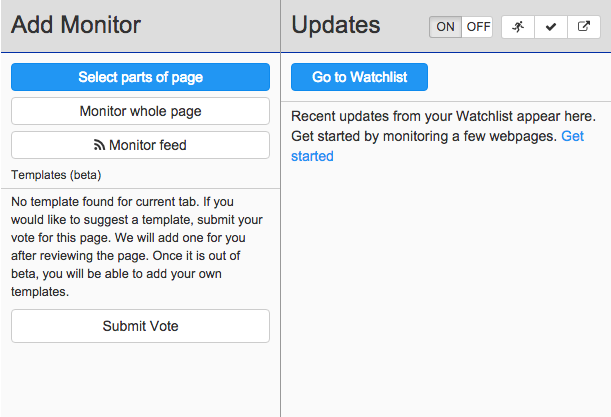 Go to a specific page you want to monitor and click the Distill icon and you can choose whether to watch part or whole of the page. From there, you can choose how often Distill will check the page, how you want to be notified and filter the monitoring for specific keyword updates if required.
Available on: Chrome, Firefox, Opera
The metadata of an image – information about things like the time, date and device used when the picture was captured – can go a long way in verifying whether a picture is all it claims to be.
The best way to check EXIF data is to upload the original image to a site like Jeffrey's Exif Viewer, but if you find an image online that you want to check out there is a handy browser extension to send it straight there.
Once the extension is installed, just right-click on the image and select "Send to Jeffrey's Exif Viewer" to view any metadata in a new tab.
Unfortunately, almost all social networks strip EXIF data out of an image when it is uploaded, and altering or cropping an image can remove useful data too. That's not to say this function is completely useless for verification, but be aware that many images found online will not have the necessary amount of metadata to make the call either way.
Available on: Chrome
Think we've missed anything? Let us know on Twitter or by email.