This article is the fourth in our Digital Investigations Recipe Series, a collaboration between the Public Data Lab, Digital Methods Initiative, Open Intelligence Lab and First Draft. Please read our example investigation below first and then refer to the recipe Tracking the cross-platform spread of harmful and misleading narratives for a step-by-step guide on how to conduct a similar investigation.
Two deplatformed disinformation websites and key players within Russia's "disinformation and propaganda ecosystem" are largely behind the false narrative on fringe platforms that the Pfizer Covid-19 vaccine is "experimental" and its recipients are "guinea pigs." Collectively, they facilitated the spread of the "experimental" narrative across multiple languages and larger social networks. The narrative now exists alongside and feeds into other misinformation narratives surrounding the mRNA-based vaccine.
Most coronavirus vaccines have been the subject of extensive misinformation. But since online conversations began to shift in June toward the race to develop a vaccine against coronavirus, social media interest in Pfizer's mRNA-based vaccine has been greater than the Moderna, Oxford/AstraZeneca, Johnson & Johnson and Novavax vaccines combined. The prevalence of disinformation and foreign propaganda narratives targeting the Pfizer vaccine in these conversations has been particularly noticeable.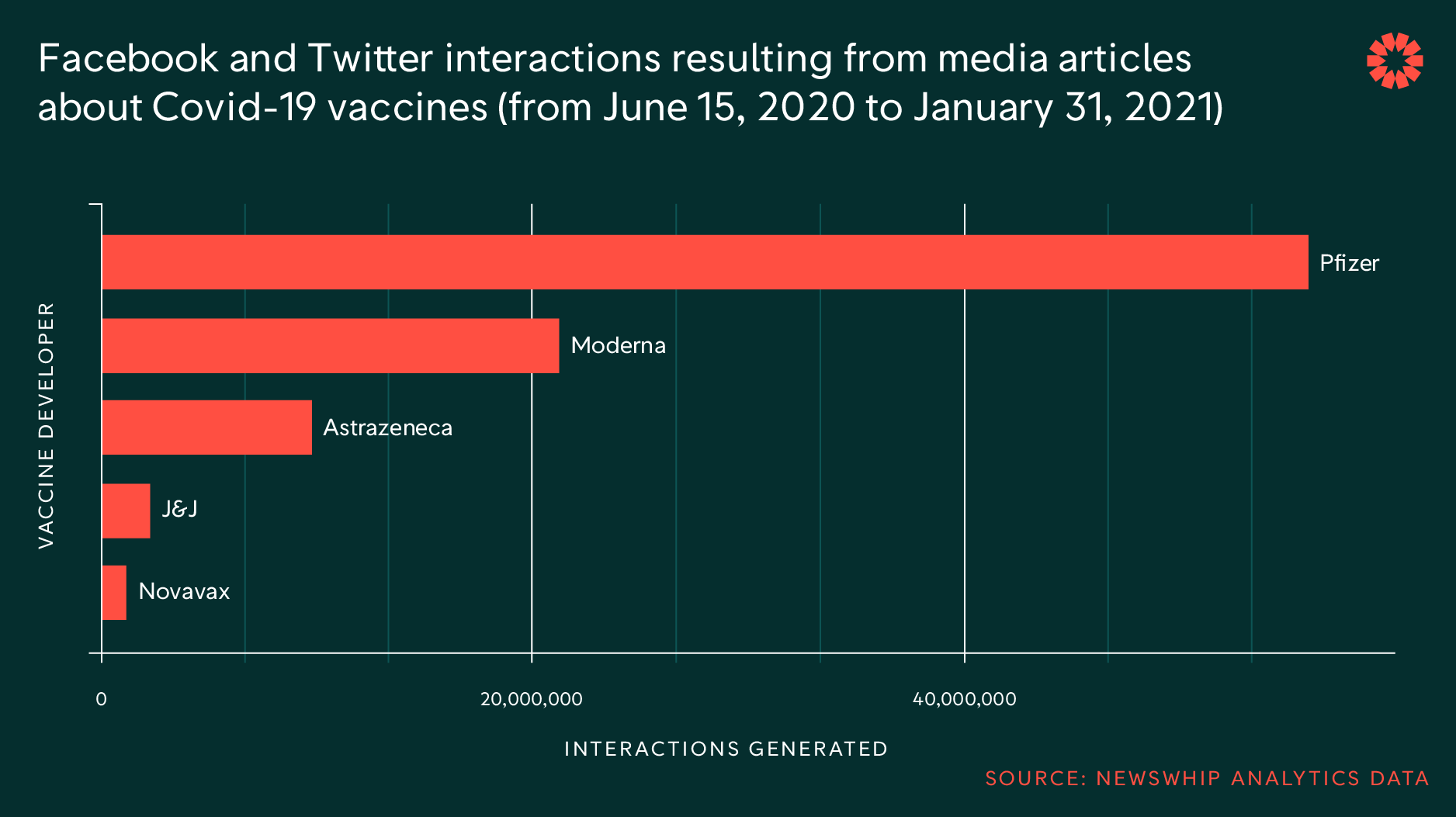 While the influence and cross-language appeal of false narratives about the Pfizer vaccine have been well-documented, we wanted to investigate their origins and early spread. We did this by collecting data on conversations relating to "Pfizer" on fringe social media platforms 4chan and 8kun, from where certain rumors and misinformation narratives can stem, and performing an in-depth analysis of the November to December time period where conversation activity spiked.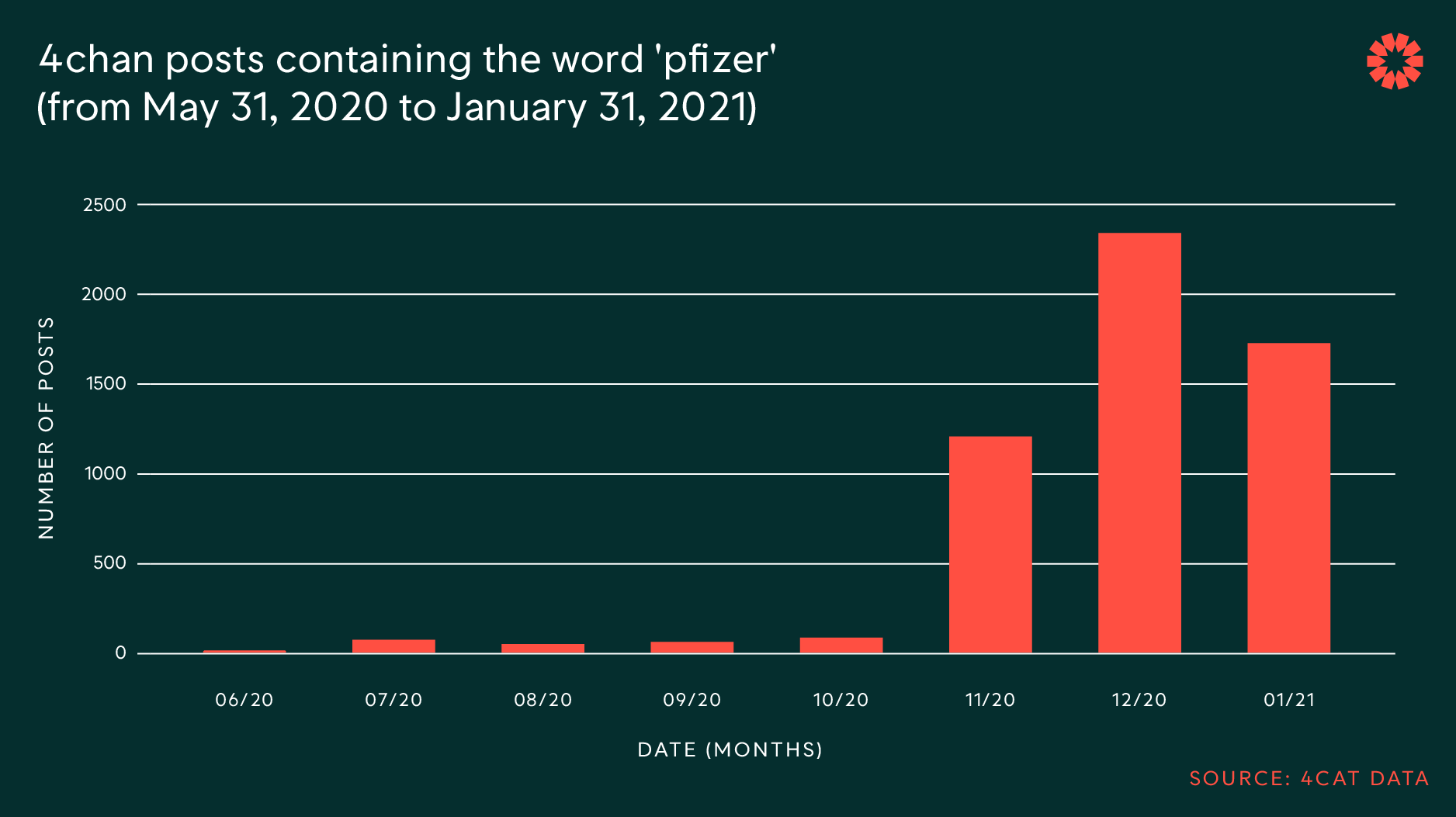 Unsurprisingly, the sharp rises in post activity levels on 4chan in November and December visible in the graph above coincided with Pfizer's November 9 announcement of positive interim Phase III clinical trial results and the start of the vaccine's US rollout.

But an analysis of the most common phrases and highly emotive posts within 4chan conversations during this period revealed multiple baseless suggestions that the Pfizer vaccine was a "rushed" and "unsafe" "experimental" product. 
The idea that people receiving Covid-19 vaccines, especially mRNA-based vaccines such as Pfizer and Moderna, are "guinea pigs" for this novel vaccine technology remains a key component of many false vaccine narratives that continue to resonate globally.
Data collected on posts across 4chan, 4chan, 8kun and Reddit shows that messages framing the Pfizer vaccine as "experimental" only began to flourish in November and to an even larger extent in December, weeks after the vaccine had been approved for use by several regulatory agencies including those in the UK, US and Israel.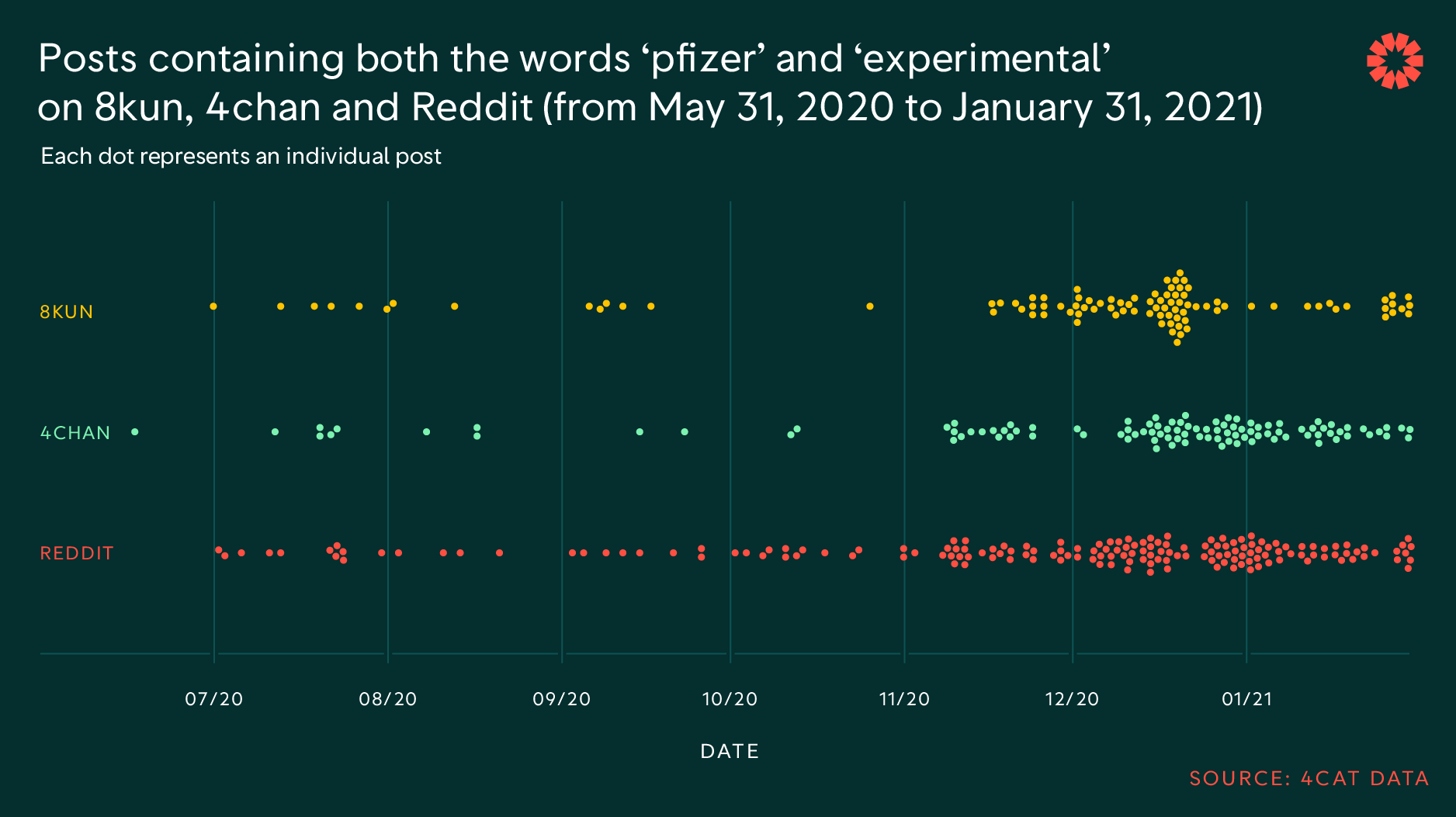 A closer look at the content referenced within 8kun posts, where the vast majority of third-party links — URLs that redirect users to external websites — amplifying the narrative were found, reveals the frequency of articles from anti-science sources that have been banned from major social media platforms. Links from the NaturalNews disinformation network and Zero Hedge, a conspiracy theory website also known for its amplification of pro-Kremlin narratives, accounted for almost a third of all links (excluding links to social media platforms such as YouTube, BitChute and Twitter) featured within these posts. And while these two sources produce their own articles, they often regularly recycle each other's content to push similar misleading anti-vaccine narratives.
The NaturalNews disinformation network leveraged numerous website domains to syndicate highly misleading stories pushing the Pfizer "experimental" vaccine narrative and artificially amplifying the narrative across the internet.
In addition to NaturalNews and Zero Hedge content on 4chan and 8kun, we also identified dozens of links from Russian state-sponsored media outlets and "proxy" websites dedicated to amplifying pro-Kremlin disinformation narratives around the Pfizer vaccine.
By mapping the spread of messages pushed by these websites to frame Pfizer's vaccine as an "unsafe experiment," we encountered a number of dissemination techniques used to "launder" misleading narratives. Misleading information is legitimized through networks of intermediaries that distort and obscure the original source.
Original articles from sources thought to be directly linked to Russian intelligence agencies, such as the New Eastern Outlook website, were republished as new by partner proxy sites — sites that claim to be part of the same partner network on their websites — after slight modifications are made to the title, imagery, initial publication date and source quoted.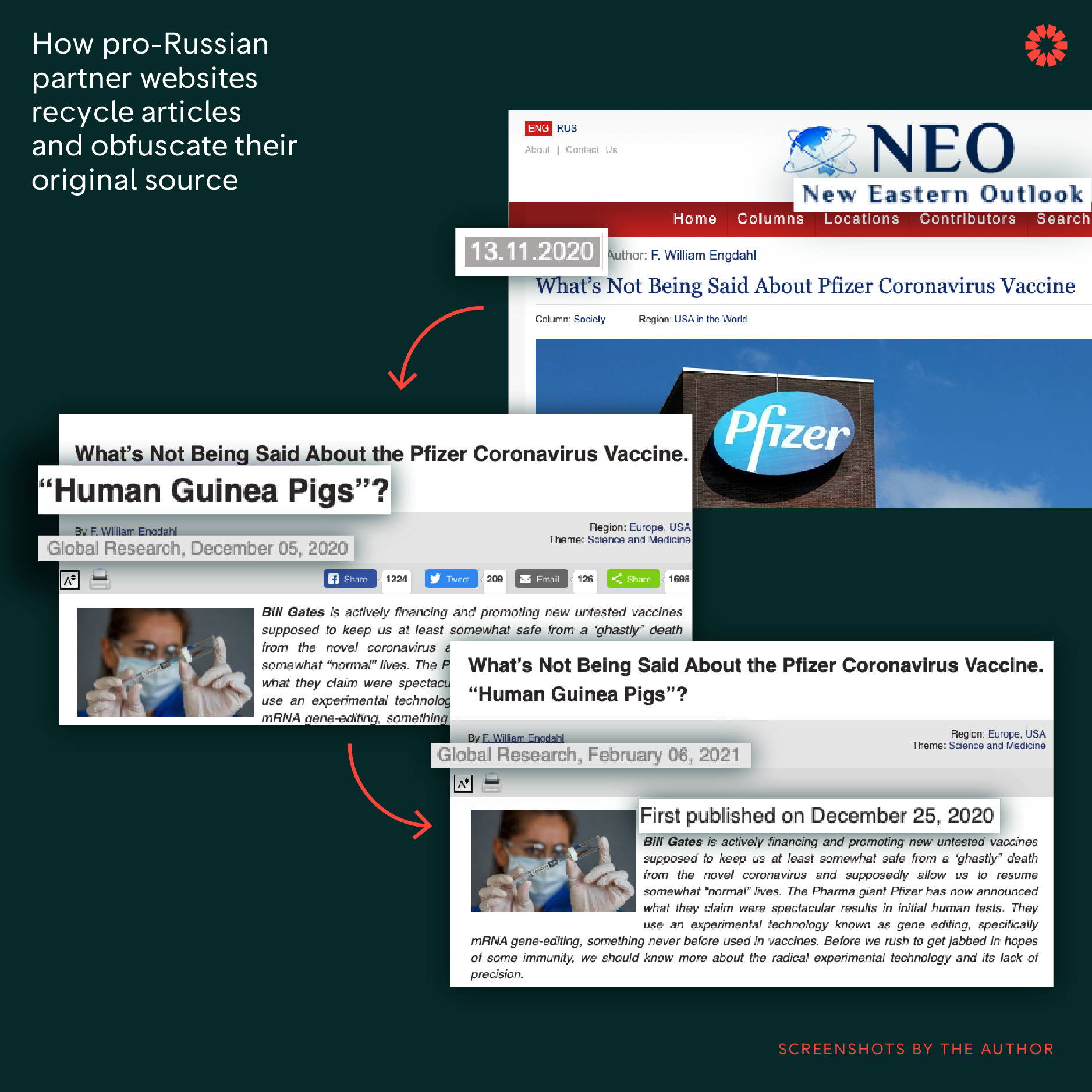 These articles were then translated into multiple languages and syndicated by groups of websites that systematically amplify content from these proxy sources.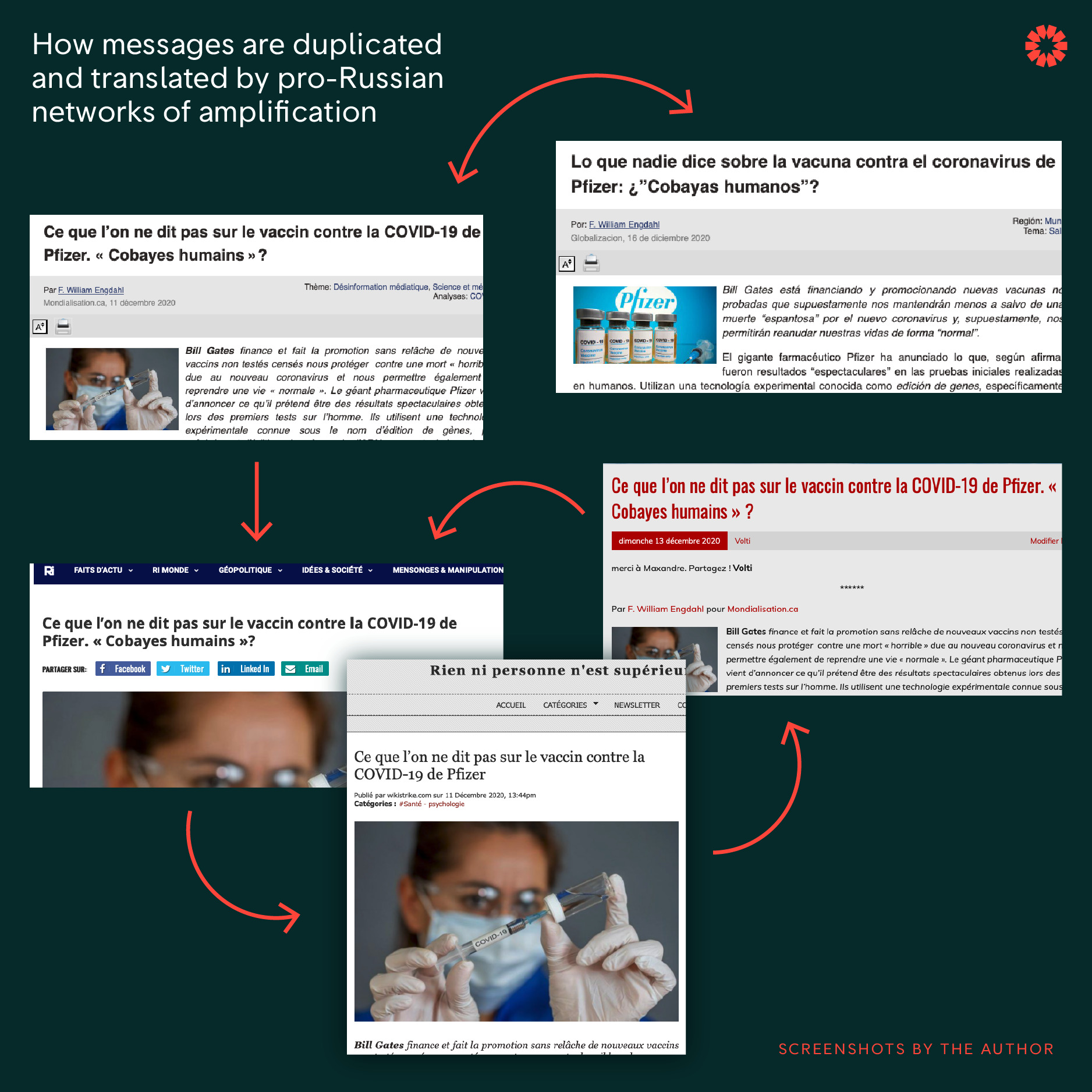 These links were then spread by individual accounts to multiple Facebook Groups in less than a minute — a process known as "spree-posting." Some of these links reached as many as five Facebook Groups within 40 seconds.
Some of the posts linking to versions of the messages screenshotted above have generated thousands of interactions on major platforms such as Facebook and Twitter.  
Although Facebook and other social media giants have recently implemented stricter content moderation policies, organized networks remain able to actively contribute to the development and spread of harmful vaccine misinformation. And while moderation measures have limited the reach of this content, greater emphasis needs to be placed on proactive measures aimed at promoting quality information that can rival disinformation narratives.   
You can use the recipe Tracking the cross-platform spread of harmful and misleading narratives, which provides a detailed step-by-step guide on how to use the tools and methods in this analysis, to do your own investigation.
Stay up to date with First Draft's work by becoming a subscriber and following us on Facebook and Twitter.