Lagos, 28 November – First Draft is proud to announce the launch of CrossCheck Nigeria, a collaborative verification project aiming to help the public make sense of what and who to trust online, ahead of the general election on Feb. 16, 2019.
CrossCheck Nigeria builds on learnings from previous First Draft collaborative initiatives, including Comprova in Brazil and the award-winning CrossCheck in France, applying the same standards and processes that require participating newsrooms to review and agree each others' work in order to publish a report. The CrossCheck method has been proven to increase accuracy, improve credibility and give the public the necessary tools to make informed decisions in the age of information disorder.
Journalists from across Nigeria will work together to detect, investigate and accurately report misleading or fabricated information that emerges on social media and private messaging apps. Participating newsrooms have agreed that at least five of their senior journalists must agree to the conclusion of a report before it is published on the project website.
First Draft has been working closely with the the International Centre for Investigative Reporting, a Nigerian non-profit investigative media organisation which is coordinating and driving the project. Coalition partners – drawn from broadcast, print and online – include the Premium Times, Daily Trust, News Agency of Nigeria, AFP (Agence France-Presse), The Nation, Tribune, Africa Check, The Guardian, Punch, The Sun, Channels Television, The Cable, The Niche, Sahara Reporters, Freedom Radio, University of Lagos Mass Communication Department, and CODE.


Comprehensive training delivered to 45 journalists from across Nigeria
Forty-five journalists attended a two-day bootcamp in Lagos, designed to build an effective working relationships alongside sharing knowledge, skills and ideas. Pedro Noel, a journalist representing the Comprova project in Brazil, traveled for 24 hours to share his experiences of finding and verifying information online, and how to work effectively in a fast-paced, collaborative environment.
Ben Nimmo, a disinformation researcher at the Atlantic Council's DfRLab, showed journalists how to spot amplification campaigns and coordinated networks. Journalists were also provided with access to a range of tools to aid content discovery and verification.
Sophie Bouillon, deputy bureau chief at AFP in Lagos, said "As the training went on, I felt a growing sense of urgency to do something about the misinformation that's circulating online. There's so much we could be checking."
Lolade Nwanze, head of the Guardian's digital team, said, "I'm going to go back to my newsroom and train them in what I've learned. I feel that the skills gained from this training are necessary not only for ourselves but also for the public. I manage a newsroom so I know that as a journalist, you have to verify your information. We need to train people to think beyond their biases."
The project launched with two stories published on its website, crosschecknigeria.org. All journalists add content and investigation notes into a dedicated platform, helping to build a quick-reference database and enabling academic researchers to capture and compare misinformation across different countries. The workflow has been designed deliberately to encourage collaborative investigation that can continue beyond the election.
Partners agreed the project name, workflow and policy guidelines and principles during a meeting of newsroom editors and publishers at the start of November. The principles agreed upon commit partners to transparency, accuracy, independence, fairness and impartiality, and ethical responsibility.
As a First Draft founding partner, the Google News Initiative supports the development of bespoke technology for collaboration and localization. We are also grateful to the support of Facebook who will help us amplify our work.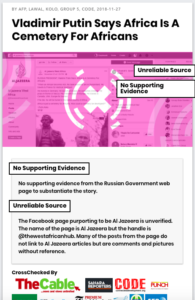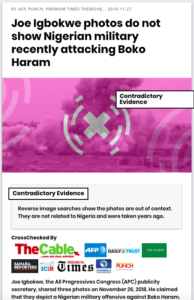 Crowdsourcing WhatsApp tips from the audience through a dedicated number
WhatsApp is popular across Nigeria, but due to encryption, it is difficult for journalists to trace the origins of a story, and assess its reach and impact.
CrossCheck Nigeria will source tips through a dedicated WhatsApp number, which is a method that was tried and tested in Brazil. The Brazil project Comprova received almost 70,000 messages from the public asking about misinformation circulating on WhatsApp.
CrossCheck Nigeria will also respond to WhatsApp tips with verified information that has been cross-checked by journalists. Reports will be presented in mobile-friendly formats to encourage recipients to share the reports within their own networks. This approach has been shown to help correct misinformation being sent on the private messaging application.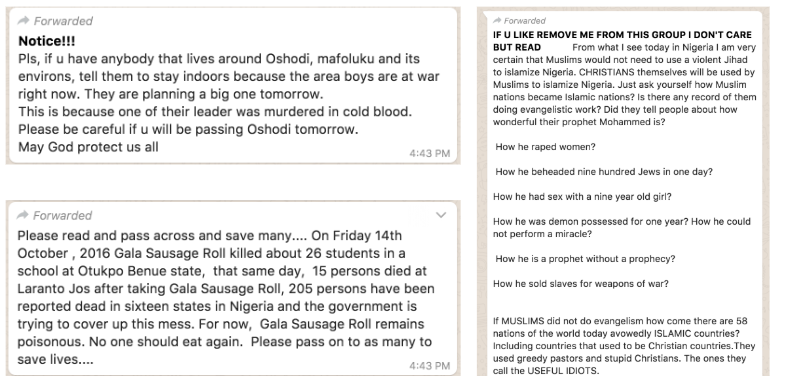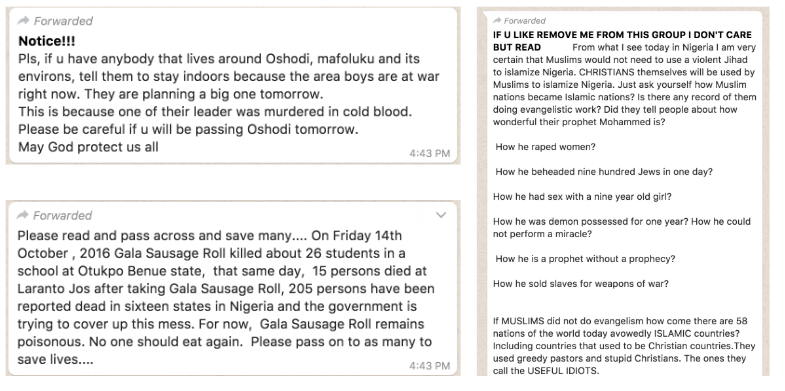 Follow CrossCheck Nigeria
facebook.com/CrossCheckNigeria
Whatsapp: +234 802 946 0777
Supporting partners include the Google News Initiative, Open Society Foundations, MacArthur Foundation, Ford Foundation, WhatsApp, Facebook Journalism Project, and First Draft.
Technology partners include Crowdtangle, Newswhip and Stacker.