After much discussion and public backlash, Twitter announced today that their timeline has gone algorithmic. The "best tweets" will appear first in every user's timeline. The end is nigh. Or so some on the real-time social network would have you believe.
One of Twitter's senior engineering managers Mike Jahr said in a blog post that users can try out the new timeline by adjusting their settings. In the coming weeks, Twitter will be "turning on the feature" for everyone.
Twitter's reverse-chronological order is what makes it so valuable to journalists, letting newshounds see the latest information as it happens. But the in-jokes and ongoing conversations are what Twitter bosses believe stops new users from coming back. It's like they've walked into a party that's been going for ten years where no one says hello or tells them where the punch is.
But journalists don't need the regular timeline to do their job. Most of the time it will be useless to them anyway. So, whether you're a brand new Twitter user or have been there since the beginning, here's what you need to know to make the platform work for you.
Tweetdeck
Tweetdeck is the third-party platform so good that Twitter bought it for £25m ($40m) back in 2011. Put simply, it allows you to have dozens of timelines on the go, populated with whatever you choose and easily viewable all at once. So get Tweetdeck. Now.
Setting up your columns takes seconds. You can start with your normal 'Home' timeline (which won't be affected by the update), followed by your notifications, mentions, direct messages and likes. Or whatever order you want. No more fiddling about between tabs.
Now you can start making new columns, and that's where Tweetdeck becomes really useful.
Lists
Ever wondered how someone can follow tens or even hundreds of thousands of people? The real power users make lists.
Clicking on the cog by any user's profile will give an option to "add or remove from lists" which you can build around whatever interests or beat you see fit. You can start with "friends" or "colleagues" but if you really want to make it work for news it's better to go with locations or specific topics.
Organisations like Storyful, Breaking News and Reportedly have built much of their operation this way, and have publicly available lists for countries and cities all around the world. Not sure where to start? Find one of their profiles in Tweetdeck, click on 'Lists' on the bottom row and browse through what they have. Click 'Add column' in the bottom right and – pow – you've got yourself a list.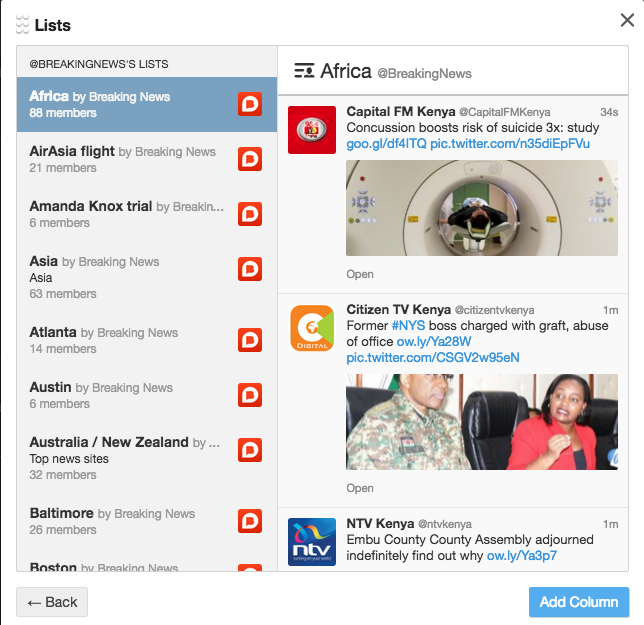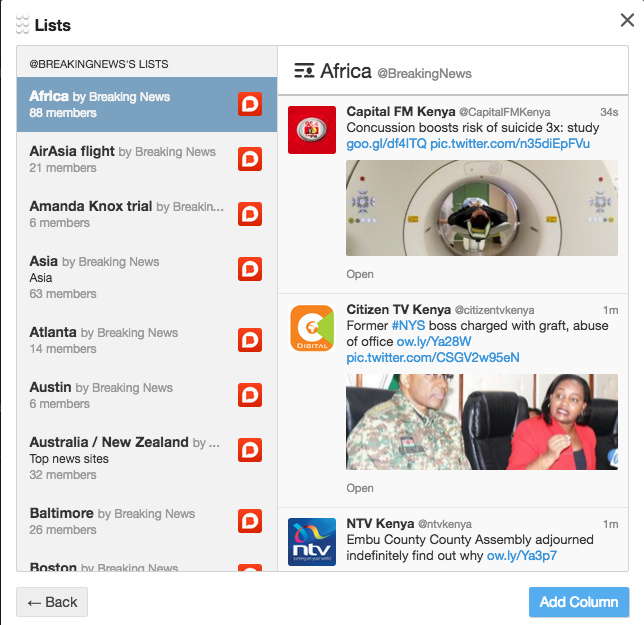 You can search Google to find other publicly available lists as well. Want a list for tech firms? Or Amsterdam? Try this search:
site:twitter.com/*/lists/Amsterdam
The "site:" function means Google only searches Twitter.com, and the asterisk (*) is a wildcard where the username normally appears in a URL. In short, that search should return a link to every publicly available list with 'Amsterdam' in the title.
Still not finding what you want? Followerwonk is a great free tool for searching Twitter bios, so you can look for how people describe themselves and build your own lists manually.
When gunman opened fire in San Bernardino in December 2015, Followerwonk was very useful in quickly finding local journalists, police and fire department officials, as well as someone claiming to live-tweet news from a police scanner. From there it was very easy to build a new list for San Bernardino and follow events as they unfolded.
Don't just set up a list and leave it though. Look out for people who are retweeted often by established users on the list and add them too, and cut loose some of the dead wood who rarely tweet or who are no longer relevant to the list topic.
Search terms
Lists are a way to keep an eye on specific users who are authorities in their field, but news is about the unexpected so you'll need to have a few lists with keywords that matter.
Eagle-eyed readers may have spotted a column in the picture above starting with "use your image" – the kind of language journalists and reporters use when reaching out to sources online.
Start searching for a phrase in Tweetdeck's search bar and then add it as a column. From there you can build the search out even further. The full search in the "use your image" column extends to:
"use your image" OR "did you take this photo" OR "use your pic" OR "use your photo" OR "use your video" OR "when you are safe" OR "use your pic" OR "use your video" OR "use your photo" OR "credit you" OR "credit to you"
Get to know the basics of Boolean search operators and build a comprehensive search for topics or keywords for your particular beat, and filter it by the number of likes, retweets or media included in the tweet if necessary.
It's important to remember the language people use when reporting news: swearing, exclamations, acronyms, text-speak and the all important first-person pronouns are vital in searches for news. And there could be an automated alternative for this not far off:
Working on a list of terms to learn algorithms to find #breakingnews in #socialmedia, what did I miss?#UGC pic.twitter.com/sNrxl5Zt4T

— Ruben Bouwmeester (@RubyBouw) February 10, 2016
You can narrow it down even further by searching around specific lat/long co-ordinates. Right-click on any location in Google Maps to bring up a menu bar, then click "What's here" to show the co-ordinates. Enter these in Tweetdeck's search bar along with a radius to search within, and you'll have a column of every tweet geotagged to a specific location.
See if you can figure out where this is:
near:51.508017,-0.087660 within:0.1mi
Remember to take out the space in the co-ordinates and add other keywords and search terms to filter the results into something really useful.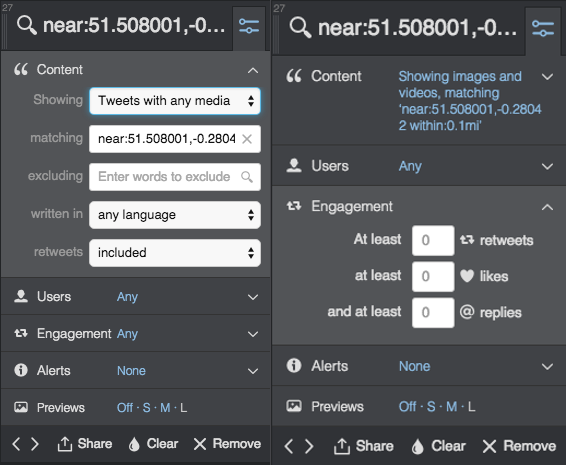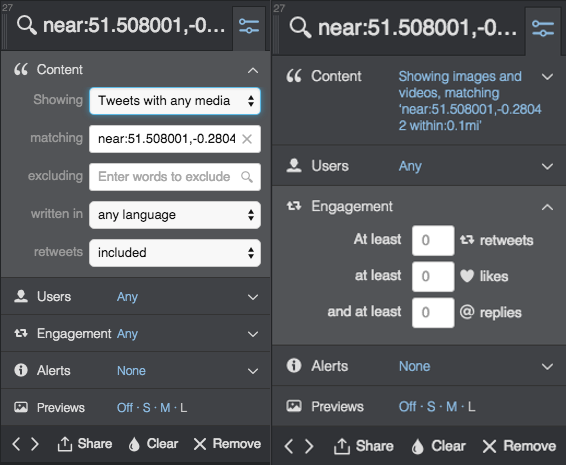 Mobile
The official Twitter app isn't the only way to get the latest when you are on the go. The Tweetbot and Tweetlogix apps have both picked up thousands of users for the ability to customise the options.
Social media expert Sue Llewellyn uses Tweetlogix for three main reasons: filtering the timeline, accessing lists more easily, and an auto-updating home feed.
"Part of Twitter's problem is the irrelevance," she said, and Tweetlogix makes it easy to filter specific keywords, users or retweets to cut out things that aren't specifically interesting.
Lists are much easier to find as well, appearing as an option in the menu bar at the bottom, and users can manually reorder lists to put the most important ones at the top, rather than listing them chronologically on the official Twitter app.
Tweetlogix is currently £2.29 in the UK app store and Tweetbot serves many of the main functions and more but with a heftier price tag.
Neither have included the much-derided "While you were away" feature that acted as a precursor to Twitter's new algorithmic timeline. We can't yet rule out that it may appear in third-party apps but may be another way to get real-time newsfeed from the network.
Twitter hope to regain some of the 'stickiness' for new users by giving them what they are more used to seeing on other social networks and bringing them into the conversation. But for journalists and power users there are many other ways to hold on to what makes Twitter valuable and keep getting the latest news.
Check out more reads and resources on social newsgathering from First Draft.