2019 update: Hazel Baker now works at Reuters as Head of UGC Newsgathering 
When big news breaks, eyewitnesses always have the best stories, the first-hand accounts, the as-it-happened photos that news organisations crave. And now, thanks to social media, reporters can track down and contact someone at the scene of an event in an instant, even on the other side of the world.
This, in itself, raises a raft of issues about how the public and news media interact. It is now a regular sight to see reporters reaching out to eyewitnesses on social media in a breaking news situation. The best practice for getting in touch has been discussed at length, but sometimes eyewitnesses are after more information themselves and raise more questions in the conversation than they answer.
At this week's news:rewired conference in London, Sky News' digital editor for newsgathering, Hazel Baker, discussed some of the more difficult responses she has received from eyewitnesses in breaking news situations.
"Gun shots heard. We are all in rooms. Very scared. Can you tell me what is happening?"
This was the essence of an email sent to the Sky News inbox during the attack on the Tunisian holiday resort of Sousse in June 2015 and when Baker read it she "felt [her] heart skip a beat".
The eyewitness also gave his phone number and said he had footage from the scene, but from the context and tone of the email Baker said it was clear he was looking for information himself.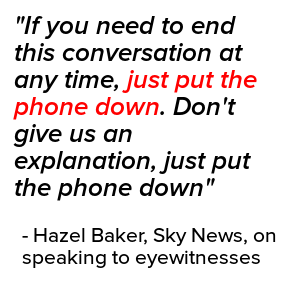 "The details we had were extremely sketchy," she said. "I didn't have much information I could tell him but called him and had a brief conversation, tried to establish if he could still hear gunshots, which he couldn't and whether he felt like he was in immediate danger."
From the safety of a locked hotel room, the eyewitness confirmed some of the other details around the events and, together with Sky's head of foreign news, Baker decided to put the eyewitness through to the studio for a live phone interview.
"We decided the eyewitness was not in immediate danger… and also said before he went on air 'if you need to end this conversation at any time, just put the phone down. Don't give us an explanation, just put the phone down'."
The gunshots had stopped and the eyewitness gave an "astonishing" account of hearing gunfire, seeing crowds of people fleeing the beach and running back to his room with his wife.
@johnyeo68 Are you in a safe place to call us?

— Hazel Baker (@HazelBakerSky) June 26, 2015
@johnyeo68 Understood. We are looking into what is happening and I will share any information as I have it.

— Hazel Baker (@HazelBakerSky) June 26, 2015
One eyewitness reached out to Sky News on Twitter but Baker believed it was safer to not take the conversation further
"This was a really, really difficult situation," she said, "the most difficult one I've ever handled. From a journalistic sense it's a fantastic interview to have but from an ethical sense we really can't put this person in further danger."
Check out: Fergus Bell discusses protecting social sources at #FDLive3
Having a senior colleague to confer with was "vital", she said, and "newsrooms need to be aware that people doing this kind of role do need supporting at times, when you're speaking to people in immediate danger. Just to get a sense of whether you think it's right to approach them."
"Yes I can talk but I don't have much battery left"
This response came from a young woman travelling through Mexico, said Baker, caught up in the chaos as Hurricane Patricia was making landfall last October.
At the time, the eyewitness was on a bus being driven to safety with a friend, who also had very little phone battery left.
"She had a good story to tell and her life wasn't in immediate danger, but we didn't know when she would need her phone next," Baker said.
"From a safety point of view it was unlikely she was going to have to use her phone to get help," but using up all her battery could put her in a "compromising situation" with her family back in the UK, who may be trying to get in touch.
"For this, I thought it wasn't crucial to tell the story like in Tunisia," said Baker. "This one we felt we had more information and didn't feel it was worth the risk so we let it go."
Baker asked the witness to call when she had recharged her phone, which she did, and was also able to send a lot of photos from the journey.
All in all, "that was worth waiting for" said Baker.
"Of course you can use it! I'll go back out now and see if I can take any more"
An over-eager eyewitness offering to take more photos in a dangerous situation is a "classic" response, said Baker, one which "always sends shockwaves" of nerves and sets alarm bells ringing.
In this case, a woman had taken dramatic photos of flooding near her home in the north of England in late 2015. Baker spotted them on Twitter and struck up a conversation with the eyewitness through a direct message.
"They were very good," Baker said of the photos. "I would have loved more material from her but I certainly didn't want her to go stand by a fast, overflowing river and film what she could see and risk getting swept away."
Check out: How Sky News handles eyewitness media in breaking news situations
Baker advises her team to reply immediately with a "don't do that please" if an eyewitness offers to take more images, and get them on the phone to talk through the risks. Any form of request or encouragement in a dangerous situation can be construed as a form of commissioning, and she can't risk taking responsibility for the safety of an eyewitness.
"However if you later find yourself in a safe position then let me know what you can see, give me a call and we can talk through it," said Baker of how she would talk to eyewitnesses in a similar situation. "But at that point "no" was the only response I could give."
"My mate sent it to me but he says it is fine to use"
Although this is another response journalists at Sky regularly see, it "is not legally sound at all", said Baker.
"In fact, it's worthless," she said, unless the journalist is willing to track down the person who captured the footage and find out if they are happy for the media to use it.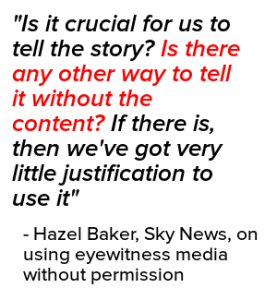 This example came following a bus crash in Manchester where "the roof had come clean off the bus", she said. "There was wreckage and metal everywhere, [the imagery] had strong news value, so it was worth trying to find out who had actually taken it."
The source she was talking to had received the image from a friend on WhatsApp, now a common occurrence with eyewitness media, so Baker asked for the contact details of the friend.
Within five minutes she had spoken to the source of the imagery and had secured permission to use it.
"It's not often that easy, but they sometimes are," she said. "All you have to do is push that one step further and it clears ground not only for recognising the right person but for checking it out, verifying, speaking to the person who actually took it and understanding the situation."
No reply
Most journalists working online will be familiar with this situation, and Baker said she doesn't get a reply to "roughly 75 per cent" of her tweets to eyewitnesses.
"There's no black and white answer to this," she said, "but the best I've come to is [to ask] is it crucial for us to tell the story? Is there any other way to tell it without the content? If there is, then we've got very little justification to use it."
If the picture or video is crucial to tell the story, however, then Baker would feel justified in using it under a fair-dealing defence, but only after conferring with one of the more senior newsroom managers.
"Most of the time if there's no reply, there's no justification to use it and it's not crucial then we have to shrug our shoulders," she said. "We can't use it. It's not worth the risk, both for verification purposes but also in terms of copyright issues and legal hot water."
Check out our section on Ethics and Law for more information about contacting eyewitnesses in breaking news, and follow First Draft on Twitter and Facebook for the latest updates on social newsgathering, digital verification, fakes, hoaxes and more.