This is the fourth in a series of new Essential Guides published by First Draft. Covering newsgathering, verification, responsible reporting, online safety, digital ads and more, each book is intended as a starting point for exploring the challenges of digital journalism in the modern age. They are also supporting materials for our new CrossCheck initiative, fostering collaboration between journalists around the world. 
This extract is from First Draft's 'Essential Guide to Newsgathering and Monitoring on the Social Web', by research reporter Carlotta Dotto and senior investigator Rory Smith.
Download the full guide:
Regardless of your beat or area of focus, understanding how to use the social web to discover, monitor and research stories is an essential skill.
It allows you to find sources, monitor conversations, understand behaviours, track events and find the issues that affect a community. But you have to know where, when and how to look online.
In this book we will highlight the best free tools and techniques in newsgathering (active search) and monitoring (passive search). We will also look at the best practices and applications across major platforms and online services so that you can effectively surface the most useful content for your reporting and research.
There are a few key concepts that are fundamental to every online newsgathering operation. And while we will touch on these in more detail throughout the book, it is worth outlining them briefly at the start.
As with journalism before the internet, up-to-date lists of pertinent sources are the backbone of every beat. But unlike the pre-digital age, we can now listen in on millions of conversations happening in real time. This is where searches for keywords come in — terms, phrases or hashtags used to discuss topics or events which can help us identify what might be a good source for a story.
For hard news, the relevant sources and keywords might be more apparent. A local reporter needs to know community leaders, subject experts, politicians, charities, academics, influencers, campaign groups, eyewitnesses, celebrities, business leaders and emergency services, to name a few.
If they were on the look out for breaking news events from those sources, they might want to listen for words and phrases like shooting, stabbing, crash, collision, attack, assault, shots fired, knife, pistol, explosion, died, body, serious, critical, life- changing, life-threatening, terrorist, extremism, casualty or injuries.
Together, this process of identifying sources and keywords forms the core of online newsgathering.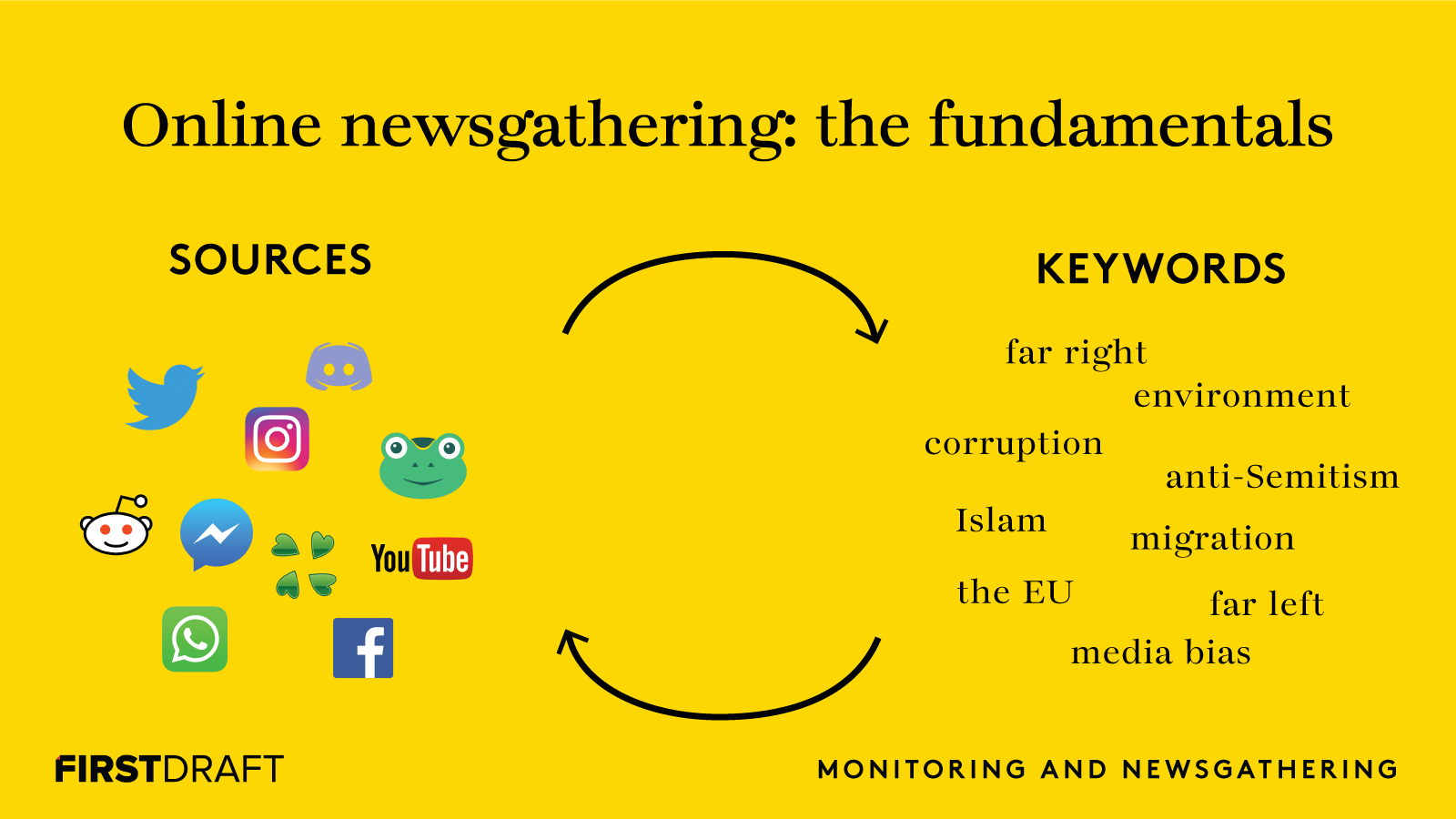 When it comes to niche topics, it can be harder to get started. But identifying some more specific keywords can help us to identify more sources, creating a feedback loop of new sources and new keywords across new platforms which can get us up to speed in no time. The types of sources and the relevant keywords will be different for each topic and patch, but the fundamental approach remains the same.
Monitoring is an iterative process that involves the constant collection of new information relevant to the topics, sources and conversations you are tracking. And as your monitoring operation evolves, you will continually surface new and relevant accounts, keywords and hashtags. It's a good idea to maintain a central document or spreadsheet where you can aggregate this information and add new content as it arises. It will also save time for future monitoring projects tracking similar themes.
It's important to note that there is no one-size-fits-all way of organising and managing online research — the nature of what you are reporting on very much dictates the sources, keywords and process necessary — and we encourage you to think creatively and remain flexible when designing your own monitoring systems.
There are some powerful paid tools available for this kind of work. This book will cover the free tools and techniques which anyone with an internet connection can use for newsgathering and monitoring on the social web.
Stay up to date with First Draft's work by becoming a subscriber and following us on Facebook and Twitter.