Where do you get your news? According to the recent Digital News Report, the internet is quickly gaining on television as the primary source of news for most people and social media is even more important for younger audiences.
But, as almost anyone who has spent time online will attest, the internet is full of rumours, fakes and hoaxes. A little digital literacy and healthy skepticism can help spot a fake story from the growing number of viral "news" sites but online trolls continue to find new ways to trick the casual social media user.
Don't want to get taken for a fool? Here are two new social media hoaxes you need to look out for, and how to spot them.
Fake crowds
With the US Presidential race heating up (as if it wasn't white hot already), and the contest for leader of the UK Labour Party reaching political boiling point, supporters on all sides are pushing the electability prospects for their candidate of choice.
So when Labour Party leader Jeremy Corbyn held a rally in Liverpool in early August, thousands turned out to see him speak. But among the genuine photos from the scene shared on social media were some images of  suspiciously large crowds. Crowds with a suspicious affinity for Liverpool Football Club.
Both of the images above, and a number of others shared at the time, were from Liverpool FC celebrating their Champions League victory in 2005, posted by pranksters and picked up by enthusiastic Corbyn supporters. And it wasn't just on Twitter.
The person above tried to make amends for the old image in the comments, but only after 36 hours. At the time of writing it has been shared nearly 2,000 times. The earliest tweet attributing the picture to the Corbyn rally found on Twitter was later claimed as a joke, but by that point it had spread further than its originator could have planned.
Yet within a week the same tactic had skipped across the pond from Liverpool to America, ready to deceive Donald Trump supporters on the campaign trail.
Again, thousands had turned out to see Trump speak in Jacksonville, Florida on August 3rd, but that didn't stop some Twitter users sharing images of crowds celebrating the Cleveland Cavaliers triumph in the NBA from earlier this year.
The very next day, when Trump spoke in Portland, Maine, a different picture from the Cleveland celebrations was re-used to the same effect.
The Trump and Corbyn rallies aren't the only political events accompanied by old or misattributed images, however.
The self-proclaimed "rag tag bunch of Conservative misfits" at ConservativeTreehouse.com, guilty of distorting facts and images themselves, have been whipping Trump supporters into a storm by claiming "the media" have "photoshopped" an image of Hillary Clinton giving a speech in Florida to make the crowd seem larger than it really was.
The claim is based on a tweet published by US political paper The Hill, compared to actual images from Clinton's event showing a much smaller audience. The Hill used an old picture from a Clinton event in New York in their tweet and, although not photoshopped, it has certainly fuelled the fire of Trump supporters claiming unfair bias.
It is highly unlikely that the vast majority of those who shared the image in the first place intended to deceive their audiences. In the case of The Hill, it was probably an unwise decision to use an old picture for illustrative purposes. Trump and Corbyn supporters probably saw a picture that fit with their beliefs – or hopes – and passed it on.
But finding out whether an picture is new or old involves a simple process called a reverse image search – essentially checking one picture against a database of other pictures to see if there's a match.
Check out: The 5 sources of fake news everyone needs to look out for online
Uploading an image file or pasting a URL into Google image search or TinEye takes seconds, and will often give a match if one exists. And if you use Chrome as your web browser, the plug in RevEye (a First Draft favourite) can run an image through five databases, including Google and TinEye, to see if it has appeared online before.
This isn't much use if you're working on mobile, but carrying out a reverse image search while out on the streets is relatively easy if you have the Chrome app installed.
Found a pic that looks too good to be true? Hold your thumb down on the image for a couple of seconds and select "Open in Chrome" from the pop-up menu. Do the same once it's open in Chrome and select "Search Google For This Image".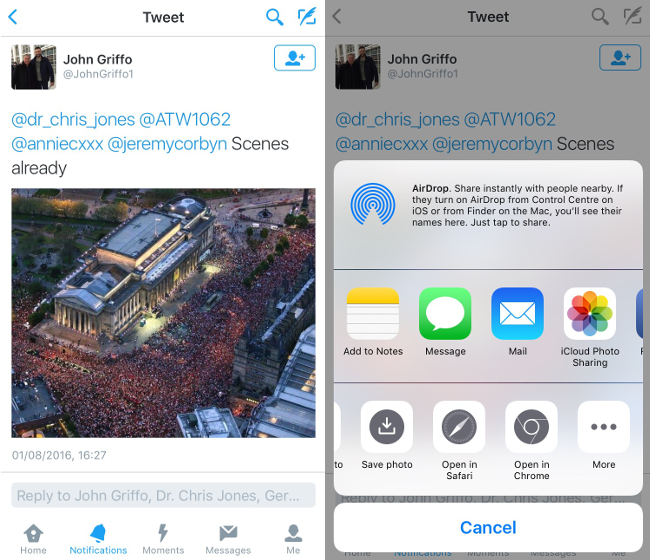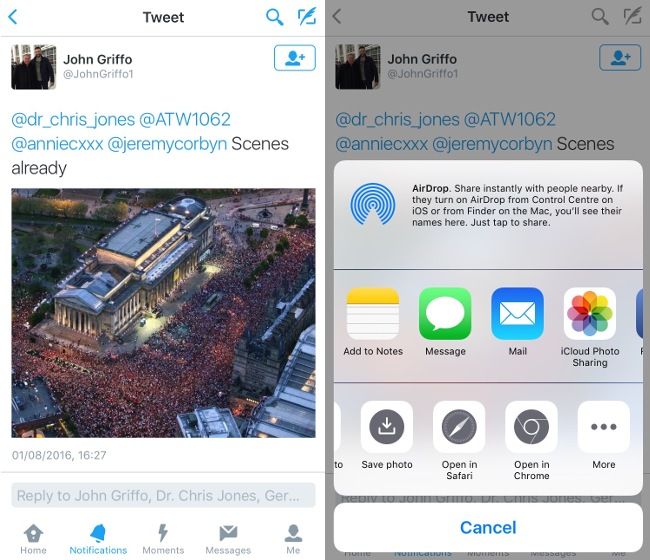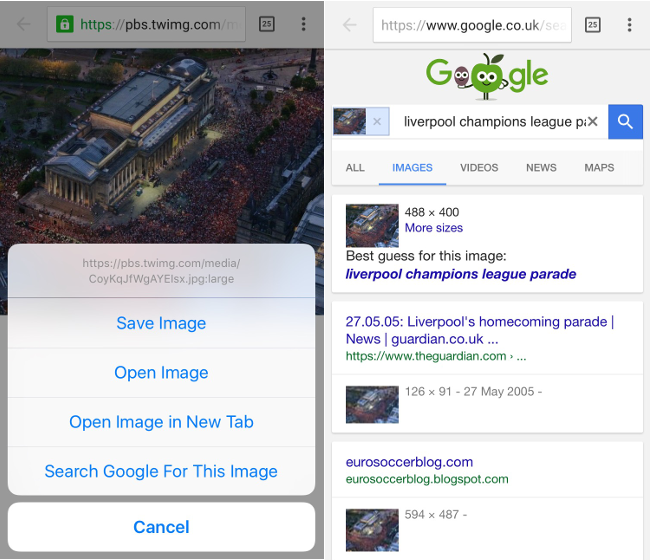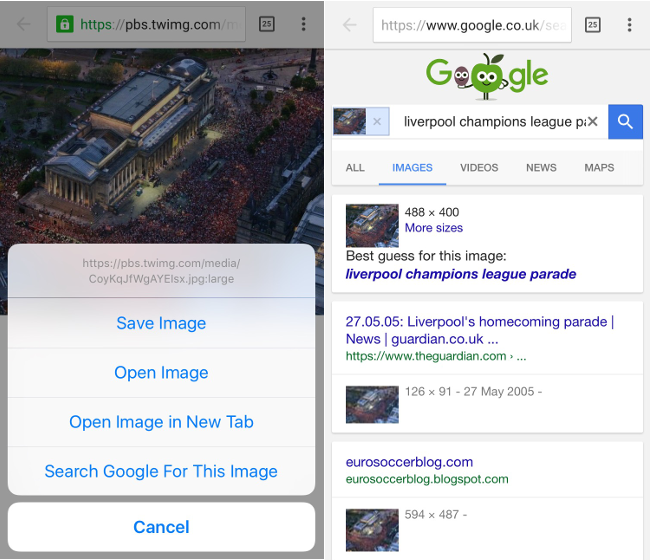 Bingo. Within seconds that image claiming to be from a Corbyn rally is revealed as from Liverpool FC's victory parade. Although not 100 per cent foolproof, a reverse image search is one of the best and quickest ways to check the veracity of any picture found online.
If you're not a fan of Google or don't have Chrome you can open the image in your browser of choice, copy and paste the URL into TinEye and see if there's a match. But for speed of use the above process is hard to beat.
Distorted crowd sizes are one of the oldest tricks in the political playbook, but it has found new life in the age of social media. The next new type of hoax is more malicious.
Fake victims
July's news was a cavalcade of horror by anyone's standards, and a new phenomenon of fakery which had been simmering in previous events boiled over after the truck attack in Nice.
Many people took to Twitter asking other users to help find their loved ones, fearing them missing, injured or dead. Twitter accounts were set up to help with the process, quickly gaining thousands of followers, but among them were trolls taking advantage of the crowd's good will.
While it is possible that all three users above are looking for their sister called Andrea, a quick reverse image search finds the picture comes from a Twitter account actively tweeting at the time. She later voiced her frustration, calling on other users to report one hoaxer for "identity theft".
Then there was Juana. Or is it Luna? Both pictures below appear to be of the same woman.
Again, a reverse image search reveals the woman's Twitter account and other web pages featuring her image. Rather than missing in Nice, she is a reformed adult film star who hit the headlines in Mexico recently when she gave up her former life and converted to Christianity.
Elsewhere there was "Djelloul", in fact a television actor, and a Turkish football player, both claimed by others to be family members missing in Nice.
Many of these pictures of fake victims were retweeted hundred or thousands of times, and the majority originated from Twitter accounts claiming to be in Mexico.
In May, France 24's Observers investigated the case of a man who seems to die in every major attack or accident in recent months. He told Observers someone started sharing his photo "as a prank" during breaking news events following a "legal dispute". Unsuprisingly, he featured heavily on the Nice hashtag.
Social media has made it easier than ever to publish information to an audience of thousands, possibly millions. But with that power comes the ability to deceive.
A reverse image search is the quickest way to check whether an image has appeared online before, so simple that it should be taught in schools. Add this easy technique to your online armoury and don't get caught out by the hoaxers.
Follow First Draft on Twitter and Facebook for regular updates on fakes and hoaxes, verification, social newsgathering and more.