With more than 500 hours of video uploaded to YouTube every minute, Google's video platform is still the most popular in the world for publicly sharing videos with the rest of humanity.
Granted, some of them may be teenagers playing computer games, unboxing consumer goods or just accidentally filming their feet, but YouTube is a vital resource for eyewitness media around news stories. Here are some tools to bear in mind for finding and verifying such footage.
Feedly is an RSS reader with a browser plug-in and mobile app, but with the added capability of collecting and organising YouTube channels alongside blogs or websites.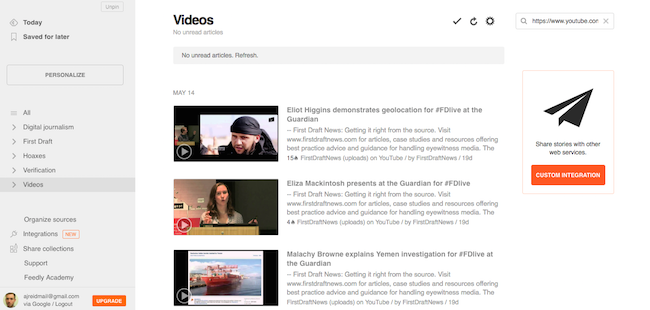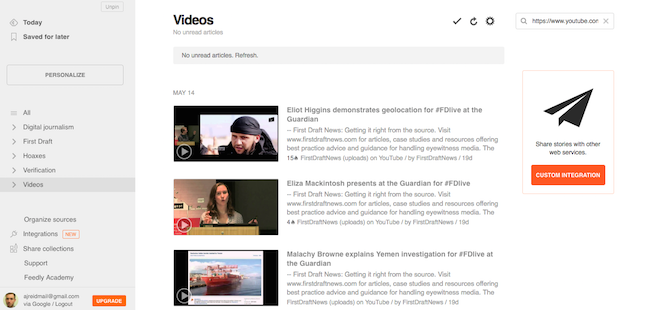 Much like Twitter lists or Facebook interest lists, you can organise trusted YouTube channels relevant to a story, beat or location in Feedly to get regular updates for new videos. These might be from activists in Afghanistan, or candidates in the upcoming US election, or videos from the Russian Ministry of Defence, which regularly uploaded videos of  airstrikes in Syria during its campaign in late 2015.
Finding newsworthy material on social media boils down to searching by keyword and location. Although there is no native search for geo-tagged YouTube videos, Google developers have made an unofficial tool to do precisely that.
Type in the location you want to search for with a time and date range to unearth videos which match your specific search parameters.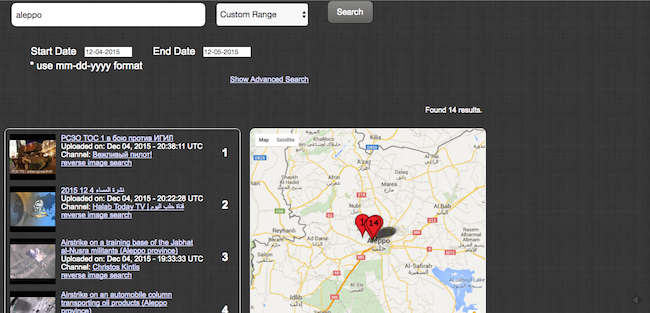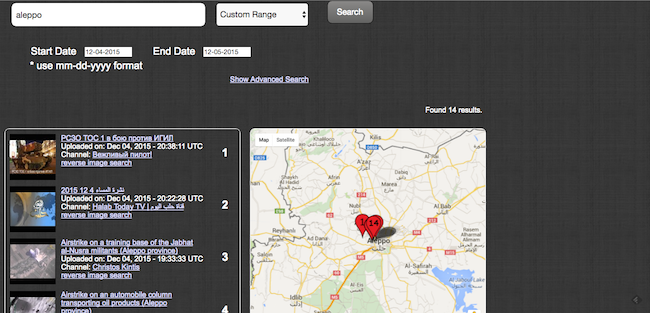 It's important to remember that just because a video is tagged to a specific location and uploaded at a certain time, it doesn't mean the content of the video itself was captured at that particular time and place.
Reverse image search is one of the quickest ways to check whether an image has been used online before – cross-referencing a picture with other images from online databases.
A similar function for videos is still some way off, although there are projects in development, but Amnesty's YouTube Data Viewer is a good work around for now.
Copy and paste a video's URL into the search bar and it will return the exact time of an upload – useful when looking for the first upload – and a selection of thumbnail images to conduct a revere image search with to see if there's a match elsewhere.
The Chrome plugin RevEye is the best option for reverse image searches as it lets you cross reference an image with multiple databases around the world: Google, TinEye, Yandex, Bing, and Baidu.
Most fake videos are far from perfect and little imperfections will often reveal themselves on close inspection. Famous fakes like 'Golden Eagle Snatches Kid'* were debunked thanks to frame-by-frame analysis, as was 'Snowboarder Girl Chased By Bear'**.
Frame by Frame is a browser extension that adds an extra layer of control when viewing YouTube videos, letting you change the playback speed or manually play through the frames with a few keyboard shortcuts.
It's not just animal videos and fakes that need verification, however, and sometimes the horrors of war will need to be looked at in detail to understand whether they are real or not. If you have to watch graphic imagery, make sure you have a self-care plan in place and only expose yourself to traumatic footage when necessary. Seriously. The effects can sneak up on you and put you out of action completely.
The product of a recent collaboration between Storyful and Google, Montage allows users to team up on verifying or analysing YouTube videos.
Once logged in, you can search for videos within the platform itself by date, location and keyword and organise them into projects around specific stories or events. You can then add tags or comments at specific points in the video to confer with colleagues, marking landmarks or events of interest.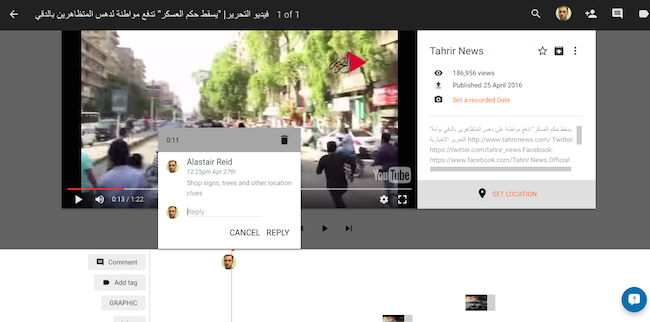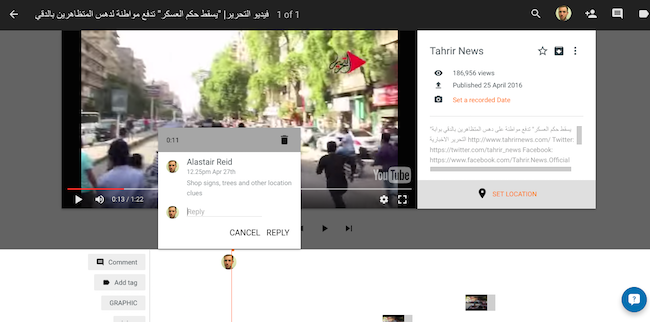 The Carter Center has been using Montage to track developments in the Syrian Civil War, where YouTube has become a central tool for communicating with the outside world, with some Montage investigations containing "more than 600 videos".
It is important to remember with all these tools, and any other tools for newsgathering and verification, that they can only take you so far in a story. They are a good starting point for an investigation or can help uncover leads quickly but are no replacement for the fundamentals of journalism. Check out our visual verification guide and First Draft Toolbox for more on verifying and finding eyewitness media.
* The shadow of the CGI eagle only appears on the ground around the 11-second mark, seemingly out of nowhere
** The CGI bear abruptly disappears from the video around the 50-second mark
Follow First Draft on Twitter and Facebook for more reads and resources on newsgathering and verification.