Today, we are thrilled to launch CrossCheck, the first collaborative journalism project to fight misinformation online. The French presidential election is the project's initial focus, and will combine the efforts of more than 34 newsroom partners as well as journalism students across France and beyond. Together, they will work to debunk rumours and false claims and accurately report confusing and misleading stories.
Here's how CrossCheck works:
If a reader sees something on a website or social media platform, or hears a rumour that they would like us to investigate — an image, video, comment, quote or claim — they can submit a question through the CrossCheck intake form. The intake form can be filled out anonymously and is on the main CrossCheck website and is also embedded on all news partner websites.
Partners will investigate claims and questions submitted by the public, plus posts and stories that have been flagged as emerging or frequently searched, using Google trends and the social monitoring tools CrowdTangle and NewsWhip.
One project editor will write a summary of the question and the verification steps that have been completed, and will send to other editors for review.
Agence-France Presse will review all final reports and publish to the CrossCheck website.
All CrossCheck posts can be shared by readers through social media and email, and will also be shared through a news feed on the CrossCheck Facebook page and Twitter handle.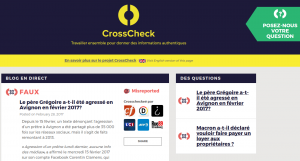 AFP News Director Michèle Léridon says that to fight against misinformation and manipulation in the news, media rivalry needs to be put to the side. "The core values of our profession are under attack," she said. "We need to respond together, and CrossCheck is a significant step in that direction."
Another CrossCheck partner, Rue89 Strasbourg, said that having access to tools and the expertise of the CrossCheck network will help small local newsrooms like theirs verify posts and report back to readers.
Partners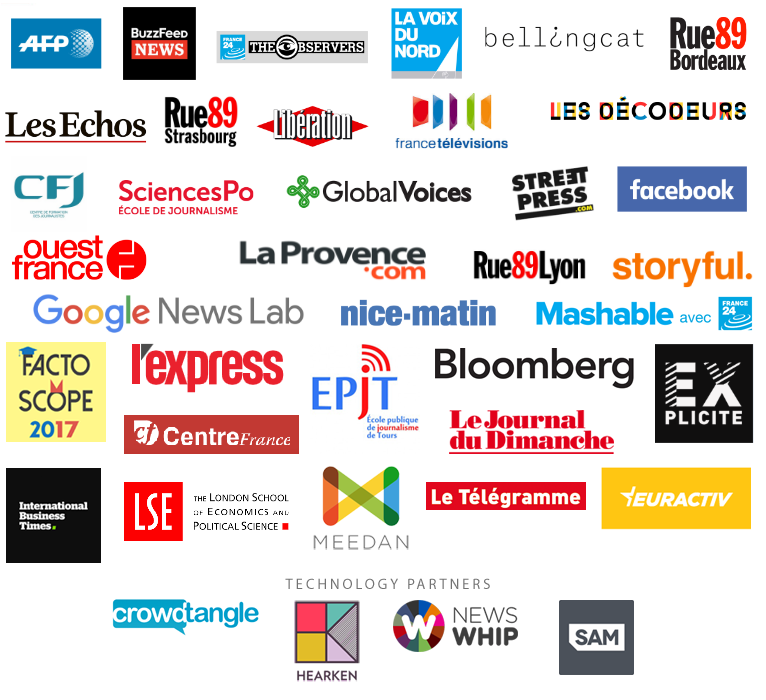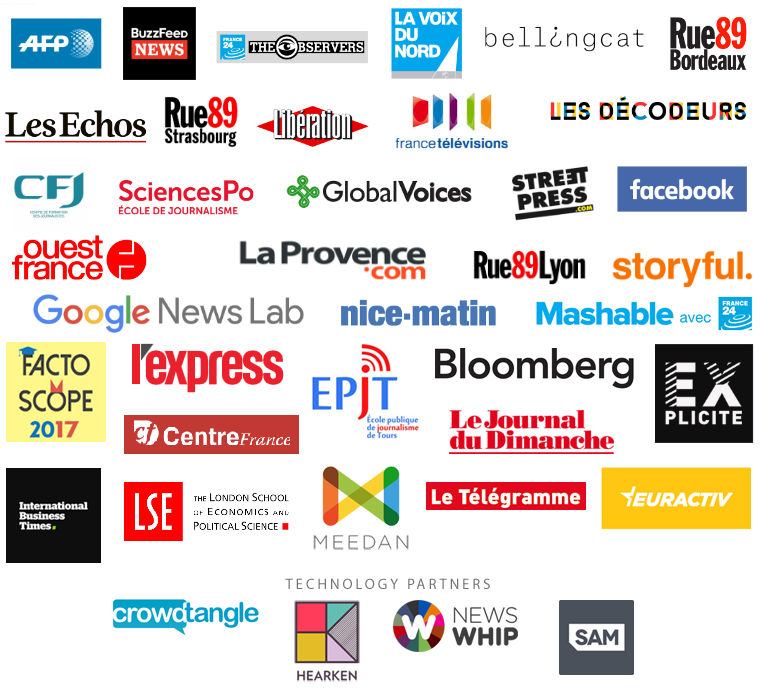 Technology
CrossCheck will use Google Trends to monitor public searches across the country to inform reporters of the kinds of information and answers that the public is seeking. CrowdTangle and NewsWhip will be used to flag pages and posts that are gaining prominence across the web and we will be conducting our own manual monitoring of sites and social media pages using keywords relating to each of the candidates and each political party.
The CrossCheck project was devised and developed in consultation with newsroom partners and Google News Lab, a First Draft founding partner. Facebook is also supporting the project by providing dedicated tools and media literacy efforts that will help to explain the verification process and keep relevant audiences up to date with confirmed and disputed information relating to the election.
CrossCheck is an independent project free from bias. It will actively seek to investigate and report stories and claims from all sources.
You can pose questions to our online form, and be sure to follow our updates on Twitter @CrossCheck, and on Facebook @CrossCheckFrance.