Starting out in a new career can be daunting, especially in the fast-changing journalism industry.
Today, being able to monitor and verify content online, especially on social media, is increasingly vital for all journalists.
We spoke to two leading journalists overseeing social media teams about advice they'd give to new reporters.
"It is essential that all journalists have some idea about verification," said Nathan Williams, a senior journalist for BBC News' social news and UGC (user-generated content) Hub.
In the moments after a story breaks, Williams finds pictures, video and eyewitness accounts using social media. But checking for authenticity is a must. "Everyone needs to know how to authenticate that information and get in touch with the source," said Williams.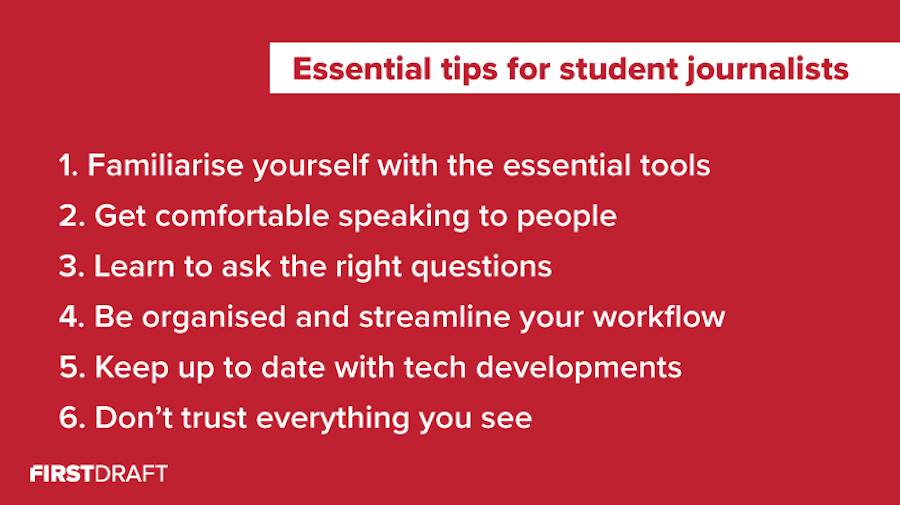 Familiarise yourself with the essential tools
There are lots of free tools that you can use to verify content online. Here are some recommended tools for journalists new to verification.
There are multiple tools for reverse image search. Whether it's with Google Images, RevEye, Bing or TinEye, reverse image search is essential for finding where an image or video has previously appeared on the internet.
Use Google Maps, Google Street View or Wikimapia to verify the location of an image or video using coordinates or by comparing local landmarks.
If you can get your hands on the original image, put it through an exif data viewer like Exif Data Viewer or Jeffrey's Image Metadata Viewer for metadata about the image, such as when and where it was taken.
Amnesty's YouTube DataViewer
Amnesty's YouTube DataViewer retrieves information about when a video was uploaded to YouTube, including local time and thumbnails that can be reverse-image searched straight from the platform.
A dashboard for all things Twitter, you can set up multiple columns, track subjects using Boolean search operators and filter for location, users, engagement and preferences.
"If you only have one tool, TweetDeck remains the most important for people doing jobs like mine," said Stephen Jones, Social Media Editor at the Press Association (PA).
Get comfortable with speaking to people
Talking to the sources behind social media posts is an essential part of verification. Speaking to people directly allows you to gather extra context, information and visual evidence you need to verify a story or source.
"Most of the time we get all the answers we need from speaking to people," says Jones, who leads a team of five reporters. He says that usually the best way to talk to sources is on the phone, but direct message is a work-around depending on what the story is.
Learn to ask the right questions
When deciphering whether content shared by someone on the internet is legitimate, asking follow-up questions is vital. This could be asking for extra photos, the original image so you can analyse it for metadata, or selfies of the source to confirm that they are really at a specific location or event.
"95-99% of the time asking the right questions… is the most successful verification technique," said Jones.
Be organised and streamline your workflow
There are a lot of tools out there to help with verification and social newsgathering. But that doesn't mean you need to have numerous tabs open in your browser.
Organising your workstation to be as automated as possible will save time and energy.
Start.me is a useful platform to keep all your tools in one place. Once you've settled on your go-to tools, create a Start.me dashboard, or "startpage", with them all on one page, segmented into relevant sections.
"Most people have a million and one websites to be looking at and tools to be monitoring," says Jones. "These [tools] help us to organise what we're doing."
Be adaptable
Using tech platforms to gather and verify data means that investigations are dependent on the platform's rules, which can change. For example, Facebook recently altered its graph search function, disabling tools like StalkScan that investigators and researchers use for advanced searching.
"Part of the challenge is you have to keep on top of how platforms are changing, the tools that are available to you and what you can find," said Jones.
Don't trust everything you see, unless you have verified it yourself
Some journalism schools are doing their best to equip students with vital digital skills. But being a journalist means always learning and asking questions.
As Apple CEO Tim Cook said in his commencement speech at Stanford University on June 16, 2019, "mentors may leave you prepared, but they can't leave you ready."
"But you're not supposed to be," he added. "Find the hope in the unexpected. Find the courage in the challenge."
Jones doesn't expect graduate reporters to come through "fully packaged".
"But I do expect them to have a basic understanding of not trusting everything you see," he said.
In the digital age, questioning sources is more important than ever. Before using information from social media in a story, ask who has posted it, and why.
Williams said graduates need the most vital traits of a reporter: a sceptical mind-set and speed.
"Verification involves looking out for details, and being persistent in getting to the bottom of things. And you need to be able to do all of this quickly, up against deadlines."
To stay informed, become a First Draft subscriber and follow us on Facebook and Twitter.