A fake account impersonating Wayne Bayley, a short-lived prospective parliamentary candidate for the Brexit Party in the UK's snap general election, was suspended on Tuesday, November 12, after a string of foul-mouthed tweets became the centre of a number of news stories.
Here's how the relative popularity of the candidate, the circumstances under which the fake tweets emerged, and the lack of official public information spurred the falsehood on — and how a little verification and collaboration got to the truth.
What happened
On Monday, November 11, Brexit Party leader Nigel Farage announced the party would not field candidates in constituencies where the Conservative party had won in the past, automatically excluding some 300 of the previously announced candidates.
After the announcement, an unverified account named 'Wayne Bayley', shared a tweet from Nigel Farage with the caption "Fuck your election strategy and Fuck Boris".
In August, a Mr Wayne Bayley had been named the Brexit Party's prospective parliamentary candidate for Crawley. But this string of curse words was from a fraud, an imposter account which was about to trick hundreds of Twitter users and a number of fairly experienced journalists.
One hour after the initial vulgar tweet, the account posted another update: "Very disappointed to see Nigel bottle it and back the EU treaty agreed by Boris. We will now not see Brexit because of Conservative back room deals". It carried on publishing inflammatory remarks and opinions about Farage's announcement.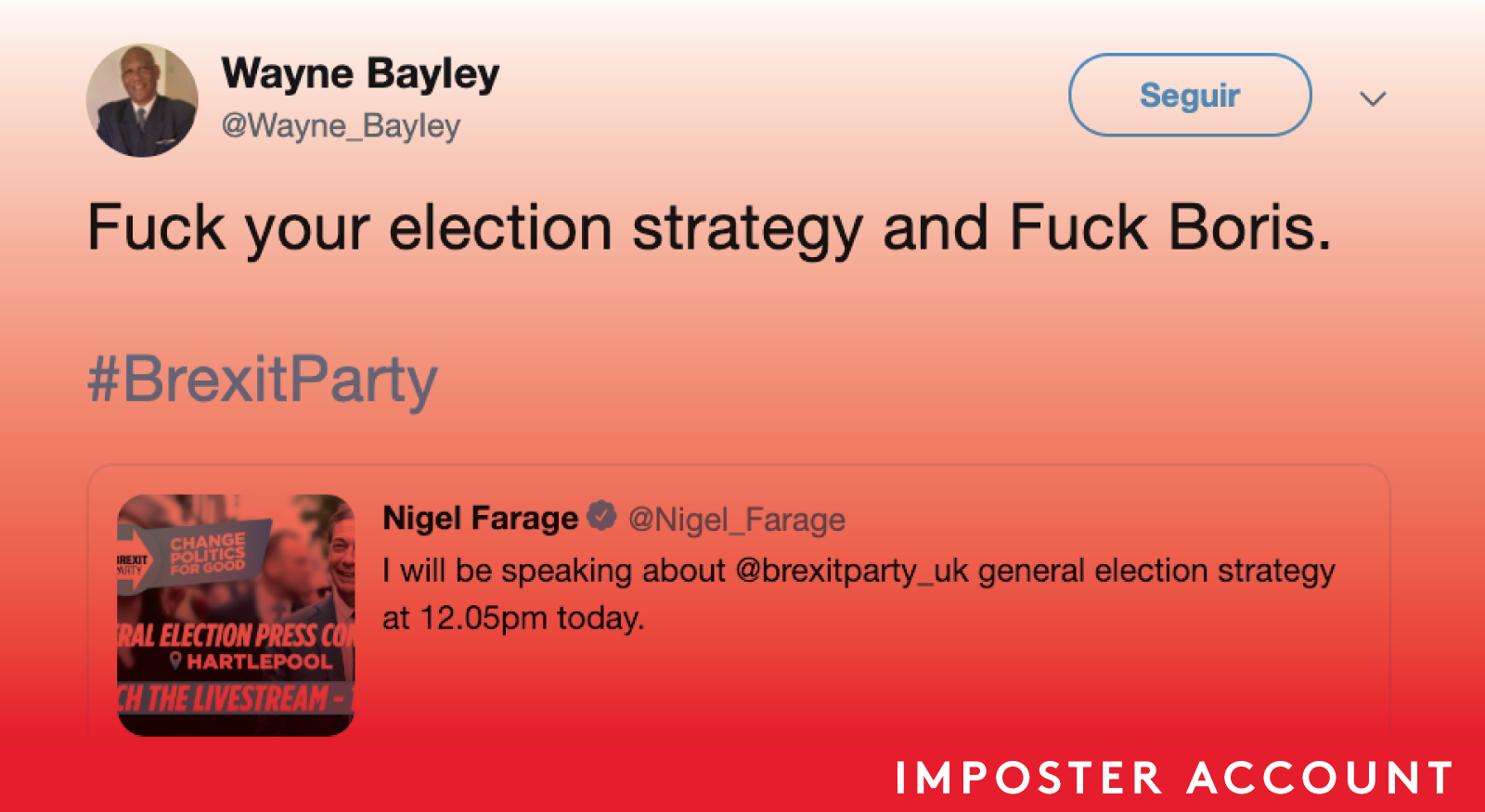 Immediate reaction
Hundreds of Twitter users interacted with the tweets, believing them to be genuine, attracting the attention of news organisations who ran with the story. First Draft is choosing not to link to these stories to avoid amplifying the misinformation.
Seemingly spurred on by the attention, the imposter account continued to publish angry and divisive posts as the day went by.
When other Twitter users started to cast doubt on the account, it responded they were "fake news", that it was the real Wayne Bayley, and referred to reports that Brexit Party activists had paid £100 to become candidates.
"I employed a full time campaign coordinator last week on a 2 month contract which has cost me thousands" the account said. "I also have an outbuilding FULL of Brexit Party leaflets and signs ready for next weeks launch. Nigel owes me over TEN GRAND."
By this time the real Wayne Bayley had seen the stories and the imposter account, using his actual Twitter account to try to fix the damage.
"I would never use foil [sic] language in a tweet or any other published document," he wrote in response to one of the fake tweets. "Anyone standing for public office would be unwise to use language like that or publish such an incoherent statement."
Red flags
To the naked eye the two accounts were almost indistinguishable. They were both created in August 2019 and both carried profile pictures of the same man. One username was @wayne_bayley and the other @Wayne_BayIey.
The imposter account looked more reputable by traditional measures: not only did it have more followers but it also featured a cover image with Brexit Party branding.
But looking closer at the usernames reveals the truth. The fake had used a capital "i" in place of a lowercase "L" in "Bayley", a vulnerability of usernames which many Twitter users have reported as a tactic of imposters.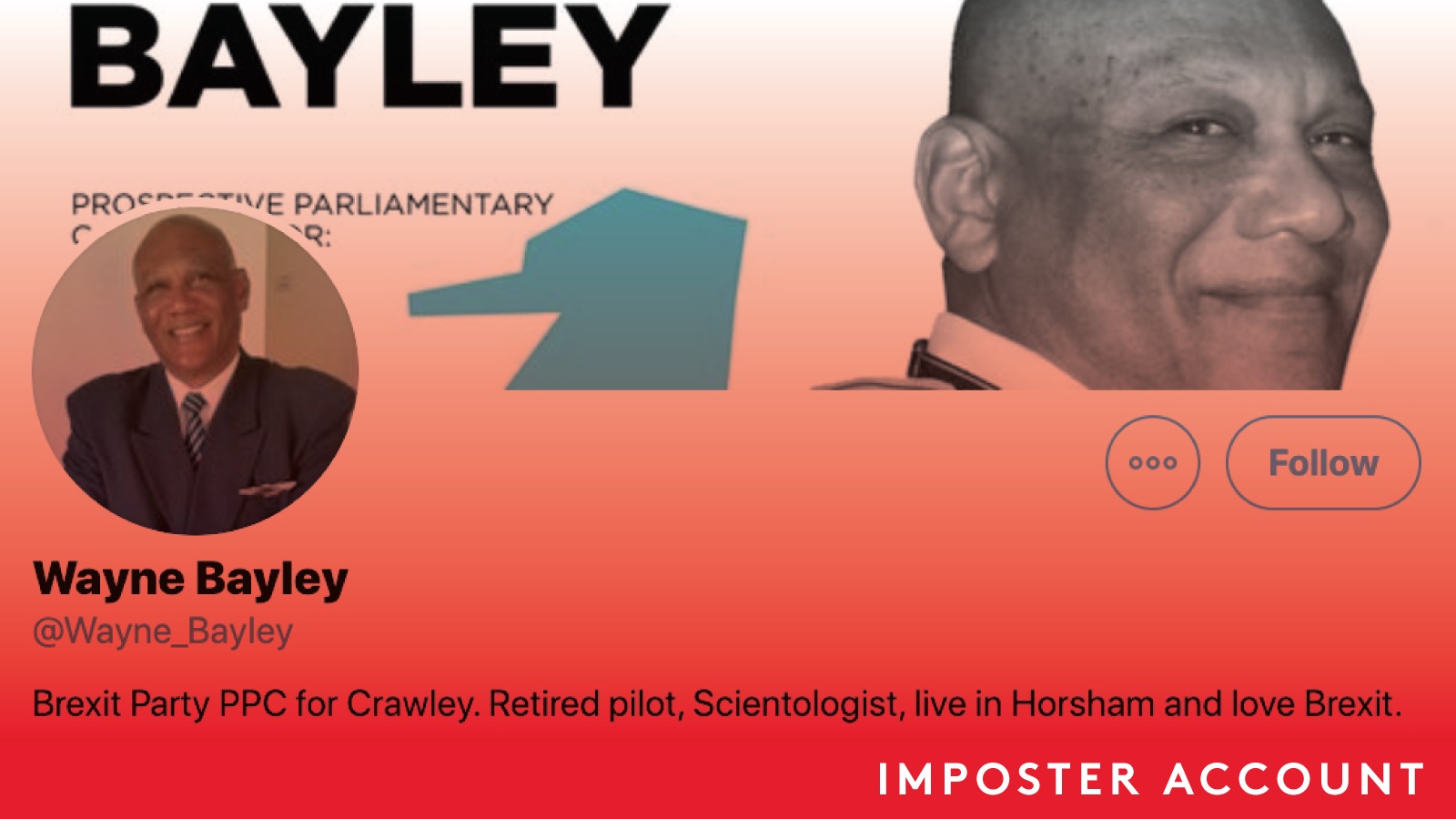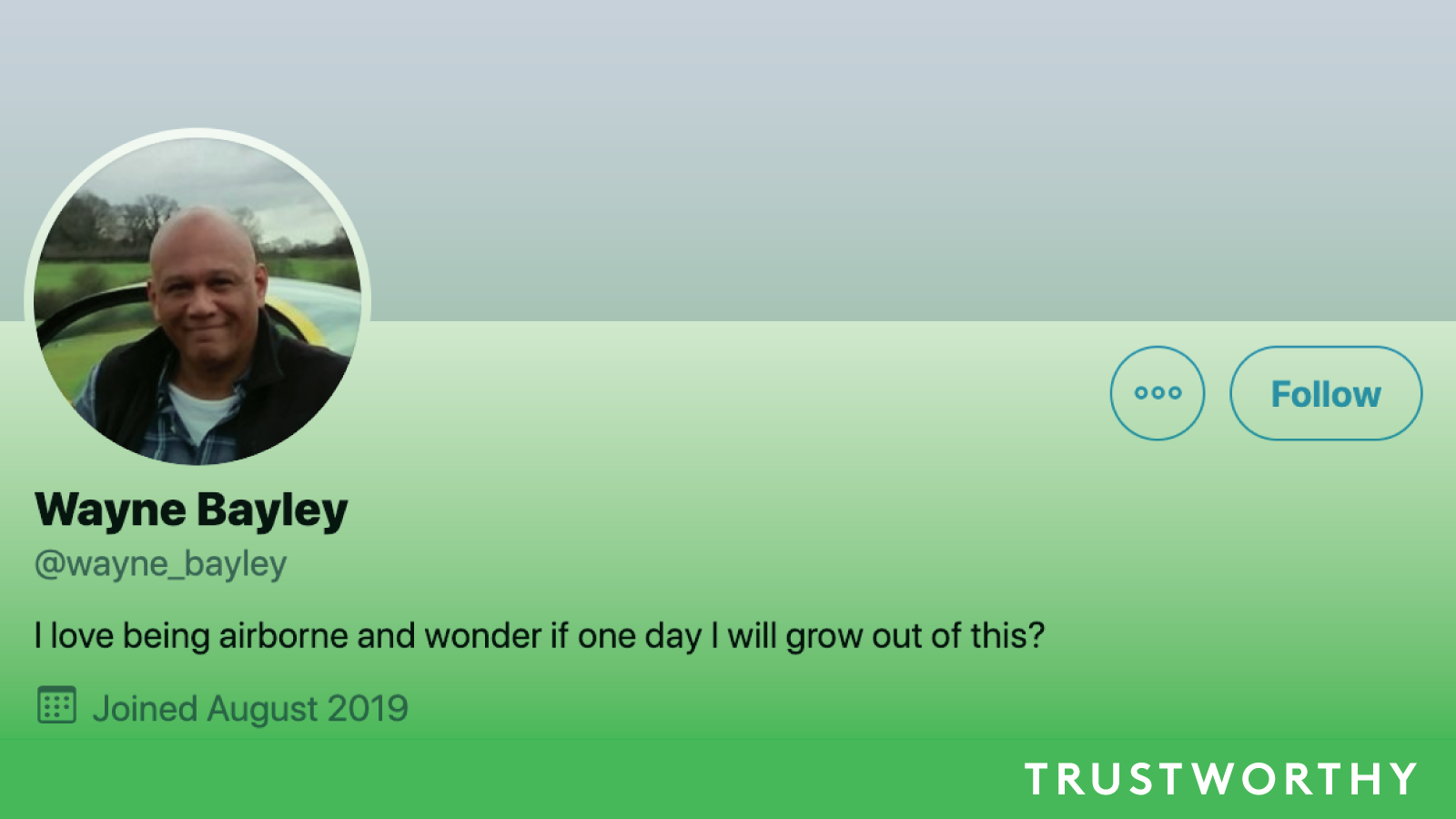 Verifying the accounts
This was not enough to be sure of an account's veracity on its own, however. One piece of evidence is rarely enough to make a solid decision.
First Draft searched for different social media profiles and mapped the online presence of the candidate, which gave additional context on questions to ask the different account owners to verify their authenticity.
A recent profile of Bayley by Politico EU provided more evidence as the reporter referred to the candidate's real account. Reporter Emilio Casalicchio agreed to contact the candidate on First Draft's behalf to arrange an interview. The Brexit Party were also contacted.
"It is a fake account, period." said Gawain Towler, head of press for the Brexit Party.
On Tuesday, Bayley agreed to an interview after contact through his LinkedIn profile, on a phone number confirmed by Casalicchio.
"Somebody created a fake account and they posted several things that are not true on my election campaign and on being refunded by [Nigel] Farage," Bayley told First Draft. He called the accusations in the tweets "made up and fictitious", adding that he had been spending time correcting the record and telling people what had happened.  
Bayley contacted the social media platform Twitter, asking for the other account to be removed. "I assume they are in the process to take the other down." Bayley said, "I expect [it] to happen as soon as possible". 
Sure enough, the account was suspended.
A Twitter spokesperson told First Draft: "It is against the Twitter Rules to impersonate another person, brand or organization in a confusing or deceptive manner, and we take firm enforcement action when we identify this behaviour."
Interested in becoming a CrossCheck partner? Get in touch.
Stay up to date with First Draft's work by becoming a subscriber and follow us on Facebook and Twitter.